Aegean Odyssey
Background
ZIM Isreal Navigation Company was founded in 1945, just after the end of the second worldwar. Their first ship, Kedma, was starting services in 1947 and she was mainly used to transport thousands of Jews to the future state of Israel. Of course, Israel didn't exsist yet and several other ships that had been sailing these services had been conviscated by the British mandate authoroties, sometimes in a quite violent matter. Several of these ships later also became part of ZIM.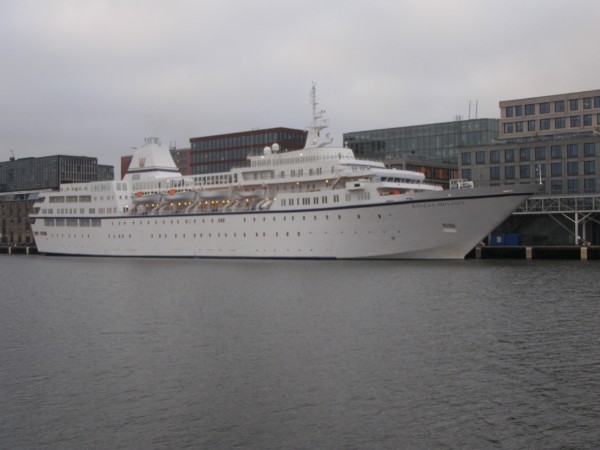 Aegean Odyssey visited Amsterdam at the 6th of july in 2018.
In 1953, it became possible for ZIM to built new ships, because of the reparations agreement money that came from West Germany. In this sceme, also the former Norwegian America Liner Bergensfjord was bought, put into service under the name of Jerusalem and becoming the flagship of the fleet on the Haifa-New York route. Next to the passengerfleet, also very important was the cargo service across the Mediterranean Sea. In 1967, ZIM pulled out of the liner- and cruisingtrade after their newbuilt liner Shalom (1964) had failed miserably. Now, they concentrated on their cargoservices only and they do so untill this very day, now being one of the top-20 global carriers.
Construction and general statistics
In the early 1970's, ZIM ordered a freightliner for their expanding services from the Romanian wharf Santierul Naval Galatz. The ship was named Narcis and she was built under yardnumber 617 with a lenght of 111,51 meters, she was 20,50 meters wide and reached a depth of 6,57 meters. Her tonnage measurement was 8224. of course, as a freightship she had passenger accomodations for only 12. Driven by two screws that were powered by two 14-cylinder diesel engines designed by Pielstick-Crossley, the ship was able to operate at a nice 17 knots of speed. In august of 1973, the ship was delivered to ZIM. Narcis also had five sisterships, Iris (1972) was later also used as a ferry for Minoan Lines, but sank off the Colombian coast in 2006 after she had been sold to the breakers. Pascani (1982) is now in long lay-up since 2003. Paltinis (1984) sailed for the Romanian Romline and sailed several freight ferrylines untill she was laid-up in 2012. Peris (1985) was built for the Romanian company Exploatare a Floti Maritim and she was scrapped in 2010. The last sister, Paulis (1985) seems also to be out of service now but I wasn't able to find adequate information about her.
The ship shared the passengerterminal in Amsterdam with MSC Magnifica. Quite a difference between them!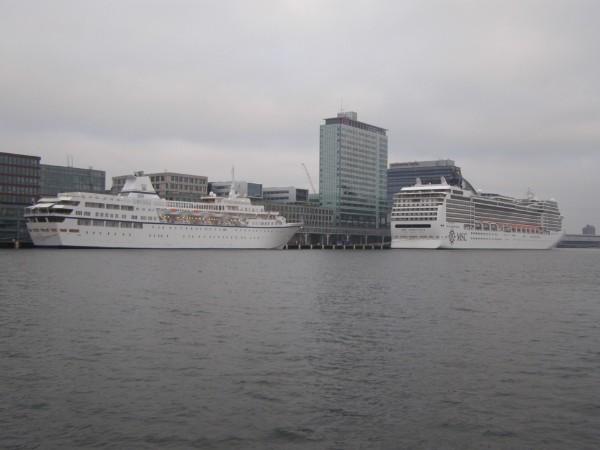 Carreer
As a ro-ro-ferry under the Isreali flag, the Narcis operated a service between several Mediterranean ports and Haifa in Israel. During the 1980's, the ship started to become a little outdated as containerized goods became the pinnacle for ZIM and the ship was offered up for sale. Like several more freightships, she was a cheaper alternative for small cruiseship operators then building new or buying secondhand passengerliners, so the former ro-ro ship was renamed Alkyon for Dolphin Hellas Shipping and headed for Chalkis in Greece to be rebuilt into a passengership.
Here, she was lenghtened up to 140,50 meters and to be more stable, her width also increased to 20,80 meters. She recieved space aboard for 720 passengers and of course was overhauled totally and hardly recognizable as the former ro-ro freighter she had been. She was put into service from 1986 onwards under the name of Aegean Dolphin and sailed mostly Mediteranean cruises out of Venice.
In 1988, it was planned for the ship to operate in Australia under charter of South Pacific Cruises. For this company, she was to be sailing cruises out of Sydney to New Caledonia from november 1988 onwards but in the summer before the charter, it was found out that her speed wasn't adequate enough to maintain the needed scedule. The charter was eventually cancelled and because of the following lawsuit, South Pacific Cruises went into liquidation before one cruise was operated.
So she was reverted back to Aeagean Dolphin in september of 1989 and came back to the Mediterranean untill she was laid-up at the 31st of october in 1994. Another lease of life came when she was renamed Aegean 1 for Discovery Cruises in 1996, although later that year she was chartered out to Renaissance Cruises under the same name. In 1998, she was sold to Golden Sun Cruises, a division of Dolphin Hellas for Mediterranean cruising. In 2005, 75% of the shares in the ownership of the ship was bought by Louis Cruise Lines of Cyprus and the name of her operating company changed to Golden Star Cruises.
At the form of the ships aft decks, you can still recognize the boxiness of her former self as a ro-ro carrier.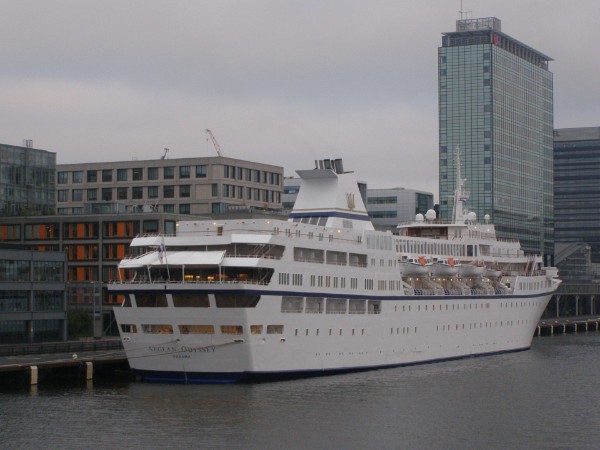 Since april of 2010, the ship was renamed Aegean Odyssey for the newly established company Voyages To Antiquity, mainly sailing the ship around the Greek islands, Egypt and Italy. The company had been founded in 2009 by Gerry Herrod, former owner of Orient Lines and the Marco Polo.Of course the ship was updated throughout, with her passenger capacity reduced to 350. There were 80 brand new suites installed as well as an outdoor terrace and a totally rebuilt Spa.