TUI Cruises
In april of 2008, Royal Caribbean Cruise Lines, the second largest cruisecompany in the world, joined forced with TUI AG, the largest European travelcompany with its base in Germany. The company settled in Hamburg, Germany's largest port city and took delivery of one of the ships that originally sailed for Celebrity Cruises, Celebrity Galaxy. For TUI Cruises, she was re-named Mein Schiff, that translates in English to My Ship, and she started sailing for the new venture in may of 2009. For Royal Caribbean it was a possibility to tap into the largest European cruisemarket, that is Germany. And of course, it also was a reaction to the immense growth of Carnival's German stronghold AIDA Cruises.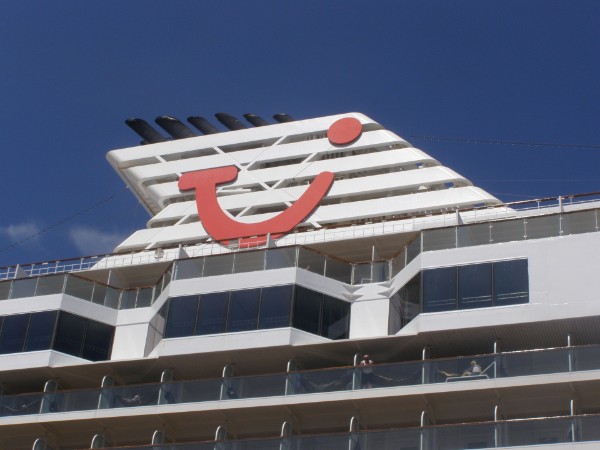 The TUI funnel, this one is from the companies first ship, Mein Schiff 1
Although TUI Cruises is partially the answer of Royal Caribbean Cruise Lines to AIDA Cruises of Carnival's portfolio, the company aims at a totally different clientele. TUI Cruises is a company that is in the higher end of the market, with 4-star+ cruiseliners. AIDA of course is in the lower segment and sailing with clubships.
In may of 2011, TUI Cruises took delivery of its second ship, the former Celebrity Mercury. Sadly, they continued the lack of originality in naming ships, as this new one recieved the name Mein Schiff 2 and the earlier Mein Schiff was re-named Mein Schiff 1. At the same time, TUI Cruises ordered their first series of newbuiilds, starting with Mein Schiff 3 that entered service in 2014. In 2015, Mein Schiff 4 was introduced and Mein Schiff 5 will be introduced in 2016. Those newbuilds are not small, measuring some 99.500 tons. Two more ships are optional, for delivery in 2018 ad 2019.
As said, TUI AG is a very large company and they also own the British-based Thomson Holidays and its cruise-division Thomson Cruises. For this line, mostly sailing cruises in the Mediterranean and western Europe, in 2015 TUI bought the Splendour Of The Seas from Royal Caribbean and she is planned to enter service for Thomson Cruises in 2016 under the name Thomson Discovery. With all new My Ships coming into service over the next years, TUI is also planning to enlarge and modernise the Thomson fleet with replacing the Mein Schiff 1 and Mein Schiff 2 in its fleet. Or this will truly happen has to be seen, as TUI announced in may of 2015 that they will discontinue all seperate names within the TUI Group, including Thomson, and only use the name TUI. This operation will be completed within a few years time. Of course, it will also be possible that they will retain the Thomson Cruises name to show a difference between the styles of both lines. Only future will tell.
A ship owned by TUI but sailing for another company is
Thomson Discovery (2016-onwards) is now placed under Royal Caribbean Cruise Line as Splendour Of The Seas
For booking information, visit TUI Cruises.