Marella Explorer

The first time Marella Explorer visited The Netherlands was at the 2nd of september in 2019, when she entered the port of IJmuiden.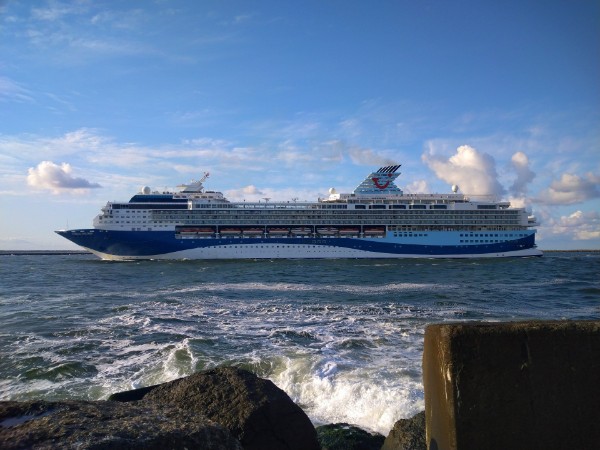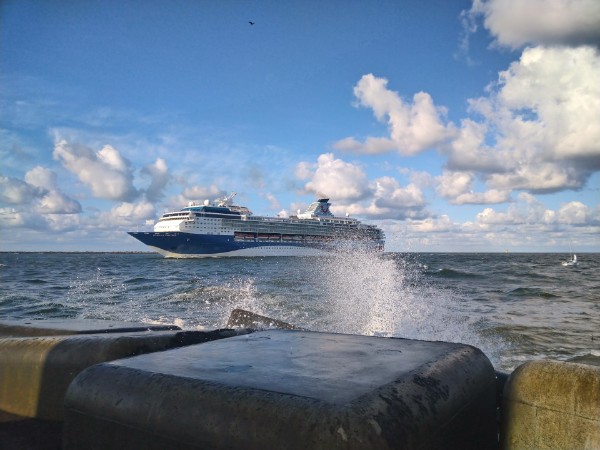 The first ships that were built for Celebrity Cruises under the ownership of Royal Caribbean International were the sisters Galaxy and Mercury. Originally, it was intended that these two ships, optional orders placed during 1993, would be sisters to Century, but when the option was materialized, the ships were enlarged and re-designed with a 15,4 meters longer hull. So these new ships would be 259,70 meters in lenght, with a width of 32,20 meters and a draft of 7,70 meters. They had a tonnage of 76.522, in comparisement with Century's 70.606 tons. Her keel had been laid at the 25th of may 1995 and she was floating out of her drydock in may 1996. Celebrity Cruises took delivery at the 10th of october 1996. Before entering commercial service, Galaxy did promotional visits to the ports of Southampton, Boston, Philadelphia and Port Canaveral. Her maiden cruise started at the 21st of december 1996 and took her from Port Everglades to the Caribbean. Between 1997 and 2000, she sailed Caribbean cruises in winter and in summer she sailed cruises at the westcoast of north America and Alaska. She was replaced on these services by the Infinity from 2001 onwards and started sailing European cruises in both the Mediterranean and the Baltic seas. At the 2nd of june 2001, she ran aground near the Forteiland at IJmuiden after departing Amsterdam due to heavy northwesterly squalls and had to return to the Dutch capital for inspection. The Forteiland is a fortification on a small island (I guess you guessed this already) that is situated in the mouth of the Northsea Canal. In the incident, Galaxy had damaged her portside screw. The cruise was cancelled and the ship went to Harland & Wolff in Hamburg for repairs. It seemed that all four blades had to be replaced and because the ship only carried two reserve blades, two extra had to be flown in from her sistership Mercury. She re-entered service on the 16th of june.
Below, Marella Explorer is shown under her original name Galaxy, sailing for Celebrity Cruises and leaving Amsterdam at the 11th of august of 2001.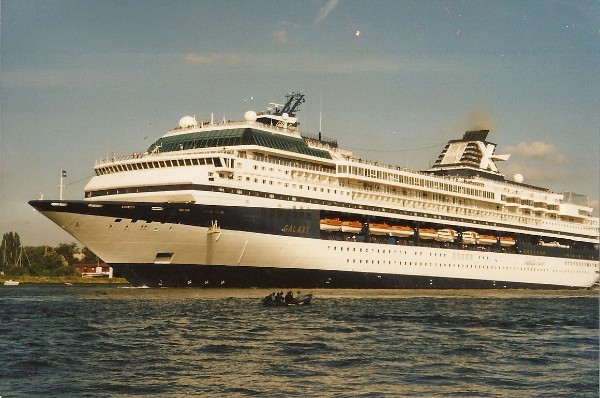 In february of 2008, the ship was renamed Celebrity Galaxy, because all Celebrity ships were now renamed with the companies name as a prefix. It seems cruiselines have the thought that otherwise, passengers will never remember the name of the company they sailed with. A few months later, in april 2008, it was announced that Celebrity Galaxy would be transferred to a new company that was a joined venture between Royal Caribbean International and TUI Group. The name of this new company was TUI Cruises and it was aiming for the German market. During april 2009, Celebrity Galaxy was drydocked after her services for Celebrity Cruises had ended and she was rebuild and modernized up to the standards for the German market. The ship was renamed Mein Schiff that translates in English to 'My Ship'. A very unusual name to be honest, but, lets try and accept it for a while. What is harder to accept and even very funny for American or English people, is the hullart of the ship that consists out of several German words. In large, white letters the name of the ship is shown, surrounded by several other words. Some examples are Traumstrände (Dreambeaches), Fliegende Fische (Flying Fish) and Sonnendeck (Sundeck). But the most funny one written in even larger lettering of course is Fahrtwind, meaning airstream. In English...well... you can guess what it reminds of...
Galaxy again in the locks at IJmuiden at the 11th of august 2001.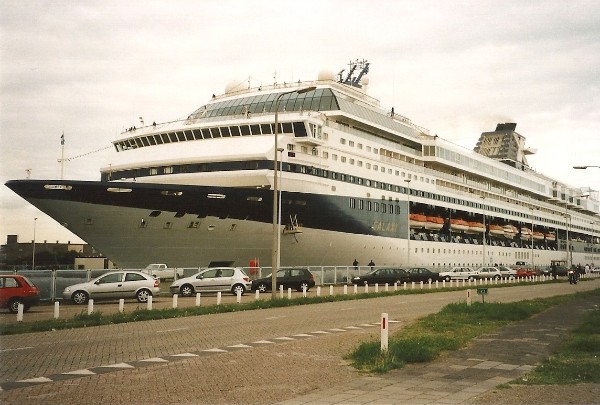 Enough fun made of German words, at least this strange hullart and the strange name for the ship gives us stuff to laugh and talk about and this gives TUI Cruises a well known name. Mein Schiff was renamed in november 2010 to Mein Schiff 1 because she was joined in the TUI Cruises fleet by her sister Celebrity Mercury that was, good guess, renamed Mein Schiff 2. So TUI Cruises gives us a very refreshing and innovative naming system that we have never thought about and have never seen before. A suggestion to them is to name the other ships like 'Unseren Schiff' that means Our Ship or 'Deinem Schiff' that means Your Ship. But again, enough fun about the company or the ships, because I am sure that these ships are very excellent ships that will cater well for the German market and of course, that is the most important of all.
As TUI Cruises' Mein Schiff 1, the ship visited Amsterdam at the 4th of june in 2015.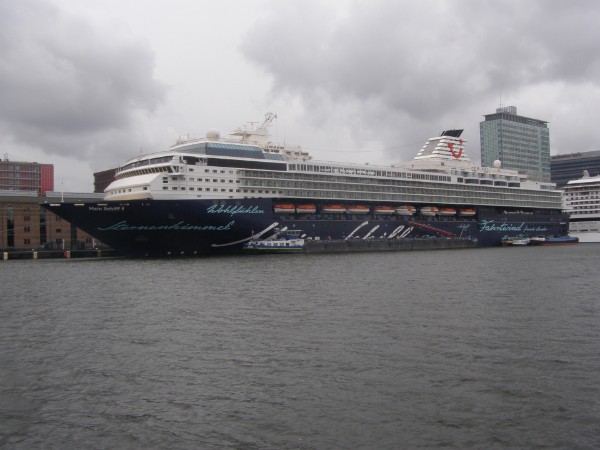 Below and above, the ship is shown during her first visit under her new name in Amsterdam at the 8th of may 2014. She shared the space here with MSC Magnifica, while Lindblad Expeditions National Geographic Explorer and Iles du Ponant's L'austral were docked elsewhere in port.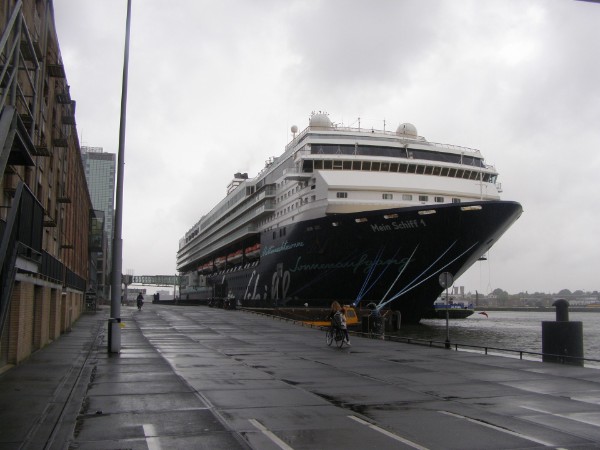 With all newbuilds for TUI Cruises, in may of 2015 it was announced that Mein Schiff 1 and her sister Mein Schiff 2 were going to be replaced by larger ships under the same names within the TUI fleet. They were going to be replaced in the fleet of the British-based Thomson Cruises, which is also a part of the TUI Group. Shortly afterwards, TUI also announced that all names of companies within their group were replaced by the TUI one but this caused a problem for the Thomson Cruises fleet as there was of course already a TUI Cruises. Both companies are quite different in style so a total wrap-up of Thomson Cruises could be a possibility. Instead, TUI decided to keep this fleet and rebrand it as Marella Cruises. A huge update of the fleet was imminent as all older units were replaced by larger and more modern tonnage from Celebrity Cruises and thus TUI Cruises. In march of 2017, the new name for Mein Schiff 1 was announced to become TUI Explorer, although this seemed to be a little inconvenient because she wasn't going to sail under a TUI branded company anymore. So in october 2017, after a make-over in Cadiz, Spain, the ship finally entered service for Marella Cruises under the name of Marella Explorer.