L'Austral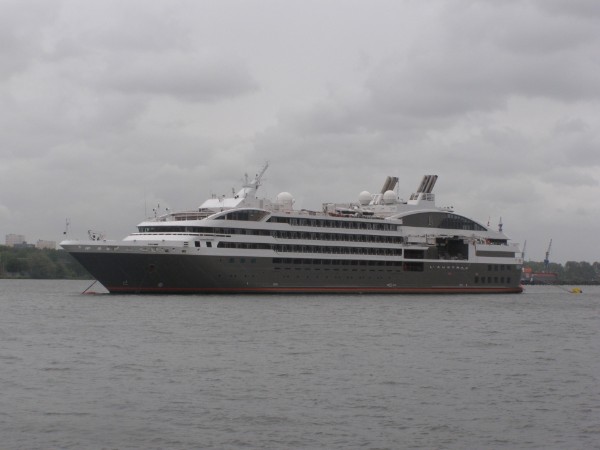 In my eighteen years of cruiseship photography in The Netherlands, I had a first in 2014 at the 8th of may. Because it was a tremendously busy cruiseday at Amsterdam. L'austral had to dock at the so-called French Buoys and tender her passenger ashore. This never happened in Amsterdam cruise history before. The Passenger Terminal was occupied by MSC Magnifica and Mein Schiff 1 and in the Western Docks also National Geographic Explorer of Lindblad Expeditions was moored.
L'Austral is the second ship in a crass of three for the Compagnie des Iles du Ponant. Another ship will be built within a few years time, bringing the class up to four ships. She measures some 10.700 tons and she is 142 meters long, 18 meters wide and has a 4,7 meters draft. Some 264 passengers and 136 crewmembers can enjoy 6 decks and the ships normal sailing speed is 16 knots. She was built at the Fincantieri yards at Ancona, Italy and her first cruise started at the 20th of april 2011. or bikers, her name is also known as a historic French company in motorcycles. Also, the Auistral Islands are the most southern islands of French Polynesia, and this is where the ship is named for.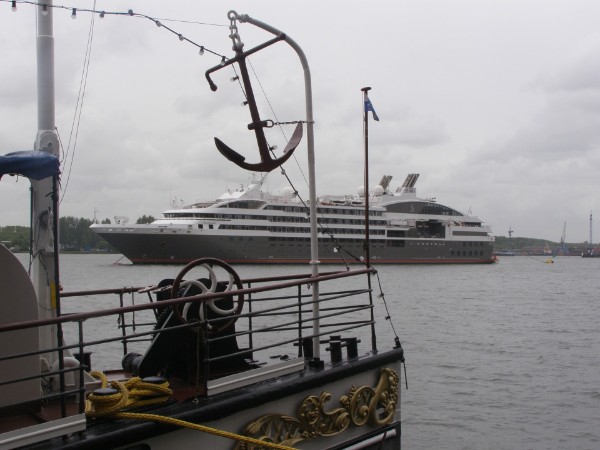 L'Austral seen in a very nautical picture at her mooring in Amsterdam during her first stay at the 8th of may, 2014. When she departed that evening, she unceremoniously collided with the IJmuiden middle lock to get herself in the newspapers.
At the 8th of may, just after her first visit to Amsterdam, the ship had a collission with the doors of the middle lock at IJmuiden, just before leaving the northsea canal for the North Sea. The ship suffered damage to her bow, but was able to sail on scedul;e with just a small delay. The lock also suffered damage, but was operational again the following day.
On the 17th of november 2015, L'Austral assisted her sistership Le Boreal, after that ship had been suffering a large enigne room fire in the South Atlantic. Because of the incident, Le Boreal was evacuated and several of her passengers were taken over by L'austral. It is companies policy to have more ships sailing in eachothers proximity while sailing in remote areas. Luckily, non of Le Boreal's passengers were injured in the incident and the ship was towed to the Falklands so damage could be examined.