The Calypso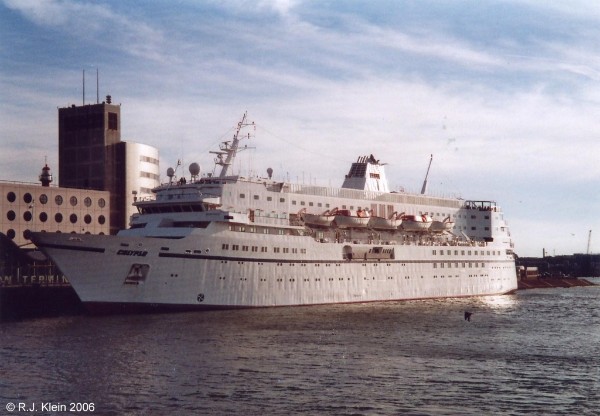 The Calypso seen at the first IJmuiden cruiseterminal during her first northern European season on the 29th of july 2006.
On the 23rd of april 1967, the Italian company of Traghetti Sardi launched their newest ship under the name Canguro Verde. The ship was intended for the Genoa-Barcelona-Porto Torres service as a ferry with accomodations for 358 passengers in 122 cabins as well as 400 deckpassengers. A cardeck had room for 150 cars and there also were 86 crewmembers aboard. The ship measured 5224 tons, was 126,35 meters long, 19,20 meters wide and her draft is 6,30 meters. Her normal speed was 18,5 knots and she was driven by two 7-cilinder diesel engines which turned two screws. The yard where she was built was the Italcantieri wharf at Castellamare di Stabia and she was built under yardnumber 645.
The ship was delivered to the company at the 12th of september 1967 and afterwards started sailing her intended route. Her homeport when she first sailed was Cagliari. In 1974 the ship started sailing for the Linea Canguro under the same name and on the same route. From 1981 onwards, she was sold to a company named Fayez Trading & Shipping, based at Jeddah. For them, she was renamed Durr and sailed services in he Red Sea untill 1989. In this year she was renamed Ionian Harmony for the Greek Strintzis Lines based in Piraeus. For them, she sailed only one year the service between Patras, Dubrovnik and Ancona. After this service, the ship started her first cruises under the name Sun Fiesta for the DFDS-owned SeaEscape Cruises, based at Nassau at the Bahama's. She was slightly rebuilt and got a new tonnage measurement of 5235, but she wasn't changed much and even kept her cardeck. Her cruises were just one-day sailings from Florida. At the end of november 1990, the ship was laid-up at Mobile and returned to Greece in september 1992. Now, she was truly rebuilt into a cruiseship at the Avlis wharf at Chalkis. The rebuilding took almost two years and in 1994 she emerged looking like the picture above, with a new tonnage measurement of 11.162. She now had a crewcapacity of 240 and she could accomodate 500 passengers. In 1993 she had been aquired by Regency Cruises under the name of Regent Jewel, but she never sailed as such because of the problems Regency faced in these years. She finally set sail as a cruiseliner in the end of december 1994 when she was owned by a company named Jule Cruises and chartered to the German company Transocean Tours. At this time, she had been renamed Calypso. Her first cruise was a very lenghty one, she sailed from Piraeus to Bombay, departing Greece at the 21st of december. The Transocean charter lasted four years, before she again was laid-up, this time in Piraeus in october 1998.
Below, Calypso is seen off Rhodes, Greece in june 2003 (picture from M. Klein, my sister)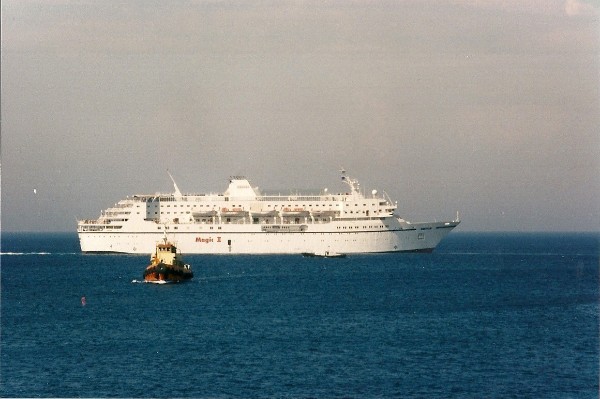 Louis Cruise Lines aquired the ship for Mediterranean cruises from june 2000 onwards. From 2006 onwards, Louis placed her in the fleet of the British-based Thomson Holidays, a company where Louis provided the ships for and part of TUI. For Thomson, the ship was renamed a little to The Calypso. Her start with Thomson wasn't that great, though. On the 6th of may 2006 while on a cruise during her first season in northern Europe, she caught fire in her left engine, 16 miles off Eastbourne on route for St Peter Port at Guernsey. The crew was able to put the fire out and ship, crew and passengers survived. But the damage done was severe and her first season for Thomson was only to be half of the originally planned season because of the incident. The ship returned to the fleet of Louis Cruise Lines in 2009 and sailed for them only one year, before again being laid-up. This time, it seemed that this was the end for the now 43-year old, officially she was awaiting charters but none of these came. On wednesday the 3rd of april 2013, the ship, renamed as Caly, took up speed close to the beach of Bhavanger in India and soon afterwards dismantling her began.