Marella Explorer 2
Background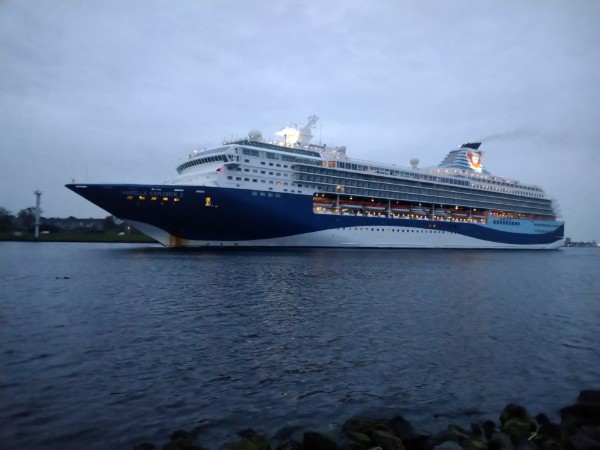 The first time the ship entered the port of Amsterdam under her name of Marella Explorer 2, she did so on the 1st of october in 2020. She was heading for the Damen Yards for an upgrade as at that time she was out of service due to the COVID-19 pandemic. She had been a frequent visitor earlier under her original name of Century for Celebrity Cruises.
In april of 1988, the Greek company Chandris Cruises founded a new company under the name of Celebrity Cruises to sail cruises to and from Bermuda. The company had obtained highly valuable berthing arrangements at Bermuda after the company Home Lines (who had those contracts before) was bought by Holland America Line and this company wasn't taking over the contracts. The government of Bermuda offered the contracts to other lines but insisted that those were the higher-class lines. Chandris was interested, but wasn't an upper class cruiseline so they created the new brand for that sole reason instead. Chandris won the contract and had one of their older ships upgraded to furfill the requirements, so the Galileo became the Meridian, Celebrity's first ship. Also an order was placed with Meyer Werft from northern Germany to deliver two newly built upper-class ships to the line, the later Horizon and Zenith. With these new ships, the company also was able to sail other cruises then just the Bermuda ones and their higher-end style was quite different from the main mass-market ships sailing from the USA through Carnival Cruise Lines and Royal Caribbean for example. Celebrity Cruises was an instant success and to expand the brand, a new and larger ship was ordered from the Meyer Werft with the option for two more. Where Horizon and Zenith had been moderate 40.000-ton ships, with the new ship Chandris upped the scale as she was going to measure some 70.000-tons and with that, she would be the largest Greek-owned cruiseship in history.
Construction and general statistics
The ship is seen below under her original name of Century leaving IJmuiden in her original Celebrity Cruises form and livery. She is seen her in the outer harbour at the 21st of may 2005.
In design, the ship was a true follow-up of her earlier fleetmates, but then considerably bigger. With almost 50% more space, she can sail with 25% more passengers, making her public rooms even more spacious then aboard the earlier ships. Century measured 70.606 tons and she had a lenght of 248,52 meters, she was 32,20 meters wide and her draft was 7,50 meters. She was able to sail with up to 1778 passengers and 858 crewmembers. She was built with fourteen decks of which ten were able to be used by her passengers. Due to supersticious reasons, the ship doesn't have a deck 13. Driven by two 6-cylinder and two 9-cylinder diesel engines of MAN B&W design, the ship was able to sail at a normal servicespeed of 21,5 knots, so nothing fancy but adequate enough for modern-day cruiseservices. She floated out on the 2nd of october 1995 from the Jos L. Meyer wharf at Papenburg, Germany where she had been built as yardnumber 637 and was named on the 26th of that month. Her first trials in the Northsea started at the 2nd of november of that year and at the following 30th of november, the ship was delivered to her owners. The ship was going to fly the flag of Liberia and her official homeport thus was Monrovia. In 2003, this was altered to Nassau as she was going to be flying the flag of Bermuda.
Design and style
The ship had one industries first, as she was the first cruiseship that was offering a Martini Ice-bar to her passengers. Next to this, she also featured an atrium topped by a dome to bring in natural light, a two-deck Grand Restaurant and a two deck Theater. The main restaurant seats 1080 passengers and was designed by Birch Coffey. Entered by way of a grand staircase into the lower deck of the space, it has a marble floor in the entrances and large columns, creating a very classic atmosphere. At the sternside, the restaurant offers splendid views over the ships wake. A good ans also very conservatively designed restaurant is the luxurious Murano Restaurant just off the main lobby. This restaurant was added in her extensive upgrade in 2006. Here, only diner is served although there also a High Tea is host here for the Diamond level guests from Celebrity's loyalty program. The Theater has good sightlines and seats 940 and takes its inspiration from planets, stars and the sun. Of course, the ship also offered other placed to dine or grab a snack or drink, next to the usual public rooms found on cruiseships in general.
Her interiours, mostly designed by Birch Coffee, John Bannenberg and John McNeece were stylish, with many classic woodworks throughout. But because Celebrity Cruises worked together with Sony in the outfitting of the ship, Century was at the time also one of the most high-tech ships in the world, with interactive services in the cabins and state of the art audio and visual possibilities in the public rooms. This was especially the case in a space dubbed Images, which was a 140-seat lounge for passengers to participate in interactive multimedia games, next to a wide array of Sony televisionscreens where sportgames could be watched. In a new high-end lounge, the 332-passenger Crystal Room designed by Birch Coffee, the feeling of a 1920's nightclub was recreated and the design of this room was later to become a Celebrity Cruises feature on all new ships.
Within the cabins, a very innovative televisionsystem was also installed that gave the passengers the possibility to watch on-demand movies or even order wines in advance that they wanted to drink during dinner. Nowadays that isn't that exclusive anymore, but back in 1995 it was top notch. Of course Royal Caribbean wasn't in the game yet and the cabins were designed traditionally by the Greek company of A&M Katzourakis
As a higher end ship, she featured an expansive art collection of around 500 pieces, valued at 3,8 million dollars. Her art collection is mainly modern and comes from the second half of the 20th century, although the styles are quite different. The central piece of art was to be found in her Atrium, where the central focus was an almost ten meter high sculpture of John McNeece's design where a waterfall streamed down over a series of videoscreens, flanked by a grand staircase. For a ship built in the mid 1990's, Century felt traditional but also was ahead of her time in modernities. This style became later the hallmark for Celebrity Cruises as well as Royal Caribbean itself, after Chandris had sold the Celebrity Cruises brand to this American-based giant in 1997.
Century is seen below in 2006 in Amsterdam, just after her huge update. Comparing the former image to this one, you can easily spot all the newly added balconies that make her look very different then before.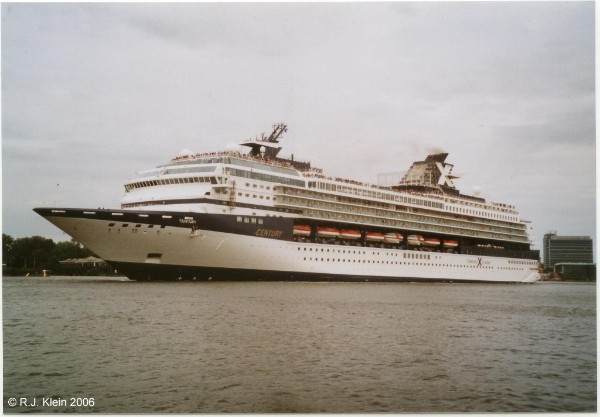 Carreer with Celebrity Cruises
Century was named by Tina Chandris, the wife of the companies Chairman John Chandris at the 26th of october 1995. A little traditional, as nowadays more often ships are named after their trials and deliverydate, that still had to come. Her positioningvoyage from Europe took her from Southampton in England, where she departed at the 6th of december for New York. From New York, the ship then sailed southwards to Fort Lauderdale, her homeport for Caribbean cruising.
Century was eventually the last cruiseship that was put into service for Chandris Cruises as the line was bought by Royal Caribbean Cruise Line in the end of 1997. There had been quite a fierce battle between RCCL and that other line, Carnival Cruise Lines, as usual. RCCL had made the first bid in the spring of that year, but then Carnival also stepped in mostly because of the Bermuda contracts. There were only five of these contracts available of which two were owned by Norwegian Cruise Line, one by RCCL and two by Chandris. For Carnival, it was thus the only possibility to obtain these contracts and they rather had them in their posession then seeing their long-lasting rival RCCL getting three and leaving them with empty hands. But Chandris decided that they were going for the Royal Caribbean offer, which was lower but the contacts between the companies were better. So this time Royal Caribbean got the bait and an agitated Carnival had no choice then to, well, buy the rest of the cruise-industry.
Here sailings were quite uneventfull, which is not a bad thing in a cruiseliners life. When she had been introduced, Century had been Celebrity's largest ship but she was quickly surpassed by her re-designed later sisterships Galaxy and Mercury. Originally meant as true sisterships of Century, because of her success the new ships were redesigned and lenghtened, making Century already a midsized ship within the fleet in only a few years time. This was not a problem, as her more classic style attracted a clientele that liked the more intimite size of Century over the larger ships and she created a very loyal following because of that.
When the company grew with the new Millennium-class of ships, which were 90.000-ton behemoths, Century was leaving her more traditional waters and sailed worldwide voyages, bringing her over to Europe, Asia and South America next to her traditional Caribbean sailings. But her quite traditional design also outdated her pretty quickly as through the 1990's most new ships were built with mainly balcony cabins, a feature that was not so prominent aboard Century. In april of 2006, the ship was updated masively to get her more in line with the new passenger requirements and the newest fleetmembers within Celebrity Cruises itself, mainly the Millennium-class of ships that were quite a bit larger and had their sides covered in these modernities. In this 55 million dollar update, Century recieved 314 extra balconies and also her restaurants were updated. A new high-end restaurant was added under the name of Murano and also her childrens and teens facilities were enlarged and improved. In the Atrium, the televisionscreens at the waterfall were removed as it was considered to be 'too 1990's'. This update took five weeks and was undertaken at the Fincantieri Yards at Palermo, Italy as the largest ship-modification project to date for this wharf. Strangely, the investments made to Century were not repeated for her newer and larger close sisters Galaxy and Mercury, which instead were replaced in the fleet of a newly founded company under the banner of TUI Cruises, where-in Europe's largest travelcompany TUI and Royal Caribbean almost equally participated.
In 2008, Celebrity Cruises added the prefix 'Celebrity' to the names of all their ships for brand-recognition, so Century became Celebrity Century. I do not think the names of the ships became more attractive by this change, but of course, that's just an opinion.
Seen at her Northsea Canal passage from Amsterdam to IJmuiden during the 2012 season. Here, she shows her new name of Celebrity Century.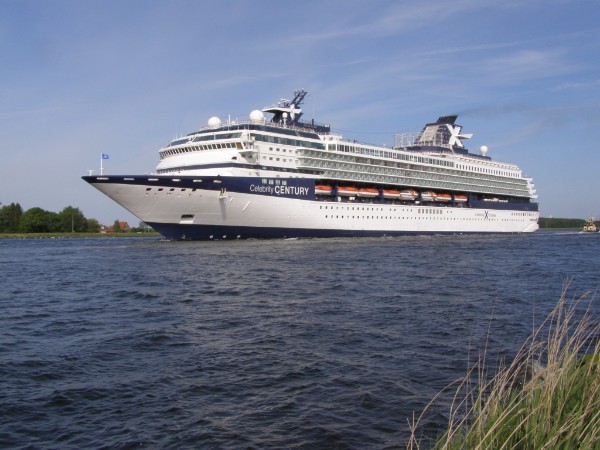 No longer a Celebrity
The year 2014 was the last year that Celebrity Century sailed for Celebrity Cruises as she reached twenty in april 2015, the ship left the fleet. In the summer of 2014 it was announced that she would be replacing Zenith in the fleet of Crocieres de France, also part of the Royal Caribbean Cruise Lines. But in september, plans were changed and Celebrity Century was instead partially sold to the new Chinese company Exquisite Marine Ltd., who were operating under the banner of CTrip, for far-eastern cruises from the spring of 2015 onwards. Partially sold, because also RCCL keeps a 35% stake in the new company. In her last season with Celebrity Cruises, the ship hosted several special events and special offers for the passengers. Also, she visited 17 new destinations for the company especially in Asia, like Manila, Brunei and Rangoon. Her last sceduled cruise for Celebrity Cruises departed at the 22nd of march in 2015 and the cruise after that, originally a 15-night Dubai to Rome sailing was altered into a 14-night Dubai to Singapore sailing.
A new company was set up by CTrip for the ship, named SkySea Cruises. Celebrity Century was renamed to what might be the strangest shipname ever, the SkySea Golden Era. Her first cruise under her new name started at the 29th of may 2015 , after she had been upgraded and rebranded at the Sembawang shipyard at Singapore.
The SkySea adventure did not last long, as the brand was discontinued from september 2018 onwards. Her last cruise under this name was a 4-day sailing from Shanghai, departing the 29th of that month. As many of the former, older Celebrity Cruises ships before her, the former Century was then sold to Marella Cruises, the new venture from Louis Cruises. In that fleet, she took over the place of another ship that was originally planned to enter that companies fleet, the former Celebrity Mercury that was then ailing for TUI Cruises as Mein Schiff 2. In a big shuffle, the Mein Schiff 2 stayed with TUI but was renamed Mein Schiff Herz as another Mein Schiff 2 was already in the planning stages. So instead, SkySea Golden Era returned to Europe for a Mediterranean-based company and for Marella Cruises, she was renamed into the rather boring Marella Explorer 2. Her larger sister, the original Galaxy, was also there and she had already obtained the Marella Explorer name.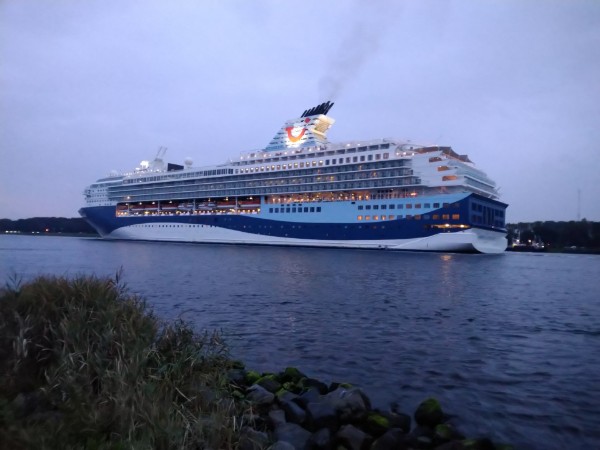 Her first cruise under the name of Marella Explorer 2 was a Mediterranean cruise in april of 2019. She was brought into service after an overhaul at the Spanish port of Cadiz. Her first season was quite normal, but on the 25th of march 2020, four crewmembers of the ship tested positive for the COVID-19 disease during a Caribbean cruise close to Barbados. The ship stayed in port and most passengers were flown back to the UK. Several were denied to fly though as they showed flu-like symptoms although none of the passengers was affected. The disease spread quickly around the world and became a pandemic by april, grinding all cruiseservices to a halt. A tragic incident aboard Marella Explorer 2 came when on the 3rd of april, a passenger died aboard because of the outbreak. With all services ending, the ship was finally laid-up near Portland, Great Britain and because she now was out of service, the company decided for an month-long overhaul at the Damen Yards in Amsterdam, where she arrived at the 1st of october.