Mein Schiff 4
Background
Mein Schiff 4 visited Amsterdam at the 14th of may in 2019. Because of the very early arrivals of the ships of the line and the nightly departures it is hard to see them sailing and the best pictures thus can only be made when they are docked. Of course for passengers these longer portstays are very pleasant as there will be no hurrying through a city.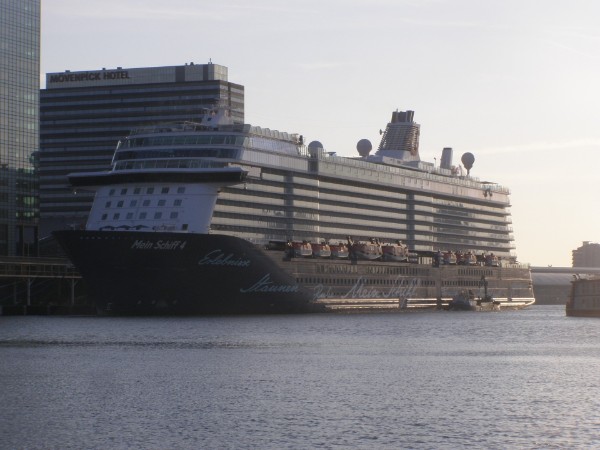 TUI Cruises was created in 2008 by Royal Caribbean and TUI Travel company as a new, German-based cruiseline. The German cruisemarket has seen steady growth over the years and they remain, together with the Brits, the largest market in Europe. With Carnival in that market via AIDA, Royal Caribbean had to be there too although TUI and Royal Caribbean hold almost equal shares in the line. For RCCL, it ment that they could replace the two older units from Celebrity Cruises into the new brand, although it wasn't planned to be just another garbage dump. Celebrity Galaxy and Celebrity Mercury followed eachother in 2009 and 2011 under the names of Mein Schiff, later altered to Mein Schiff 1 and Mein Schiff 2. Nothing more creative has since then come into place and the first newbuilt, the 99.500-ton Mein Schiff 3 followed in 2014. Three more in the Blue Motion-class followed, Mein Schiff 4, Mein Schiff 5 and Mein Schiff 6. I just do not hope that the company will grow up to 25 units or so, it would just be kinda funny if it did...
Construction and general statistics
Mein Schiff 4 was not there right away. She was an option to the first ship and was only able to get built if the shareholders within the company agreed to that. On november 5th in 2012, the option was carried out and Mein Schiff 4 was officially ordered from STX Finland in Turku for delivery in 2015. At the 24th of may in 2013, the first steel was cut and when there was one block ready enough to be lowered into the dock, which happened at the 25th of february in 2014, her keel was laidas it is called. During the building of the ship, the wharf was bought by Meyer Werft in Papenburg, Gemany so in some way she is German-built although the wharf is on the other side of the pond. At the 10th of october in 2014, the ship could float out of her buidlingdock and was towed to her fitting out berth. Her first trials started at the 20th of april in 2015 and at the following 8th of may, she was delivered to her company.
Mein Schiff 4 measures 99.526 tons and she has a lenght of 293,20 meters, a width of 35,80 meters and a draft of 8,27 meters. Her passengercapacity is 2506 and she can also carry around 1000 crewmembers. She has 15 decks and is homeported in Valletta, flying the flag of Malta. The ship is driven by two fixed propellers powered by four diesel-electric engines of Wärtsilä design and there are also three bow thrusters and two stern thrusters installed for good manouverability. The ship can sail at a cruisingspeed of around 21,7 knots.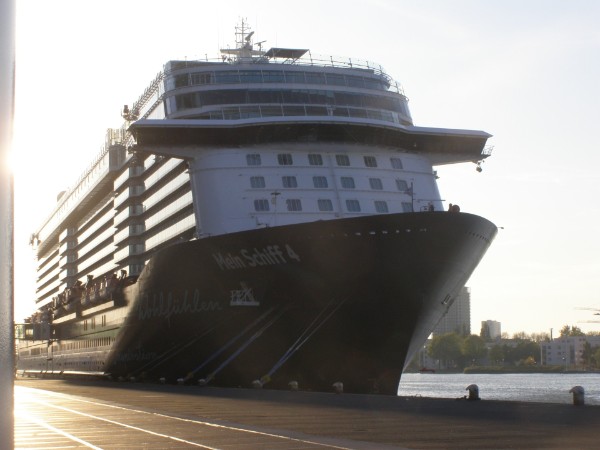 Design
The ship was, just like her sisters, designed by Wilson Butler Architects, together with CM Design and Tilberg Design. Mein Schiff 3 and Mein Schiff 4 are very similar in design. The ship has a very pleasant, open design with mainly ligher colours and a very modern standard. There are 11 restaurants/ bistro's aboard, 12 bars and lounges, 2 swimmingpools of which one can be covered in unpleasant weather conditions, three jacuzzi's and all 15 decks are connected by at least ten elevators giving a good passengerflow throughout the ship. Two particularly interesting spaces are the Grosser Freiheit or Great Freedom, which is the diamond-shaped glass outburst of the stern where-in two restaurants are housed giving a great view over the ships wake. Then there is the Klanghaus, a true two-deck high and 300-capacity philharmonic musichall. Together with her sister, these two ships are the first of any ship in the world with a hall like this. From september 2019 onwards, the first permanent tattoo shop at sea was opened aboard the ship, after a successfull trial aboard Mein Schiff 2. This shop was made possible due to colaboration with the Gronau-based tattoo and piercingshop Wildcat.
There is a wide array of open deckspace available, some 12.000 square meters of it. There are hammocks, a spa and sea sauna area, jogging tracks and other outdoor sport facilities. Of course the ship also is built to environmentalfriendly standards of today, with installed filters in the exhausts that reduce harmfull emissions and almost all materials used aboard can be recycled if the need will be there.
TUI Cruises differs from many other cruiselines in the fact that they have an almost 100% included cruiseprice so there will be no high expenses afterwards. Food, gratuities and bevarages, fitness and suana are all included. Although the language aboard is German, you definitely can feel at home if you do not speak the language as English is spoken throughout.
Carreer
Mein Schiff 4 was named in Kiel at the 5th of june 2015 by Franziska van Almsick, a former German Olympic swimmer and after her naming, the ship set sail for her first cruise in the Baltic Sea from Kiel departing at the 6th of may. She visited town to the likes of Tallinn, St. Petersburg, Helsinki and Stockholm. She mainly sails the Baltic Sea, western Europe, the Mediterranean and around the British Isles.