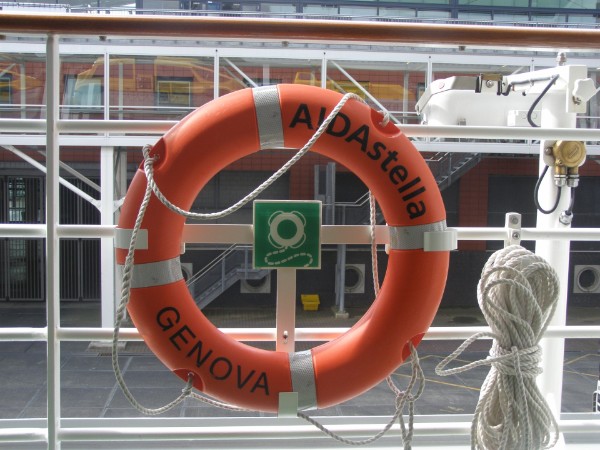 The AIDAstella is the last member of the Sphinx-class of ships for AIDA Cruises. On the 4th of august 2014, I had the opportunity to have a look inside while she was berthed at Amsterdam. I was very curious because I had never seen a ship of AIDA before. AIDA Cruises is a company that really innovates and their somewhat excentric ships are very recognizable within the cruisefleet of today. As the last member within the class, AIDAstella of course has all the innovations that were made for these ships, like you'll discover on this page.
The most distinctive feature inside as well as outside is of course the Theatrium. This space is spread over three decks and is of course a combination between an atrium and a theater. The AIDA ships do not have another theater or atrium, like we know at other cruiseships just like they also don't have a normal restaurant, as we'll see later. Aboard the style is very informal, also shown in the design for the Theatrium.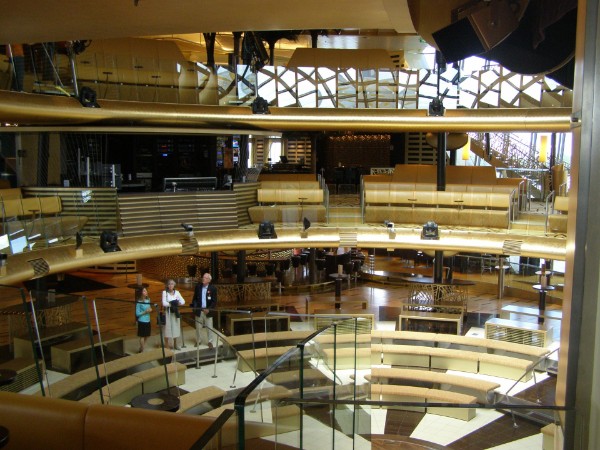 Here, the show for the night is performed two times so everyone can enjoy the show, without having to rush for diner. On a fifteen night cruise, there are fifteen different shows so every night there is another one. On AIDA, passengers cannot come onto the ships in every port of call, they only can board in the departureport so no one will have to watch any show twice. The informal part comes because you can either sit down to watch the whole show from the comfortable benches, or you can just sneak inside to watch a part of it and stand behind the benches because the space is open at all sides. In a normal theater, this is not possible because you would interrupt others. On both sides, there are spectacular views of the sea through the large glass windows also, giving a sense of space. The shows range from theater, acrobatics, comedy, music and the artists usually rehearse at midday so passengers can also enjoy this. This is also the space where ten godmothers christened the ship in 2013.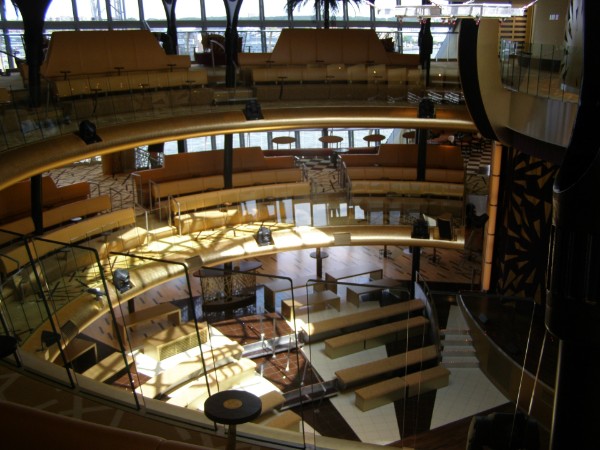 Another innovation aboard several of the Spinx-class ships is the brewery. Here, as an industries first, the ships own beer is brewed from distilled seawater. Sadly, the brewery was closed while we visited due to tax regulations.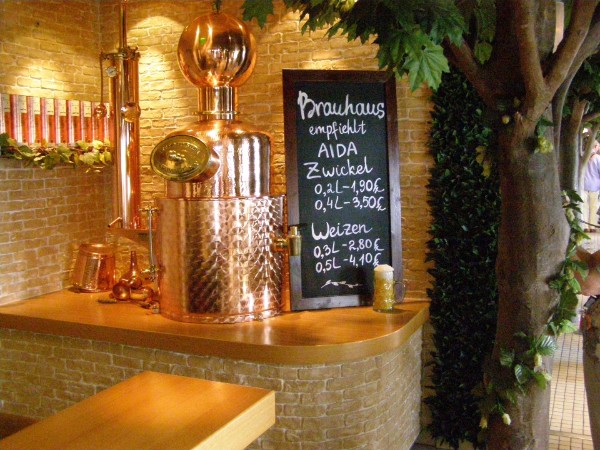 Of course, like a good German tradition, the brewery is next to a bierkeller, whith traditional wooden benches and a style known from especially Bavaria.
| | | |
| --- | --- | --- |
| | | |
| The Brauhaus as it looks inside, traditionally German. In the corner, the stills are shown. | | Of course there also is an outside terrace, under a wood of trees... |
In front of the Brauhaus, there is a terrace where you can drink your seawater beer under a sky of leaves from the trees that are giving some shade under, well, the above deck. This all had a little sence of humour in my opinion but I truly like the idea to give a very German touch to the ship inside.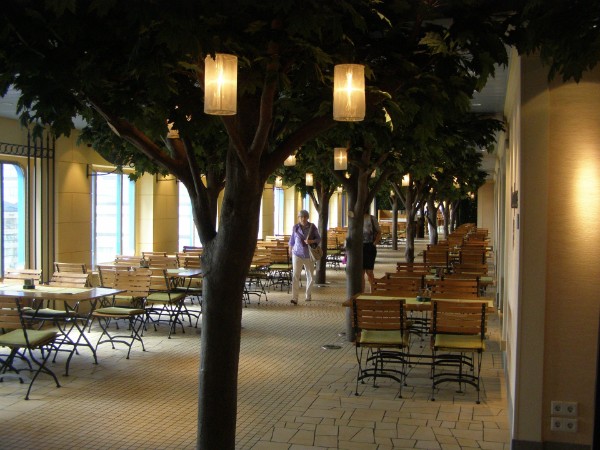 As said, the ship also doesn't have a restaurant with two seatings where you 'have' to be on time at fixed tables. Diner, lunch and breakfast are open in four buffet-style restaurants. One Mediterranean, one Eastern, one grill and one gourmetrestaurant. You can eat as much as you like, go in as many times as you like and sit anywhere you like. The style of AIDA almost seems even more open then NCL's Freestyle dining, but is at least comparable. Of course, not having a grand restaurant like we know from the 'old days' also gives the lack of grand entrances and tradition, but as we can see in the popularity of AIDA Cruises, a lot of people really prefer this informal style of dining and the freedom of whenever, whatever. It is a holiday!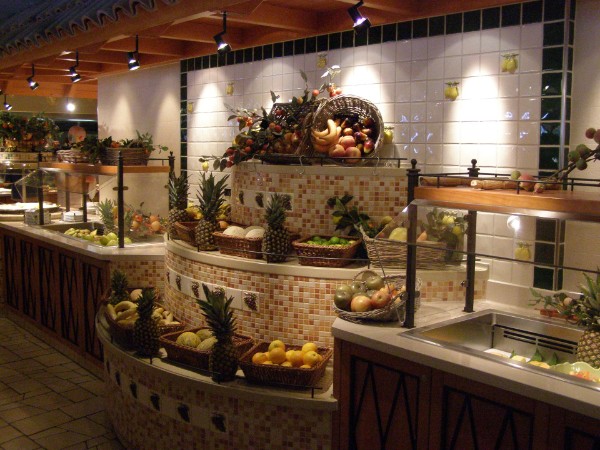 | | | |
| --- | --- | --- |
| | | |
| The entrance to the Mediterranean style Bella Donna buffetrestaurant | | An inside look of the Bella Donna restaurant. |
Of course you can also choose for a more formal style of dining in Rossini's, an a-la-carte restaurant where it is the chef who has the pleasure of informality. He has the freedom to cook whatever he likes, when he likes and how much he likes. When he walks on a local market and sees a beautifull fish, he'll buy it and cook it and that fish will be on your plate that evening. No single day the card will be the same because there is a lot of local influence and of course a lot of culinair creativity. Of course, the chef wants a small fee for this, but you'll imagine that he earns that. You'll just never know what to get. What you will know, is that in every restaurant, information will be given or a product contains lactose, gluten or if it is vegetarian. Although German is the main language aboard, every member of the crew knows their English so it will be very easy to interact and inform about what you are eating. But then, being mainly buffetstyle, you can really choose yourself and there really is enough to choose from.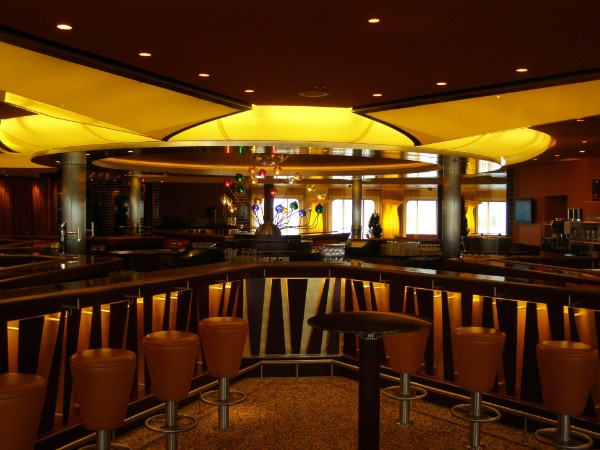 The main lounge aboard is the AIDA lounge, a feature that every AIDA ship has. In the center of the space, shown above, is a large bar in the form of a star so it will be very easy to have contact with other passengers. If you do not like to have a chitchat with a stranger, you'll have the opportunity to stay in your cabin or choose from the seats away from the bar. But a cruise also has the opportunity to meet others and this way it will be very easy to do so. In the AIDA lounge, there are also sometimes musical performances and the possibility to dance.
Another possibility to dance is of course the discoteque, which also has an outdoor terrace so when you need a little bit of fresh air, the windows will be pulled aside and you'll have the possibility, of course when the weather is good enough. With light curtains, wall paintings, plants and a blu-ish colour, the decor is very playfull and original. There are several places where you can have moments together, just close your curtain but keep it a little discrete, will you?
| | | |
| --- | --- | --- |
| | | |
| The discoteque bar as seen from far. | | The decor in this space is truly original. |
AIDA also really caters well for children. On the day we visited the ship, there were even around 600 of them aboard. This is not so on every cruise, by the way, but you have to keep in mind that, also because AIDA gives discounts to children up to 24 years of age, mostly there will be many. Very inviting if you have kids and are looking for a payable cruise that will entertain them throughout the day, but less attractive if you are searching for a quiet time. But then, AIDA may not be your choice. The kids area (untill 11 years) is very inviting and playfull with a playroom, an own theater (so yes! there is one besides the Theatrium) and even an own outdoor deck with a swimmingpool and a cool watersnake.
| | | |
| --- | --- | --- |
| | | |
| The playroom shown through glass. With 600 around, there were too many to have a sneak peek inside. | | And of course the childrens outside deck with the pool and snake. |
Of course, there also is a teen club for children between 12 and 18 years of age. They also have their own space, but it is rather small. Maybe also because the whole ship is very child friendly, espacially for teenagers. The teen room is located close to the discoteque, a blue tube connecting the two spaces.
| | | |
| --- | --- | --- |
| | | |
| The tube is designed as an underwater tunnel, without the fishes of course... | | The rather small teen room, with places to chat and to play videogames. |
And oh yes, the ship also has some outdoor space. I was rather amazed by the amount of it, normally, those modern cake-like ships do offer most outdoor space aboard seperate balconies, but here, you are really invited to meet others at the spacious decks. Cruising aboard AIDA sphinx-class ships makes it easy to get in touch with fellow passengers instead of staying independent from each other. In every way, the line tries to let the passengers interact and that is a good thing. In a society where people tend to avoid others mostly and cruiselines help this by putting everyone on their own piece of deck outside the cabin, it is nice to see the openness aboard AIDAstella. Most space aboard the pooldeck is also not occupied by a pool, but by deck and sunloungers. Of course, there is a pool and there are whirlpools, mini-golf and shuffleboard. The playfull design of the open pooldecks, not closed by any dome or whatever, is spread in the form of a large stairway, like on the Destiny-class variations from parent Carnival Cruise Lines and Costa. There also is a great walkway above the sea that looks out over the decks below, just without the glass floors seen on the new Royal class of Princess Cruises.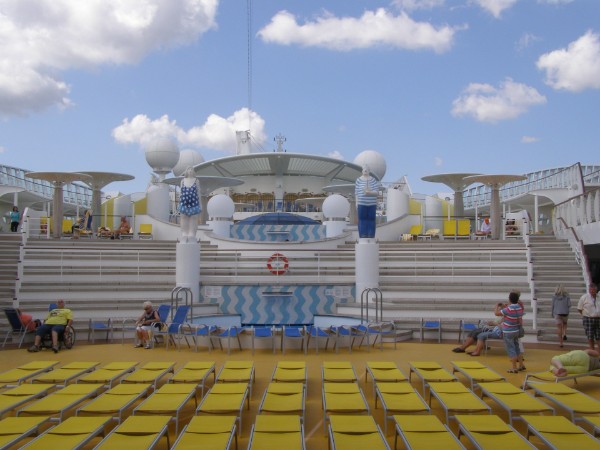 The whole thing is of course decorated with nautical statues that have the best spot to see the giant screen as well as parasol-like creatures that offer some shade. This big screen I mentioned is shown below, where you can watch scary or other movies from the comfort of your sunlounger. There is also a stage underneath and you can see several shows here when weather permits.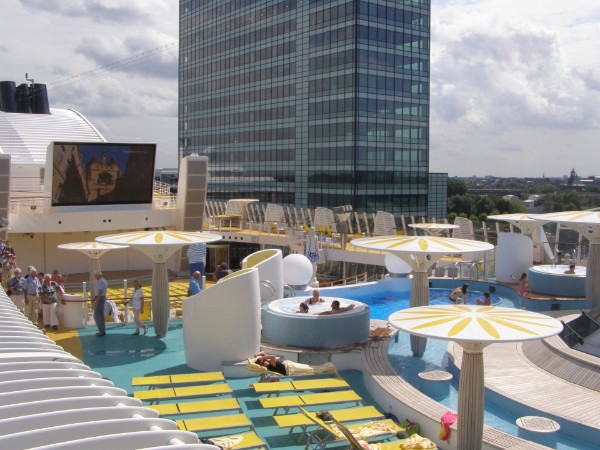 What else do we have? There is more entertainment throughout, of course, like the casino, that is also not a closed space but very open and directly next to the Theatrium. It is not too big but there is plenty of opportunity to earn back your cruise with AIDA. The ships gymnasium and spa are also present and very spacious. The AIDA ships do have all fat making spaces like restaurants and so forth astern and all thin making spaces like the spa and fitness towards the bow.
| | | |
| --- | --- | --- |
| | | |
| The entrance to the casino from the Theatrium. | | A part of the gymnasium is shown above. |
The gymnasium is connected into the sportsbar Time Out, that is situated next to the Theatrium via a wooden bridge, so be carefull aboard when you want to meet with someone at the bridge. It again is one of those playfull humouristic designfeatures of the ship. Responsible for the interiours is the well-known German firm Partner Ship Design, the main shipdesigners in Germany and responsible for all ships within the Spinx class, next to many others.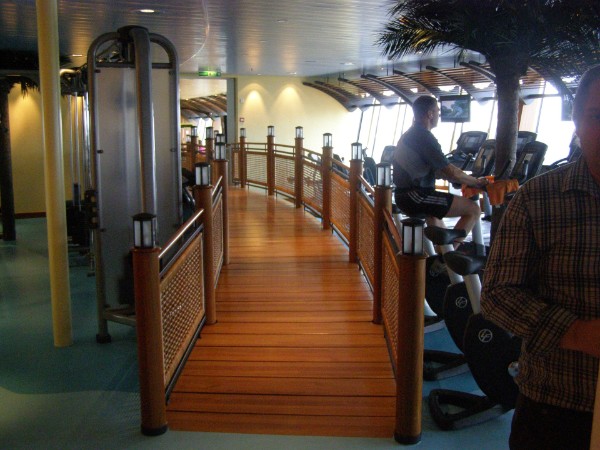 When you want to have the same view as from the bridge (you see, here we go already, I mean the navigationbridge where the captain works) there is one deck below the forward observationlounge. A clean and spacious room overlooking the bows of the ship and a great place to be when you are sailing into port or through the Norwegian fjords or so. At midday in port, it seems a quiet place to read or sleep.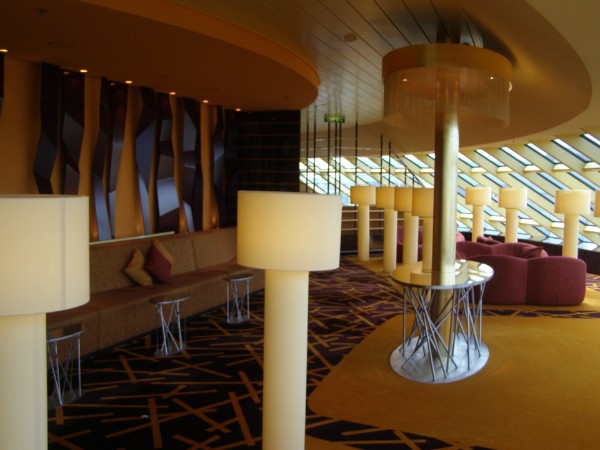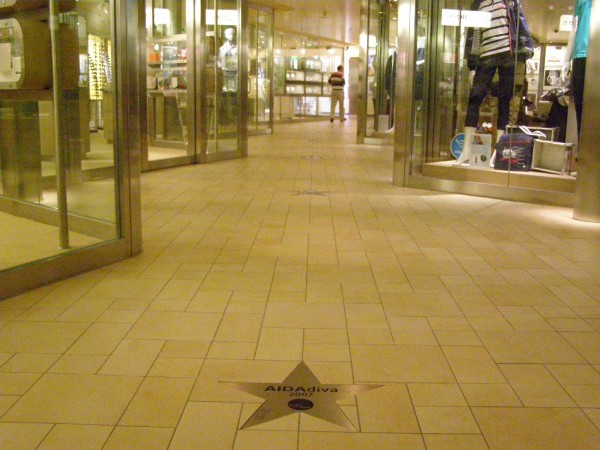 Above, the shopping arcade is shown, with the Walk Of Fame. This Walk Of Fame contains stars of gold where-in the names of all AIDA ships are printed, with the year of introduction and the name of the godmother(s). I am curious or AIDA will add new stars for the new ships that have yet to be built.
I'd almost forgot that with so many things to do aboard, there also needs to be some time for yourself and some time to sleep. Of course you can take a nap on one of the comfortable benches or chairs scattered around the ship, but there are also cabins which you can book with beds and bathrooms and so forth. All cabins have the same principal lay-out and all (except a few) can be booked for a maximum of four. Several have balconies, others are inside and they have a screen that can play views of the sea so you can still have an oceanview inside cabin. Like on a good German ship, the cabins (as does the whole ship by the way) are very clean and bright, several cabins having colourfull parasols above the beds. Because the ship was fully booked, we were only able to view a standard outside cabin with balcony, shown partially below.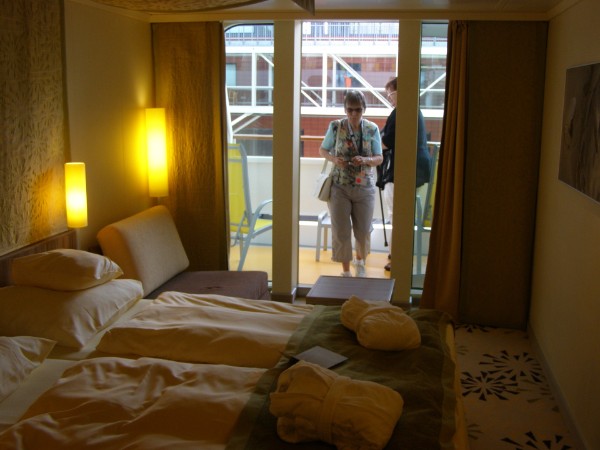 As an extra, you can also book a hammock for use on the balcony. In the 'old days' of AIDA, those were already present, but nowadays you can get them from the service desk at no extra cost if you like to have one. It will be rather cool to lie in a hammock at sea!
I really did enjoy myself aboard walking around and with all gimmicks, humour and detailed touches the ship seems to be really attractive if you like a fun-filled holiday European style. Do not expect quietness and the product is really aimed for a younger passenger that likes to go out and explore the ship and the ports themselves. But you can find some quiet time aboard too and the decor is not the neon-filled overdone carnival style with American Las Fargus touches. With all freedom aboard and the informal atmosphere that is to be felt throughout, cruising with AIDA really looks to be vacation. No captain gala's, no ties and cocktail dresses in a large dining room and no nothing that you 'have' to do. Of course it is way from the traditional idea of a cruise and, being a clubship, there is no roomservice and the cabins are cleaned only once a day. There is also no traditional dining, just buffet style. But the service is very well, the crew seems friendly and happy and there is just a lot to do for young and old. The ship just caters for most people who go on holidays and you don't have to be rich to cruise with AIDA. It now does not surprise me why this company is today the most profitable in the family of Carnival Corporation and when I first lifted eyebrows how a clubship of over 125.000 tons could be built (the soon to be AIDAprima) I now fully understand the product and the need to built one.