Clio

Background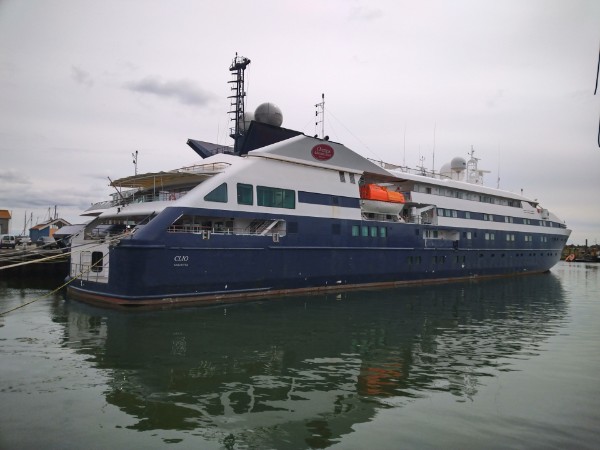 Above, Clio is shown in the port of Oudeschild on the island of Texel in The Netherlands on the 22nd of july in 2020. She was berthed here alongside her oceangoing fleetmate Corinthian and also the Grand Circle rivercruiseships River Aria, River Adagio and River Harmony were berthed here. Very unique, as Oudeschild hardly sees any cruiseships, being a very small touristic port on a small almost closed-off part of the North Sea. This all was happening due to the outbreak of COVID-19, which brought all world cruising to an end and just few ports in Northern Europe allowed cruiseships in.
Founded in april of 1988, the new company Compagnie des Iles du Ponant intended to operate a cruiseship under the French flag. Since the demise of the big French linercompanies like Compagnie Generale Transatlantique and Messageries Maritimes, the proud European nation was without passengerships under their own flag. The company had a yaught-like barque built at a French yard on subscription basis with other investors and this ship was put into service in 1991 under the name of Le Ponant. It was a close to 1200-ton three-masted ship with space aboard for 64 passengers and 32 crew. Some eight years later, the company was able to built their second ship. This ship was also built in France, but she was quite different from the first one and more then twice the size. Her name became Le Levant.
Construction and general statistics
Le Levant was built at the Chantier Alstom Leroux Naval shipyard at St. Malo in France under yardnumber 625. Originally, the ship was ordered from the Nantes-based shipbuilding and engineering group Leroux & Lotz, but this company sold its shipbuilding activities to Alstrom in 1997. Of course Alstrom was also the owner of the Chantiers de L'atlantique shipyard at Le Havre, where most of the original French oceanliners had been built. The ship measured 3504 tons and had a lenght of 100 meters, was 13,90 meters wide and her draft reached 3,50 meters. So a very small ship to cruiseship standards, but still more then twice the size of the companies first ship Le Ponant. She had space aboard for some 90 passengers and 60 crewmembers, so you can see what service the company was aiming for in those numbers. The ship had seven decks, of which five were available to her passengers. She was driven by two Wärtsilä-designed 9L20 diesel engines, driving two controllable pitch propellers. This installment provided a top speed of 18 knots, although her servicespeed lies more around the modest 14 to 16 knots. The ship flew the French flag, homeported in the French Pacific territory of Wallis and Fortuna. She had cost 200 million French Francs and she was financed through a series of tax breaks available for investments in French overseas territories. That is why she also was registered there and also her sailings were mostly in the French Caribbean.
The ship was delivered to her owners in november of 1998.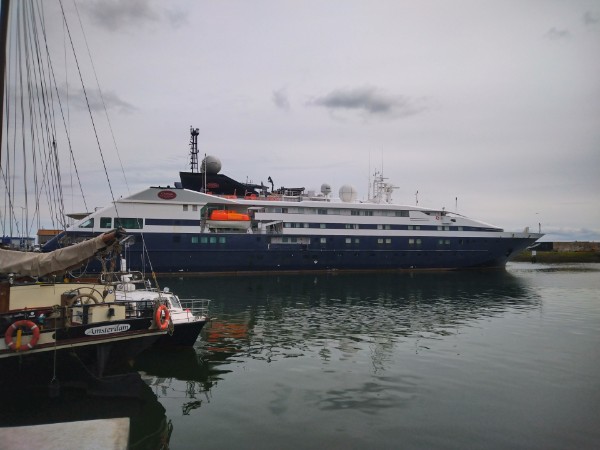 Design and style
Although the ship was mostly intended for the warm Caribbean waters, she was built with an ice-strenghtened hull so that her cruises could also be more diverse for her demanding, luxury clientele. Her lines are very elegant and streamlined and remind you of a personal yaught. Her shallow draft made it possible to cruise up the Amazon river as well as through the Saint Laurence Seaway up to the North American Great Lakes. All the ships cabins have sea views, but they lack the modern-day balconies. The passengercabins were on three decks, reading upwards Champlain Deck, La Pérouse Deck and Bougainville Deck, all named after famous French explorers and names of later ships within the Ponant fleet. Bougainville Deck has also an outdoor promenade, as well as a small outside swimmingpool although there is no jacuzzi. Above, there also is the Sun Deck where of course is ample space to enjoy the sun and the deck.
Next to the needfull amenities such as two restaurants, two bars, a main lounge and a fitness center, the ship also had a marina platform at the stern for swimming, snorkling or scuba diving. Aboard are also two landingcraft for expeditions as well as zodiacs for coastal trips, river cruising and wildlife watching. The ships interiours are very comfortable and sophisticated, but with not many special public rooms it was quite obvious that this ship had been built for outside life and explorations, more then just luxurious cruising.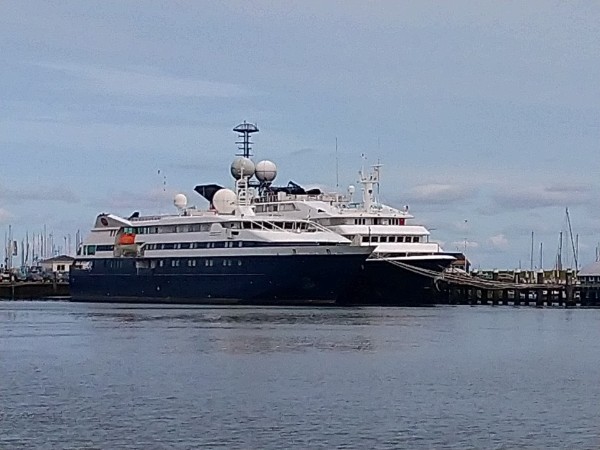 Carreer
Le Levant undertook her Maiden Voyage from Rouen in France to Miami's Palm Beach, before settling in for her Caribbean cruises in French Polynesia, although she also sailed up the Amazon and visited the Eastcoast of the United States up to the St. Laurence Seaway and the Great Lakes of North America. Her small size made it possible to visit ports that were unable to be reaches by larger ships.
In 2012, Ponant leased the
Le Levant
out to the one-ship company Paul Gaugin Cruises, for whom she started sailing at the 29th of december of that year under her new name
Tere Moana
. Her name is a Tahitian name, translating to 'Ocean Traveller'. Her first cruise under this new name departed St. Martin for a cruise in Latin America. Her normal scedule was now sailing 13- or 14-night cruises from St. Martin to Aruba, Curacao, Cartagena, Colombia and Costa Rica. Also, she sailed several cruises in the Eastern Caribbean, before heading out to the Mediterranean where she sailed from Barcelona, Rome, Venice, Athens, Istanbul and Lisbon. The company diversified hugely from their original roots, as their first ship
Paul Gaugin
just sailed cruises around Tahiti and the South pacific, which were the main focus of the company from their beginnings in 1998. Then, it was still under the banner of
Radisson Seven Seas Cruises
, untill the line was sold under the name of Paul Gaugin Cruises to Pacific Beachcomber. The ships services for Paul Gaugin Cruises weren't for a very long time, as the company started to concentrate again on their South Pacific program with
Paul Gaugin
solely, selling the
Tere Moana
to Grand Circle Corporation. Her last cruise as Tere Moana ended in may of 2016. A few years after, in 2019, the company Paul Gaugin Cruises was sold to Ponant, so the two former companies of the ship came together after they had sold her.
Below, Clio and her fleetmate Corinthian are shown side by side in the port of Oudeschild, Texel, in The Netherlands. The date of the picture is the 22nd of july, 2020 and they were here because of the world-wide COVID-19 pandemic, that had brought the whole cruise-industry to a grinding halt for an undisclosed period of time.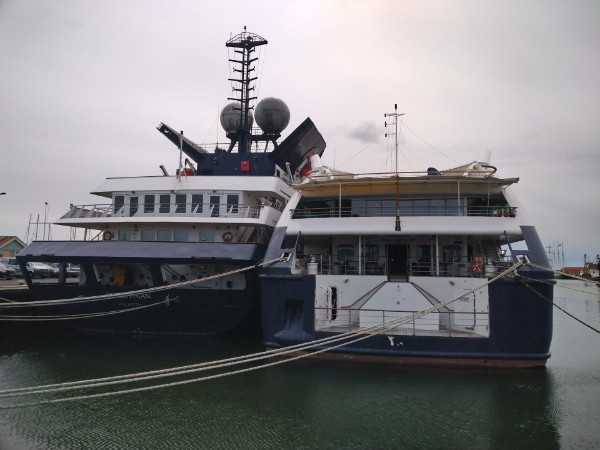 In july of that same yers, the ship started sailing for her new owners under the flag of Malta and under her new name of
Clio
. For the Grand Circle Cruise Line, the ship mainly visits the Baltic, northern Spain and the Bay of Biscay, the Mediterranean Sea and the Red Sea through a Suez Canal crossing. On may the 30th, 2020, the ship was docked for an extensive lay-up in the Dutch port of Oudeschild on the island of Texel due to the world-wide COVID-19 pandemic. She met her larger GCCL fleetmate
Corinthian
there, and was berthed next to her.