Global Mercy
Background
In 1978, Mercy Ships had been founded by YWAM missionairies Don and Deyon Stephens and the duo bought the 1952-built former Lloyd Triestino liner Victoria cheaply to transform her into the floating church and hospitalship Anastasis. Mercy Ships was part of the Youth With A Mission organisation and their aim was a dual-purpose one. With their hospitalship, they wanted to provide aid to countries where high quality hospitals were lacking and another mission was to spread the word of the Lord. In their own words they are 'bringing hope and healing to the forgotten poor, following the 2000-year old model of Jesus'. Within their mission, they do not charge patients anything and although they are a Christian organisation, they do not make any differences between people with different religions, race or gender. Normally, the company bought former liners and ferries to have them rebuilt for their purpose, but in 2021 the time was there to introduce a hospitalship they had designed from scratch, totally adapted for their missions. She was not going to be small, as the new ship was going to be the largest civilian hospitalship in the world.
Global Mercy is seen here in her first ever port of call, Rotterdam in The Netherlands. She was moored for several days in the port for PR purposes and free tours for the public. The date of this and the other pictures on the page is the 27th of february in 2022.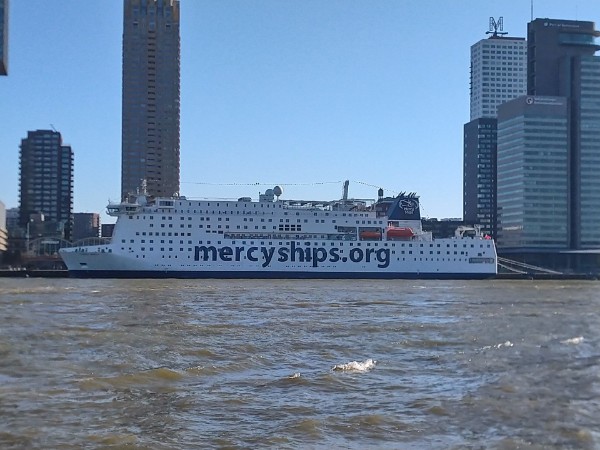 Construction and general statistics
The construction of the Global Mercy basicly began during the time that the company was rebuilding their new Africa Mercy, a project that begin with the purchase of the former Danish trainferry Dronning Ingrid, that was built in 1979. The rebuilding was a very lenghty one, as of course she had to be changed overall as her new purpose would be very different from her old trainferry days. The Maiden Voyage of the Africa Mercy was only made in 2007. During the time when the ship was to be completed, several people within Mercy Ships began to ask themselves what it would be like to built a totally new ship and how the ideal hospitalship would look like. They were able to convince the Mercy Ships International Board in 2011 and the company agreed to built a new ship instead of buying another older vessel, that would again take a long while to rebuild. Of course they knew what needed to be onboard and how they wanted the ship to look, but the company lacked a real shipdesign team so a shipbroker introduced them to Stena RoRo, the big Swedish ferrycompany who already had a history in designing ships for other companies. At that moment, Stena RoRo had a shipdesign ready for a new class of ferries and it really did fit the ideas of Mercy Ships. So both companies put their designs together and a final plan for the Global Mercy emerged from those.
The buildingcontract was awarded in 2013 to Stena RoRo because of their expertise in the shipbuilding field and a wharf was found in the Tianjin Xingang Shipyard at Tianjin in China, under supervision of the China State Shipbuilding Corporation (CSSC). In september of 2015, the first steel was cut and three months later the first buildingblock was lowered into the dock. This was the first of 267 blocks in total and after those were put together, Global Mercy was able to float for the first time in february of 2018. Her engines were able to be started in september of 2019 and her trials were sailed in april of 2021. The ship then moved to the port of Antwerp to be completed. This port was chosen, as the Belgians agreed with Mercy Ships that the new ship could be moored for free during the completion. Alos, there is a historical connection between Antwerp and Africa and many other companies agreed to work together with Mercy Ships to create the new ship. It took a while to built her, compared to cruiseships that are mostly build a lot quicker. But then, this was not a cruiseship and within the hull, a modern working hospital had to be installed too next to of course all amenities for people that have to be able to stay aboard for a considerably longer time.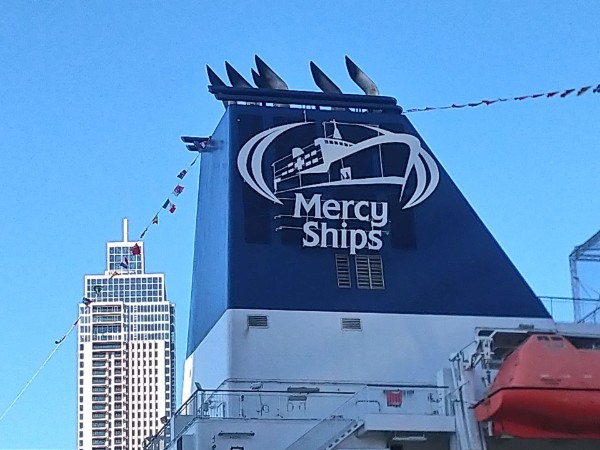 The completed ship measures 37.000 tons and is 174 meters long, 28,6 meters wide and has a draft of 6,12 meters. She has twelve decks and is powered by four Wärtsilä-designed diesel engines, propelling two ABB-designed azipods. Her speed is a very modest 12 knots, but then she is not built for quick voyages. Most of her time she will actually spend in ports. The ship is homeported in Valletta and flies the flag of Malta. She has a capacity of 641 people, but these are of course crew, medical staff and volunteers. In theory, she falls outside of the scope of this website, but still I find her noteworthy and close enough to passengershipping to include her anyway.
Design
The overall designer of the Global Mercy was the Finland-based company Deltamarin, overseen by Stena RoRo. Of course she was totally differen from a cruiseship or ferry and so she wasn't designed to awe the travelling public as there would be no traveling public or holidaymakers aboard. In history, hospitalships normally were rebuild oceanliners so there never had been a ship purely designed as a floating hospital before, making her very unique. Designed for some 199 patients at the time, the ship has six modern operating rooms, where procedures such as cleft lip and palate repair, cataract removal, facial reconstruction and dental procedures can be carried out, among many others. Patients can be divided in separate sections for 102 acute care patients, 7 ICU patients and 90 self-care patients. Aboard are also X-ray and CT-scan rooms, a screening center and rehab-center.Special care was taken for the design of the ventilation-systems and overal interiour spaciousness which a good hospital needs for operations. Also, noise and vibration throughout the ship had to be kept at a minimum. For that, the diesel engines are designed with vibration dampening features. Also, automatic water mist systems and smoke detectors are installed.
Next to being a hospital in itself, the ship also provides a trainingcenter for doctors, nurses and medical professionals. For their training a simulation lab is also installed where also local conditions and limitations can be simulated to train people up for the sometimes difficult jobs they can face in underdevelopped area's. Area's where the ship will be mostly operated in.
There are also a few cranes aboard that can be used for hoisting containers with equipment and supplies, especially as the ship can be providing her services in ports up to ten months at the time. As not all ports have equal or well developped quays, the ship also has a specially designed gangway that is capable of being adjusted in height.
As onboard there is not spoken about passeners and crew, for the staff also there has to be a considerable amount of space available, as they will stay aboard for long times when required. In total, the staff consists out of 641 persons and for them a 682-seat auditorium, a classroom for the children, a gymnasium, a café and a shop for also groceries are onboard, just as a pool and a library to keep them occupied.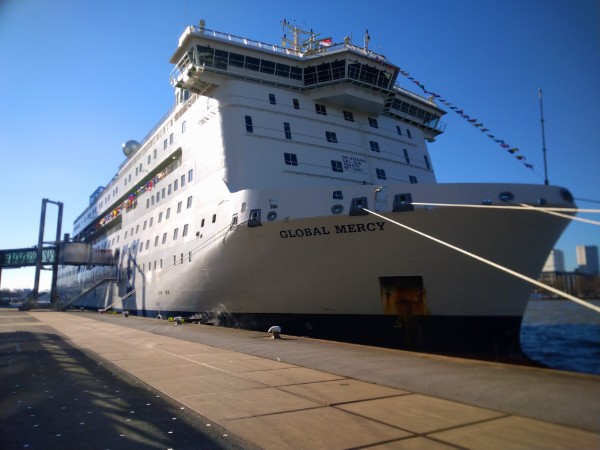 Carreer
After leaving Antwerp on february 25th in 2022 when she was completed, the ship sailed for Rotterdam where she would be docked for a few days. She arrived there one day after leaving Antwerp, as it is only a very short haul. This visit to Rotterdam was especially organized for PR purposes and for the staff to familiarize themselves with the ship before she would depart for her main task. For the general public, tours were available, of course totally in line with the then still necessary precautions because of COVID-19. At march the 1st, the ship set sail from Rotterdam. For the time being, she will mostly be employed within sub-Saharan Africa where critical surgical fascilities are mostly missing.