Hondius
Background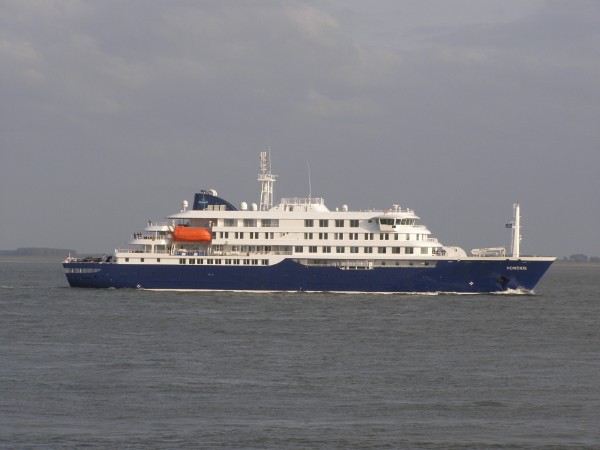 Hondius departed Vlissingen for the first time at the 3rd of june in 2019. Although it is her homeport, she will probably not be seen often sailing passing 'De Punt' as she will be mostly sailing far away places in the Arctic and Antarctic regions.
The Dutch company Oceanwide Expeditions, based in the town of Vlissingen, was founded in 1996 as a follow-up to the Plancius Foundation from the University of Groningen. They had bought a former Dutch naval researchvessel and renamed her Plancius for mostly Arctic expedition-style cruises. Over the years they have added two smaller sailingships to the fleet, Rembrandt van Rhijn in 1998 and Noorderlicht in 2011. Also another larger expedition cruiseship was bought in 2011 and brought into service under the name of Ortelius. But in the late 2010's, the expedition cruisemarket saw a huge expansion with modern, purpose-built cruiseships mostly in quite modern style. Also Oceanwide Expeditions recognized this change and knew they also needed more modern tonnage for continuation within this market. From the Brodosplit Yards in Split, Croatia, they thus ordered a new expedition-style ship that they named Hondius, named after the Flemmish cartographer Jodocus Hondius (1563-1612). Around 1604 he bought several maps made by Mercator and made them into the 1606 Mercator-Hondius atlas. Just after Hondius was setting sail, Oceanwide also announced a sistership would be built and that second ship would recieve the name Janssonius, named for Hondius' son-in-law Johannes Janssonius (1588-1664). This ship is planned to be delivered in october of 2021.
Construction and general statistics
At december 5th in 2017, the keel of the soon to be Hondius was laid at the Brodosplit wharf in Croatia after her first steel had been cut at the 23rd of august in 2017. She then was more-over known as yardnumber 484. This ceremony was enriched by some Croatian dancers, celebrating the milestone in construction as the yard did have some financial issues before and this new order was very welcome. The ship floated out of her building dock at june 9th in 2018 and on the 2nd of may in 2019 she was delivered to Oceanwide Expeditions.
The ship has a tonnage-measurement of 5590 and she is 107,60 meters long, 17,60 meters wide and her draft reaches 5,30 meters. There are accomodations aboard for some 174 passengers in 82 cabins, as well as for 72 crewmembers. She is powered by two ABC marine diesel engines, manufactured by Anglo Belgian Corporation NV, based in Gent, Belgium. They provide her normal speed of 15 knots. The ship is registered at Vlissingen, flying the Dutch flag.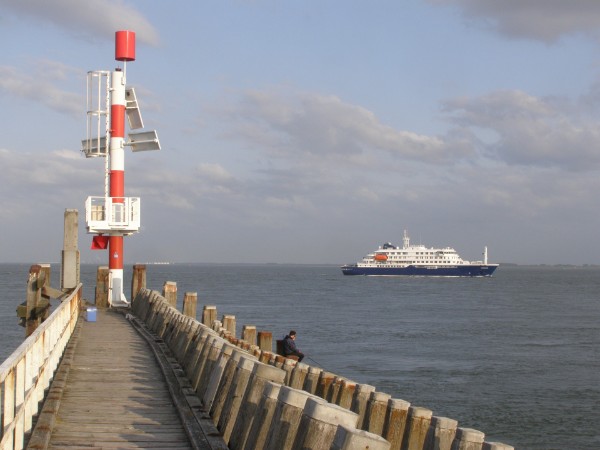 Design
Although more expeditionships are built to the Polar Class 6, which is the highest classification for ice-strenghtened vessels by Lloyd's Register, Hondius was the first of those new breed of ships that took to the water and so can be named the first Polar Class 6 cruiseship in the world. Furthermore, this modern ship uses only bio-degradable painting, LED lighting, steam heat and flexible powermanagement to keep fuel consumption and CO2-emissions to a bare minimum.
Her cabins range from a 12 square meter twin/ triple of quadrupple porthole cabin up to the 35 square meters Hondius suite. One deck of the ship also is totally devoted to (multi-language) lectures and presentations in one large observation lounge and one seperate lecture room. The focus of the company lies on expeditions and land-exploration in general, so sea days will be kept short and a fleet of zodiacs is used to guarantee a fast and safe transport to the surroundings of the ship. Two gangways are used to speed up the process of zodiac embarkation, as well as an indoor platform that can be used for other forms of exploring with for example kayaks. The style of the ship is informal and cozy, although the experience can be called luxurious.
Designed to a distinct Dutch style, the lounges and public spaces aboard Hondius give a very homy, somwhat classic atmosphere. Many light and mild colours are used as well as screens of fireplaces in the lounges. There are enough places to read and converse and old maps created by the men who gave their names to the ships of the company adorn the walls.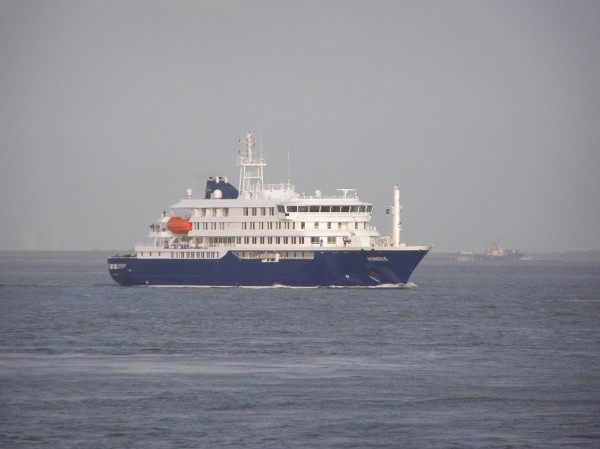 Carreer
Hondius arrived in Vlissingen at the 31st of may in 2019, followed by her naming ceremony at the following day. In the early evening of the 3rd of june, she departed Vlissingen for Aberdeen, Jan Mayen and Spitsbergen and started to settle in for her first season of expeditioncruises in the far north. In the summer of 2020, the ship will be chartered to Overseas Adventure travel, which is part of the Grand Circle Corporation.