Prinsendam (II)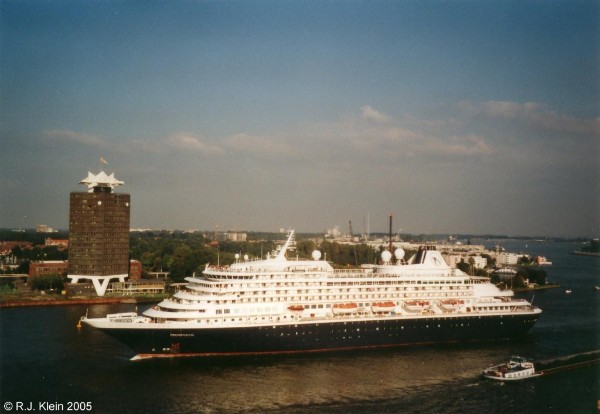 This mediumsized ship was built in Turku, Finland on the famous Wärtsilä-wharf as yardnumber 1296. She is 204 meters long, 32,23 meters wideand her draft is 7,20 meters. Her gross tonnage is 37.845 and she can carry 768 passengers on 8 decks. Also, these passengers are served by 467 crew. Her rating is 5 stars.
Prinsendam floated out her building dock in may 1988. She was built for the Royal Viking Line, when that company was already a part of the Kloster Group (Norwegian Cruise Line). She has no sisterships and was built to a classic profile. Her name was originally planned as Royal Viking Excelsior, there are even some renderings to be found of her under this name. Her aft decks well stepped back and her superstructure is well proportioned and also she has a wraparound promenadedeck like the old liners. On the 26th of november 1988 the ship was delivered and named Royal Viking Sun in San Fransisco in january 1989 by actor James Steward. On this ship, Royal Viking Line perfectioned the luxury they already presented on the older trio 'Star', 'Sky' and 'Sea'. A fifth ship, Royal Viking Queen, that is now sailing as Seabourn Legend was added to the fleet one year later.
In the mid nineties, Kloster integrated the Royal Viking brand in their Norwegian Cruise Line brand and the name thus disappeared from the cruising world. Royal Viking Sun was sold to Cunard and kept her own name and Royal Viking funnel untill 1996. After then, she recieved the Cunard red and black funnel, only with the Royal Viking Logo in the middle.
In 1999 Cunard sold or transferred all but two of her ships and tried to find their way back to their roots with classic British-flagged ships. Royal Viking Sun was transferred to Seabourn as Seabourn Sun where she was also reunited with her former Royal Viking sister Seabourn Legend. This was only for a short while, because in 2002 she was again transferred as Holland America's second Prinsendam.
The first Prinsendam was a small ship built in Hardinxveld in Holland in 1973 built especially for cruises in Indonesia. In fact she really looked like a smallsized Noordam (1984). She was a really popular ship with Holland America's passengers, but sadly she burned and sank on a cruise near the coast of Alaska in 1980. All her passengers were saved, luckily.
The second Prinsendam was named on the thirth of june 2002 in New York and she sails worldwide cruises nicknamed the 'elegant explorer.' She still has the honour to have the most godparents in the cruise-industry, as Holland America Line gave the honour of this title to all 10.000 employees of the company. The bottle of fine champagne was broken at her bow by just three of those, Rose Abello, Eva Andresen and Linda Ehlenberger. Those girls have all been named employee of the year, once. Next to this, the ship got another honour as New York's mayor Bloomberg proclaimed monday the 3rd of june 2002 'Prinsendam Day'.
She is the smallest ship of the HAL fleet but that gives the company the opportunity to sail luxury cruises to ports not reachable for the larger ships and that is a HAL tradition. Another tradition for ships under the Holland America Line flag is the extensive art collection aboard, also Prinsendam recieved a considerable amount of cultural artefacts, including Indian and Nordic items.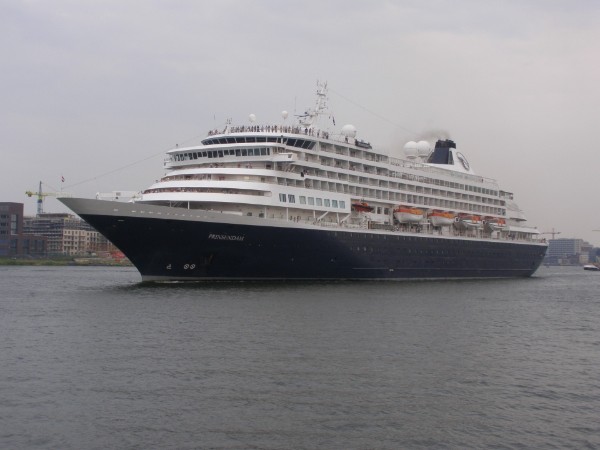 The first picture shows Prinsendam leaving Amsterdam in front of the former Shell-office at the 20th of september 2005. Above, you can see her again leave Amsterdam, but now in 2009. Below, the elegant explorer meets the rising sun at IJmuiden, at the 9th of july 2010, showing her new aft decks. These new extended decks luckily do not spoil her appearance too much.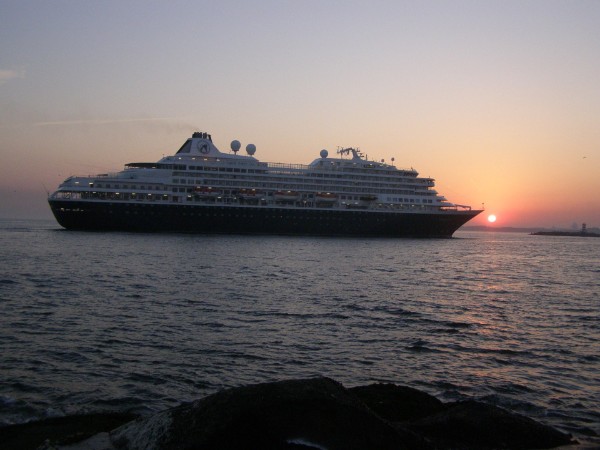 Her carreer under the flag of the Holland America Line is now longer then her carreer as a Royal Viking Line ship and she has become an old favorite for many. She has had very little problems, except for two 12 meter high freakwaves that surprised her, her passengers and crew near Cape Horn at the 1st of february 2007. Some 40 people had to be hospitalized due to injuries. Another story, this time heroic, can be told dated the 22nd of march 2012, when she rescued eight Portugese fishermen from a siking ship near Portimao, Portugal. After they came aboard the ship, the Portugese coastguard send a helicopter to pick them up and bring them over to the mainland.
In late 2007, the ship was updated with the traditional Explorations Cafe, a good-stuffed library and reading room. Also, the cabins were re-freshed and the Pinnacle Grill, the alternative restaurant aboard, was updated and recieved new menu's. Next to this, the ship now also has the 'Club HAL's Kids Program'. Before, the ship was never really marketed as child friendly, concentrating on quiet adult cruises. Still, although the program was introduced, there is no seperate children's facility aboard and specially trained staff is not aboard regularly. In january 2010, the ship recieved 21 extra staterooms that were built in a superstructure extension on the aft portions of promenade deck 8. Also the pool area on the upper promenade deck aft was extended.
In july 2018, Prinsendam was sold to the German company Phoenix Reisen, but chartered back to Holland America Line untill the 1st of july 2019. For Phoenix, Prinsendam will recieve the name Amera.