Sea Cloud II
This barque was built at Astilleros Gondan in Figueras, Spain as yardnumber 405. She is 117 meters long, 16 meters wide and her draft is 5,90 meters. She can carry 94 passengers on 4 decks and they are looked after by 58 crew. She can sail at 14 knots and her homeport is La Valletta, Malta.
Below, Sea Cloud II sails past IJmuiden at the 16th of june 2015.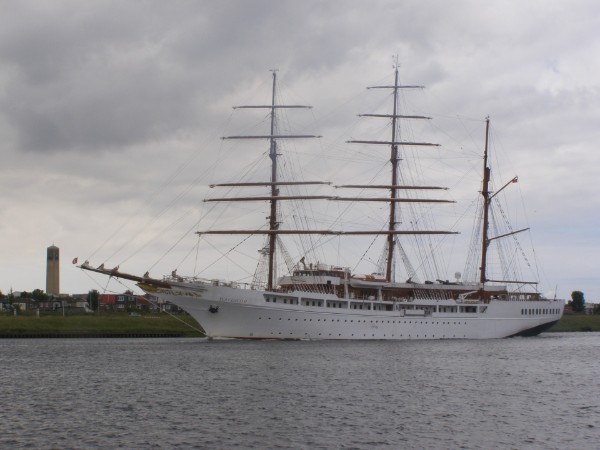 And exactly one year later, at the 16th of june 2016, she came back...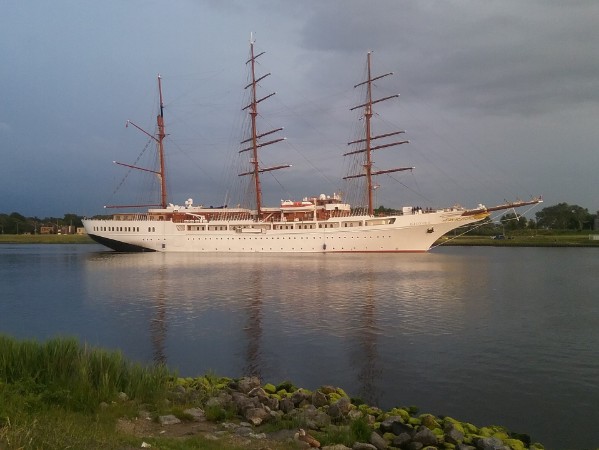 This ship may look like a strange duck, like we say in Holland, between the other ships on this website she is at least very different. But she has to be here. It is a true cruiseship, sailing with almost one hundred passengers on overnight cruises.
Sea Cloud II was built as a modern lookalike for the Sea Cloud, a private barque built in Kiel, Germany in 1931. When this ship was taken over by a Hamburg buisinessman named Hartmund Paschberg, Sea Cloud Cruises was formed. But the company was to expensive for a one-ship operation so it became clear another ship had to be added. The only ship that would fit within the new company would be a ship that looked like the older one so the idea to built a modern square-rigged sailingbarque in a classic style was born.
It was rather difficult to built a ship like this, because there were not that many shipyards capable of building a classic sailingbarque. A shipyard in Spain was found, Astilleros Gondan S.A., but eventually the ship would be built in several places and put together in Spain. It was hoped the ship would be sailing the river Elbe for Hamburg's harbour anniversary in 2000.
Sea Cloud II
is seen sailing the Northsea just after she left the outer harbour at IJmuiden. The date is june 11th, 2006.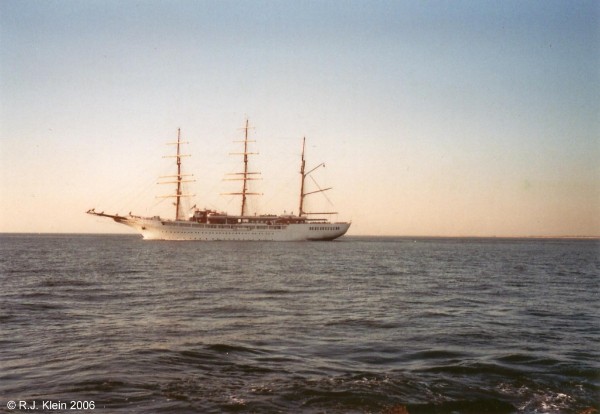 Unfortunately, the ship was not delivered untill a year after her planned launch and she could only be delivered in february 2001. The ship was named by Sabine Christiansen at Las Palmas on the 6th of february and afterwards sailed her first cruise in de Mediterranean Sea.
The Sea Cloud II is mostly sailing Mediterranean, Caribbean and Transatlantic cruises in between, just the same scedule as her more than 75-year old sister. Besides these two oceangoing ships, Sea Cloud Cruises operates two river cruiseships with the most innovative names River Cloud and River Cloud II. These ships are modern, but also represent the classic rivercruise experiences of the 1930's. Both of them look also very classic. From 2009 onwards, River Cloud has been chartered to the Dutch company Euroshipping.
I think it is great to see that some cruiselines are trying to recapture the feeling of the past onboard of their ships. Besides the modern megaliners, some smaller cruiselines do give another option for the cruiser. And when you just can't afford cruising with expensive ships like this, at least it's a pleasure to the eye to see them.
In 2011, a thirth member of the Sea Cloud family was to enter service under the name of Sea Cloud Hussar. This 136-passenger ship was planned to be the biggest passenger-carriing sailingbarque in the world when delivered. The name is a direct link to the 1931-built ship, that was called Hussar in her first years of service. First, it was hoped that the ship would be in service by the autumn of 2009, but this had to be postponed, like her slightly older sister. Sadly, untill now there is still no sign of the new vessel.

Sea Cloud II starts her passage of the Northsea Canal towards Amsterdam at the 16th of june 2015.