Sea Spirit
When the Norwegian shippingcompany Fearnley & Eger started up a new cruisecompany under the name Renaissance Cruises, they ordered a series of eight small luxury yaughts that were able to visit ports unable to reach for larger vessels. It is quite unusual for a newcomer to start with eight ships, built in a very short time at two wharves. The first four, ordered from the Cantieri Navale Ferrari-Signani wharf at La Spezia in Italy had a tonnage of 4077, a lenght of 88,30 meters and a capacity of 100 passengers and 72 crewmembers. In these numbers, you can easily see the nature of the line, very luxurious indeed. The second four ships were ordered from the Nuovi Cantieri Apuania yards at Carrara, also in Italy. Those four were slightly larger, measuring 4200 tons, with a lenght of 90,60 meters and a capacity of 114 passengers and 72 crewmembers. To keep it simple, the names of the ships were Renaissance, followed by the Roman numbers I untill VIII. The company later diversified in their larger R-class of ships with all names strating with R and ending with the written numbers One untill Eight.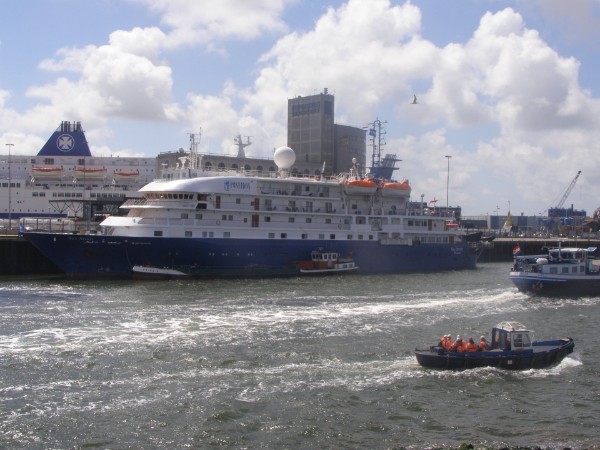 Sea Spirit, the former Renaissance V, is now sailing in charter for Poseidon Expeditions and is here seen at the 19th of may of 2015 at the first IJmuiden cruiseterminal. Behind her, the DFDS ferry Princess Seaways prepares for a crossing to Newcastle in northern England.
The first of the second series of four was thus built at the Apuania Wharf, as named, and she was launched at the 13th of february of 1990. She had been built under yardnumber 1144 and she was 90,36 meters long, 15,31 meters wide and her draft reached 3,90 meters. Her tonnage was 4280 and her servicespeed was just 15,5 knots, given to her by two Diesel engines designed by MAN. As stated, she had 57 cabins, all between 20 and 45 square meters, for a total of 116 passengers and also there were 72 crewmembers aboard. The ships interiours are very classic with a strong nautical feel, given by a lot of wood, copper and nautical details. Initially, the ship was named Hanseatic Renaissance for a company named Nuova Armanento Sud, with her homeport being Palermo. Only in 1992, her name had been changed to Renaissance V for Renaissance Cruises. Three other ships in the class were built as Renaissance VI, Renaissance VII and Renaissance VIII. In 1994 her homeport changed to the more tax-friendly Monrovia so she shifted from the Italian to the Liberian flag.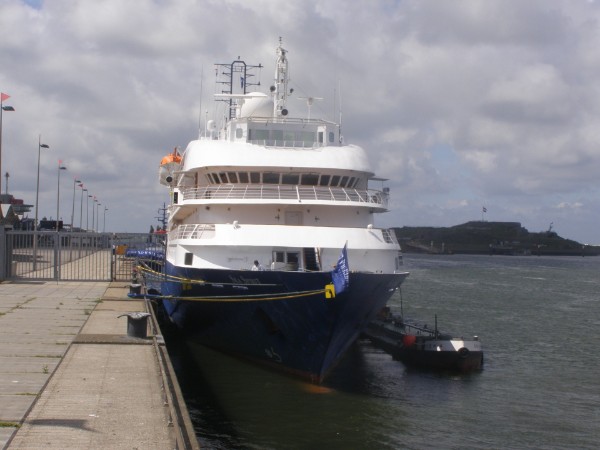 Just before Renaissance Cruises started to introduce their new 30.000-ton R-class, the former smaller yaughts were phased out of the fleet. In 1997, Renaissance V was sold to Sun Cruises, together with her sister Renaissance VI. For Sun Cruises, Renaissance V was renamed Sun Viva and Renaissance VI was renamed Sun Viva 2. For both ships, this was only a short internude, as they were again sold, this time to Star Cruises from Maleysia. Sun Viva was again renamed, this time she became the Megastar Sagittarius. Her sister became the Megastar Capricorn. This happened in the year 2000 and their homeports changed to Nassau at the Bahama's. Just one year later, Megastar Sagittarius was again sold, now to Cruise West homeported again at Monrovia. Now, she also parted from her sister. She was also sold in 2001, but to Hebridean Island Cruises, sailing cruises around the Scottish coast. For Cruise West, the former Renaissance V was getting her fifth name since her debut, becoming the Spirit Of Oceanus. As such, she mostly sailed from the US westcoast and it finally seamed that she got a new home for a longer period of time. Indeed, she sailed for Cruise West untill september of 2009 when she again changed hands and started sailing as Sea Spirit, owned by TN Cruise KS. This company also brought her back under the flag of the Bahama's. As such, she now is mostly sailing for Quark Expeditions as a true expeditionship. At the moment, the ship is chartered by Poseidon Expeditions for a period of three years, but it is likely that this charter will be extended.