Triton
At the 2nd of february 1971, Cunard Line launched their first purpose-built cruiseship from the Rotterdamse Droogdok Maatschappij (Rotterdam Drydock Company) at Rotterdam, the Netherlands. The yardnumber of this ship had been 329. The Cunard Line had always been built around the transatlantic services, but this era came to an end. After they had tried to jump into airtravel themselves with a company named Cunard Eagle Airways, they bought two ships then on order for Overseas National Airways, an airline that had tried to venture into cruising and in which Cunard already had a 50% stake. This company ran into financial troubles and the two ships were completed for Cunard Line when Cunard aquired the rest of the company in july 1970.
The first of the pair was named Cunard Adventurer, so Cunard Line changed the naming strategy of their ships from the earlier linerdays. Ships would be no longer named after Roman provinces, but they would have the Cunard name as prefix. This was done, because the company wanted to show that they were basicly based on new principles from now on. With a tonnage of just 14.115 and a lenght of 148,11 meters, a width of 21,92 meters and a draft of 5,86 meters, these ships were quite small. But in the early 1970's, this was the new way of designing cruiseships. There was accomodation for 832 passengers and 412 crewmembers on seven decks. The ship was able to sail at a moderate speed of 21,5 knots. Her trials started at the 28th of august 1971 and she was delivered to the company at the 19th of october of that same year. Excactly one month later, Cunard Adventurer sailed on her positioning voyage from Southampton to San Juan to start Caribbean cruising.
Next to Caibbean cruising, Cunard Adventurer also sailed seasonal New York to Bermuda services, a route that Cunard Line had taken over from the Furness Bermuda Line in 1967. Her sistership was named Cunard Ambassador and sailed similar cruises and started sailing one year after her earlier sister. Both ships were not very succesfull for Cunard Line, so just a few years later they were replaced by two larger ships, Cunard Princess and Cunard Countess. In september 1974, a premature end came to Cunard Ambassador when she caught fire off the Florida coast and Cunard decided against rebuilding the ship. Instead, she was sold to Denmark as a lifestock carrier under the name of Linda Clausen. Later, in 1980, the ship was agian sold and in july 1984 she again caught fire and this time there was no thirth life for her. The ship, just twelve years old, was scrapped. Cunard Adventurer had one mishap while sailing for Cunard, when she collided with Carla C of Costa Lines at the 14th of february 1976 while cruising close to San Juan. The ship suffered damage to the bow.
Cunard Adventurer was sold to Norwegian Caribbean Lines in 1977, after the new pair of ships entered service. In march of that year, rebuilding started and she was renamed Sunward II for the growing Norwegian company. The most distinctive change in her appearance was the changed funnel. As a Cunard ship, she sported a single stack, but as a Norwegian ship she was fitted with the characteristic double-split funnel. This was also seen at this companies newbuilds. She resumed Caribbean cruising in april 1977 for her new owners and for them she was quite succesfull. In 1987, her homeport changed from Oslo to Nassau when Norwegian Caribbean Lines started trading as Norwegian Cruise Line, because they were not only sailing Caribbean cruises anymore after the introduction of more and more ships.
In 1991, when Norwegian Cruise Line started to add more modern ships to their fleet, the Sunward II was sold to Epirotiki Lines, based in Piraeus, Greece. She was renamed Triton and started sailing Mediterranean cruises. On the 4th of june 1996, the ship suffered an engineroom fire close to Kamiros,Greece and her passengers had to be evacuated. Luckily, there were no casualties and the ship was brought over to Rhodes, where she was repaired. One year later, the ship came under the management of Royal Olympic Cruises, after Epirotiki Lines and Sun Lines, also from Greece, had merged. She steadily sailed on for the new venture, untill the 12th of february 2005, when the company was declared bankrupt. With this, an important historic part of Greek passengershipping came to an end and the ship was laid up awaiting a buyer.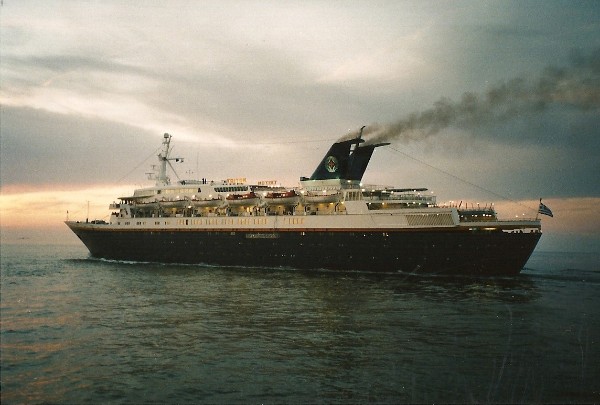 The ship was sold to Louis Cruise Lines after an auction at the 6th of april 2005. For them, she was renamed Coral and started sailing again Mediterranean cruises, mainly around Cyprus and Greece. She cruises uneventfully for her new owners untill the end of her 2011 season, when she was laid-up at Eleusis Bay in Greece. Through 2012, reports came in that she was going to be rebuild and renamed Louis Rhea for cruising after 2013. Louis was really busy updating their fleet and this was one of the things planned. But nothing happened to the ship and at the 10th of december of 2013 it was announced that she was sold to the breakers at Aliaga, Turkey for delivery before the end of the year. She was likely to meet her later Cunard sister Cunard Countess there, because that ship burned out in Greece just a week before the announcement of her sale was made. Also, the former Pacific Princess is there in a desolate state after partially capsising. Eventually, the breaking-up in Turkey didn't go through, mainly because as a Louis Cruise Lines ship, she was registered in Greek Cyprus. Of course, Turkey doesn't recognize this so it was impossible for the ship to be demolished in Aliaga. Instead, under the name of Cora she was brought over to Alang in India, where she finally arrived at the 30th of january 2014.
The breaking of the former Cunard Adventurer means that Cunards first purpose-built cruiseliner is now laid to rest, but also for the Rotterdam Drydock Company it means that the last major cruiseship that was built in The Netherlands is now off the high seas.