World Dream
Background
When the Maleysian-based Genting Group started their venture into cruising in 1993 with Star Cruises, they hoped to change the Asian cruise-market. Although the company started out with two rebuilt former northern European car-ferries, the company immidiately ordered two 76.000-ton cruiseliners which was totally unheared of in Asia. Although the continent can be called home for billions, cruising wasn't really a big thing yet. Through Star Cruises, Genting hoped to bring western-style big-ship cruising to the region. SuperStar Leo (1998) and SuperStar Virgo (1999) were built at the Meyer Werft at Papenburg, Germany and were nothing like any other ship within the Asian market. In the year 2000, Genting also bought the financially questionable Norwegian Cruise Line to tap into the western cruisemarket itself and to be able to interchange ships within the fleets.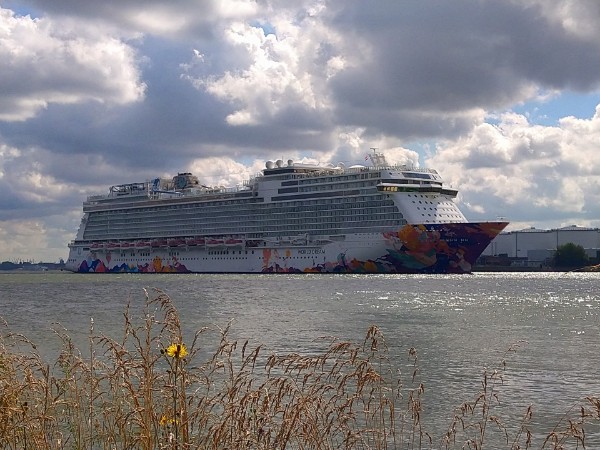 At the 26th of july in 2020, World Dream left Rotterdam again for Hong Kong. It still took almost a year again for her to start sailing, but that was also for a very short period of time.
But despite the huge demographic, big-ship cruising in Asia was difficult. In 2004, SuperStar Leo was replaced into the NCL fleet to start up the new NCL America brand and no other large ships had entered the Star Cruises fleet in the meantime. Star Cruises lingered on with smaller ships and SuperStar Virgo seemed a little out of place now. When Genting created a new company named Dream Cruises in 2015 to again change the Asian cruise-market with a big ship western-style operation, she was replaced into this new venture under the name of Explorer Dream. Star Cruises kept sailing on with just a few smaller ships and it seemed that their main objective had been failing. Now Dream Cruises was the new name for the same purpose and besides Explorer Dream, two 150.000-ton ships were ordered to the same blueprints as the NCL Breakaway class. Meanwhile. Genting had sold 50% of NCL to the US-based Apollo Management to gain more capital in 2007 and were no longer the controlling company. But in looks and style, the two new ships for Dream Cruises were hardly distinguishable from the NCL fleet, even recieving the NCL-style hull-art. Their names were going to be World Dream and Genting Dream.
The reason for the creation of Dream Cruises is still kind of odd, as Star Cruises was created for exactly the same purpose but seemingly wasn't suitable for big modern cruising anymore. It was even so that these new ships were originally ordered in 2014 for Star Cruises under the same names, doing away with the traditional Star-based names in the process. Only during building, the ships were transferred to the new Dream Cruises in november of 2015. Plans for Dream Cruises again were huge, as there were also two other ships ordered, dubbed the Global Class, both measuring a staggering 210.000-tons. For a company that seemed to have a hard time filling larger ships for decades, it looked like a big gamble and that proved to be true as we will find out later. In those years, Genting also bought the originally Japanese company Crystal Cruises and three wharves in Europe, which they rebranded as MV Werften, where the new Global-class ships would be built so it seemed they had some money to spend.
Construction and general statistics
The World Dream was ordered for Star Cruises at the 10th of february in 2014 from the Meyer Werft at Papenburg, Germany, which was the same wharf where the SuperStar Leo and SuperStar Virgo had been built. The ship was going to be built under yardnumber S712 and she was going to measure 335,2 meters in lenght, 44,35 meters in width on the widest point and her draught would be 11,42 meters. Her tonnage measurement was going to be 150.695 and she was going to have space aboard for 3376 passengers and 2000 crewmembers on her eightteen decks. Propelled by two ABB Azipods and three Brunvoll FU115 bow thrusters, the ship would be capable of a normal servicespeed of around 24 knots.
The first buildingblock was put into position on the 29th of july in 2015, something we used to call keel-laying in the past. A few months later, in november, Genting announced that they had created a new brand under the name of Dream Cruises for the new ships, also transferring the SuperStar Virgo to that brand under her new name of Explorer Dream. World Dream and Genting Dream were not renamed and so the new naming system for the brand was in place and Star Cruises was reduced to a small fleet of small to medium-sized cruiseliners.
At the 26th of august in 2017, World Dream left her buildingdock and was moored alongside the outside docks of Meyer Werft to be finished. On the 26th of october in 2017, the ship was able to leave Papenburg for Hong Kong where she was going to be named.
Design and style
World Dream was based on the same blueprints of the Breakaway-class of Norwegian Cruise Line and is from the outside hardly recognizable as not being a NCL-ship. The ship even has the same kind of hull-art that NCL is known for. On World Dream, the work is called "A Tale Of Two Dreams" and it was created by the London-based Shanghainese artist Jacky Tsai. In the work, he finished his other work that was aboard the Genting Dream and concentrated on family-orientation. That's also why many drawings of children can be spotted on the ships hull. The work was applied to the ships hull by projecting the motiv with laser technology onto the hull before it was painted.
Inside, the ship is presented as an upper-class cruise-ship with a whopping number of 35 bars and restaurants, mainly of course catering for Asian guests. But of course this many restaurants also give many options, so besides the Silk Road Chinese rerstaurant at deck 6 and the Umi Uma Japanese restaurant at deck 8 there is also a seafood bar, a seperate steak restaurant and of course a more informal lido-restaurant. The Johnny Walker House and Penfold's Wine Vault cater for the more alcoholic needs.
The ship offers not only many eateries, but also many different cabin-categories. World Dream also has an secluded part on the highest decks named Dream Mansion, which is comparable to the NCL concept of The Haven. Dream Mansion offers European-style butler service and special privileges. In total there are 1686 staterooms and cabins of which 70% have seaviews. All suites come of course with King or Queen sized beds, flat-panel televisions and private bathrooms with full bathtubs, seperate showers and toilets.
For entertainment, the ship hosts signature lasershows and firework displays, as well as theatershows like Some Like It Hot and Sogno. Of course there is a large wellness area aboard, also hosting an Asian and Chinese styled Spa. A VR Gamezone features Vesaro car-racing simulators and of course for the sportive passengers there are a nine-hole outdoor golf course, a basketballcourt, a waterpark and of course several pools and whirlpools, and outdoor rock-climbing wall and adventure rope-course.
These sisterships are also the first in the world to have two mini submarines aboard, where-in four persons can descent into the sea up to a depth of 200 meters.
Carreer
At the 17th of november 2017, World Dream was christened by Puan Si Cecilia Lim, the wife of Tan Sri Lim Kok Thay, chairman of Genting Hong Kong during a cermony at the Kai Tak Cruise Terminal at Hong Kong. More then 1000 guests were present, among who were the Chief Executive of the Hong Kong Special Administrative Region Mrs. Carrie Lam Cheng Yuet-ngor and Dr. Peter Lam, chairman of the Hong Kong tourism board. After sending down the traditional bottle of champagne against the hull, the ship was now ready for her first cruise that started two days later. As a special gimmick, a 8.44 meter long, 1,33 meters wide and 1,53 meters high lego-version of the ship was created and on display in the terminal during the ceremony. This model itself was large enough to recieve a mention in the Guiness Book of Records. Some 2,5 milion lego-blocks were used in the model and it had taken over two months to be build.
After the ceremony, the ship settled in for mostly six-day cruises from Hong Kong and Guangzhou to mostly Ho Chi Minh City and Nha Trang in Vietnam but she also sailed for Manila and Borecay in the Philippines.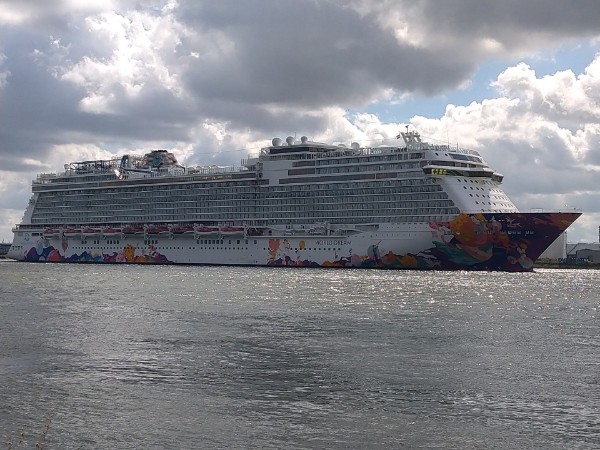 COVID-19 and uncertainty
In january of 2020, three passengers were testing positive for the COVID-19 worldwide pandemic outbreak. The virus originated from an animal-market in the Chinese city of Wuhan and spread like wildfire throughout the world during 2020 and 2021. Many countries took measures to contain the virus and the cruise-industry in total was grinding to a halt with every ship in the world out of service during the worst years of the outbreak. On the 5th of february in 2020, the ships 3800 passengers were quarantined for four days while the ship was docked at the Kai Tak terminal at Hong Kong. On the 26th of february, 188 Indonesian citizens were evacuated from the ship by the Indonesian authoroties by the hospitalship KRI Dr Soeharso. After all of those incidents and other cruiseships being taken out of service, also World Dream was taken out of service and eventually sailed for Europe for the first time since her building to be overhauled at Rotterdam, where she stayed for several months. She left Rotterdam again to sail for Asia at the 26th of july of 2020, where she started to sail several short cruises to nowhere, so she was able to sail without entering still closed-off ports.
With COVID-19 having a devastating impact on the cruise-industry, the huge investments Genting made in the years prior to the outbreak made their financial position very problematic. The Genting-owned wharves in Germany went bankrupt and could only be saved with money from the German government who also got a controlling stake into the operation. The 210.000-ton megaships of the Global-class were years behind scedule and Genting did also not have the money to finish them. In the beginning of february of 2022, Genting Hong Kong went into insolvency and their cruise-operations halted again. Crystal Cruises went out of business, Star Cruises and Dream Cruises also had to cancell all their operations and it now seems that both of these Asian lines will also not be able to be restarted. Rumours are there that NCL will take over the assets and ships of Dream Cruises, but with them introducing a giant new class of ships themselves, the Leonardo-class, it has to be seen what the future will have in store for the World Dream and her sisters.