What's new?
NEW PICTURES/ REPLACED As Transocean Tours now is part of CMV, the page of Astor has been replaced under the CMV brand. Three new pictures are also added to her page. Because of this change, the Transocean Tours page is now discontinued and information about Transocean Tours has been added to the CMV Cruises page (change at july 30th, 2018)
NEW PAGE A ship with a very interesting history is now added to the site, as Regent's Seven Seas Navigator past IJmuiden this very early morning (addition on july 22nd, 2018)
UPDATES Several new Maiden Calls have been announced for Amsterdam (july 19th, 2018)
NEW PICTURE A new picture has been added to the page of Oceania's Marina (addition on july 15th, 2018)
RE-WRITTEN The page of Royal Caribbean's Vision Of The Seas has been updated and extended with more information (change at july 13th, 2018)
NEW PICTURE Another historic Dutch ferry has been added, by adding a picture of the 1956-built ferry Friesland, that sailed for Rederij Doeksen between 1956 and 1988 (addition on july 9th, 2018)
NEW PICTURE A new picture has been added to the page of Holland America's Koningsdam (addition on july 6th, 2018)
NEW PICTURE A new picture has been added to the page of Celebrity Eclipse (addition on july 6th, 2018)
NEW PAGE The fourth member of the Viking Ocean Cruises fleet, Viking Sun, enters the castlesoftheseas fleet too (addition on july 6th, 2018)
NEW PAGE One of the oldest passengerships in normal cruiseservice visited Amsterdam today and I am very glad to add her to the site. The 1973-built Aegean Odyssey is by no means a regular visitor and I had never expected to meet her up close. She is placed underneath the page of her operator, Voyages To Antiquity (addition on july 6th, 2018)
UPDATE And while we are busy updating and so forth, also Seabourn's page gets an update because they think there is more room in the luxury expeditionmarket. We'll check it out (update at july 3rd, 2018)
UPDATE Another update, as Holland America's Prinsendam has been sold (update at july 3rd, 2018)
Welcome to Castles of the Seas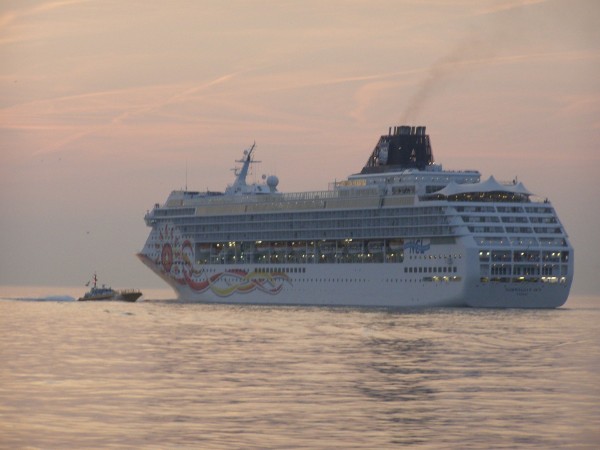 Castles Of The Seas is the result of around twenty years of passengership photography in The Netherlands. I took my first pictures in 1996, slowly building up the collection to where it is today. Now, the site contains around 250 passengerships of all shapes, sizes and ages. In my opinion, it now is a representative collection of what passengerships are sailing all around the world. I mainly concentrate on cruiseships and now almost every class of those is at least represented by one ship. Also ferries in many different forms are present, next to former oceanliners, expeditionships and pleasure steamers. With all ships presented here, I try to give as much and as acurate information as possible. Next to the ships, I also cover the histories and stories about some over 60 shipping companies, some of them no longer in service.
I do not tend to be complete at all, there are good websites that give a total overview of every passengership sailing. But most of these sites just show pictures or names with only basic information, here I am trying to give full stories and I like to complete those with funny facts and small anecdotes. Like we all know the gimmicks of the old liners, I also believe that modern cruiseships have their distinctive tales to tell that separates them from their sisterships and I hope Castles Of The Seas furfills that idea.
This site is created just by me, pictures are just by me and research is just by me and because I am not perfect and the site grows every year with more companies and ships, it is possible that you find something missing, or you just have questions or suggestions to make this even more complete. For that, just contact me via this link and add your comment. Because this site is my personal collection of photo's, I do not place pictures made by others, with just a very few exceptions from personal friends or family. Castles Of The Seas is totally independent, not related to anyone or any company. This gives the opportunity to not only be positive, but also take a sceptic look into all. On the linkspage, several links are added to companies, travelagencies and informative websites.
To find a specific ship you are looking for, use the ships index. Here, all featured ships are placed A-Z under the name where they are feautured on the site, as well as the names they have been sailing under before or after I took pictures.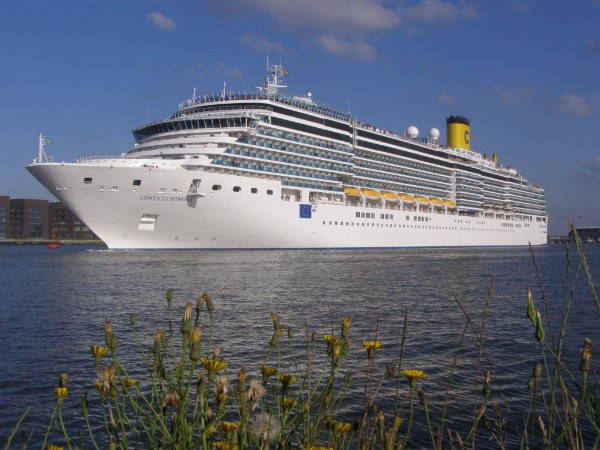 Included are several vintage liners and cruiseships like Cunard's Queen Elizabeth 2, NCL's Norway and Holland America Line's Rotterdam of 1958. Also the first Pacific Princess and Sundream, the former Song Of Norway are here. They are all now part of history. Still sailing oldies included are for example the oldest of them all Azores from 1946 and Sea Cloud of 1931. Of course, I cannot do without the new megaships from Costa Cruises, Carnival Cruise Lines, Princess Cruises, MSC Cruises and Norwegian Cruise Line, among of course all other lines. This site is mainly a way to give all those ships a story, because they all have one. What makes AIDAstella different from AIDAblu? Their stories tell. Also the great variety of lines are shown here, as nowadays the cruise-industy is more diverse then ever before. You can choose for sailcruises with Star Clippers, the Hurtig Ruten ships for the Norwegian coastal voyages or the luxury splendour aboard the yaughts of Seabourn. Also, you can choose for the expedition-like cruises from Quark Expeditions or Lindblad Expeditions, bringing you to places where you can feel like an explorer and offering a totally different kind of cruising.

In the picture below made in Bergen, Norway at the 11th of june 2015, as many passengerships as possible are squeezed in. AIDAsol of AIDA Cruises is shown to the far left at Jekteviken Kaien and just next to her Bergensfjord of Fjord Line comes in. To the far right mostly hiding behind the bush is Disney's Disney Magic. To her left, Crocieres de France's Horizon and Plein Cap Crocieres Berlin are there sharing the Skoltegrunnskaien and just left in the old harbour Plantours & Partners' Deutschland is arriving at Festningskaien. Another ship of interest is of course also the sailingship Statsraad Lehmkuhl and she can be seen just under the tip of Deutschland's stern. She is also used for cruising so maybe we can call her a cruiseship too... This day, also Holland America's Rotterdam was there, but she is docked just behind AIDAsol and not visible. Later this same day also Hurtig Ruten's Nordlys arrived. In my opinion, Bergen this day was the cruise-capital of the world, as all ships together landed around 8000 passengers.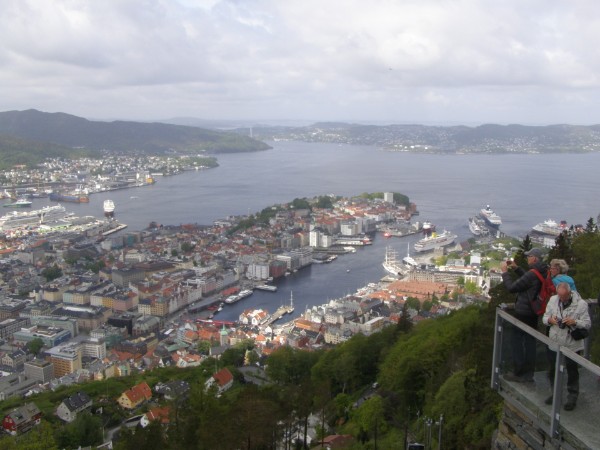 And do not forget to visit the pages about ferries, because they keep alive the liners more then you'd think. They are still true links over sea, sometimes having also a history in oceanliners like DFDS Seaways, which once was the owner of the Scandinavia America Line. Also P&O Ferries, Stena Line, several local Dutch lines and the Staten Island Ferry are to be found here. Because I took most of my pictures in northern Europe and especially in The Netherlands, some well known ships and classes of ships are not included simply because they never sailed here. But in my opinion, northen Europe is a great place to be, because of the wide variety of ships sailing these northern waters. Here you will find the new megaliners, the smaller expeditionships as well as the old classics of the seas and this combination gives a good indication of what cruiseships sail around the world today. Also, I included interiour shiptours aboard a number of ships, which ones you can find in the ships index.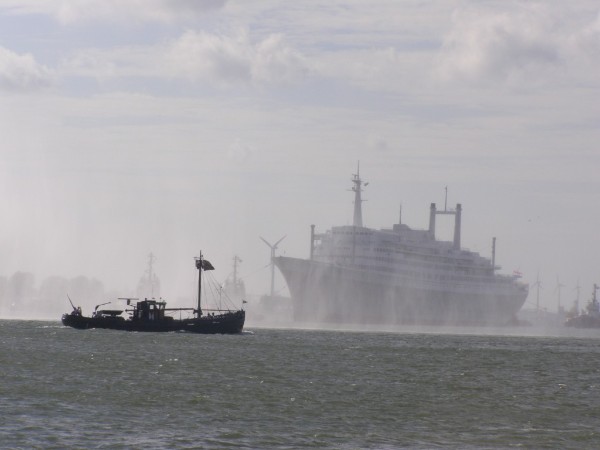 I also added another part of shipping to this website, called the Heritage Of Steam. On these pages, steamships and steamtugs are shown, some of them dating back to the 1870's. Although not all of these ships do have direct links to passengershipping, I do know that most cruiseship fanatics also like the history of steam so I think this is a nice extra touch to this website. Holland still has one of the largest historic fleets of steamships in the world. These ships are still sailing, thanks to the dedicated work, love and energy from the people who own them.
In Memories of the Seas, there are several ships shown of distant history, like Charles Parsons ship Turbinia, that was built in 1894 and paved the way for ships like Mauretania and Lusitania of the Cunard Line. There also is a page about a small, unknown museum where parts of the interiours of the Messageries Maritimes liner Felix Roussel are on display. I also have included pages about my visit to New York and Ellis Island, important places in liner history.
In may of 2016, I also added a youTube canal and I try to regularly update this with cruiseliner video's. Interested? Take a look here.
Some ships do make it difficult to be placed because they sailed for more then one company. At Castles Of The Seas, ships are mostly placed under the company they sail for at the moment, although after they have been sold or taken out of service, they will be re-placed to the company they were built for or where they have the longest history. On every company page, there are links to other ships on the site that have sailed for this company. Navigate easily to the ship of your choice by the Ships A-Z.
The information I use on this site comes from several books and websites, as well as newspapers and magazines and of course my own research. But I want to name www.maritimematters.com, www.cruisepage.com, www.cybercruises.com , www.faktaomfartyg.se, wikipedia and the 'Great Passenger Ships Of The World'-books by Arnold Kludas, Frank Heine and Frank Lose as my main sources of information and data.