Arion
Below, Arion has just left the locks of IJmuiden under tow of Saturnus. The picture is dated the 12th of may 2012.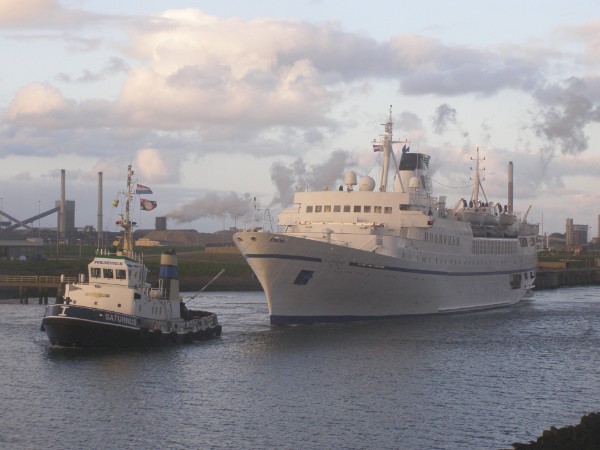 Arion is one of the last examples of classic cruiseship design. She was built at Brodogradiliste Uljanik at Pula, in the former Yugoslavia. She has a tonnage measurement of 5635, a lenght of 116,80 meters, a width of 16,50 meters and a draft of 5,60 meters. The ship was built for Jadrolinja of Yugoslavia and for them she was to sail the route between Venice, Yugoslavia, Greece, Lebanon and Egypt. It was not really a cruise, more a ferry-lineservice. Her name at that time was Istra and she had one sistership named Dalmacjia. Both ships were introduced in 1965 and, although they seem very small by today's standards, they were the largest passengervessels ever constructed in a Yugoslavian yard.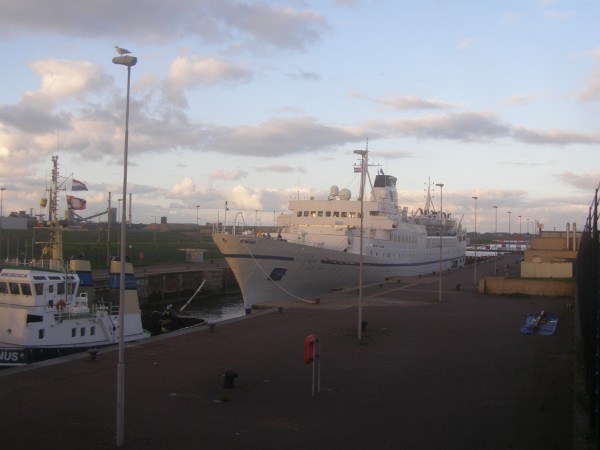 Arion seen in the middle lock at IJmuiden. Cruiseships never use this lock because of its small size and I was heading for the pierheads to photograph three other cruiseliners. I forgot that also Arion was in port that day so seeing her here was a true surprise on my way home. Now, I am very pleased that I was able to take some pictures, because her future now is very uncertain.
Istra sailed for Jadrolinja untill 1991, when she was sold to a company named Caravalla Shipping and renamed Astra. Five years later, she was renamed again, now she became the Astra I. In 1999, the classic ship was picked up by Arcalia Shipping as an enlargement of the fleet of Classic International Cruises. This company sailed with only classic cruiseliners and they had built up an impressive fleet of these ships, maintained them well and their ships became very familiar in most European ports. For Arcalia, the ship was renamed Arion and she was brought under the flag of Panama.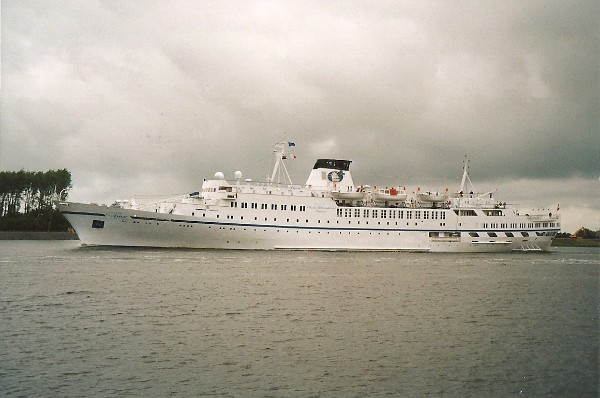 Arion as seen sailing the Northsea Canal passage passing Buitenhuizen at the 2nd of june 2004.
Sadly, due to high costs Classic International Cruises had to file for bankrupcy in december 2012 and it seems very unlikely that their great fleet of small, classic ships will find new owners. Because they operated at least five of them, the thought that the shippingfleet would loose a lot of classic tonnage was in everyone's mind. Luckily, a Portugese businessman named Rui Alegre stepped in and bought the ships outright for a new Portugese venture called Portuscale Cruises. Some sceptism arose, but this changed when rebuilding of the ships started and it all seemed to work actually. Arion was renamed Porto for Portiscale, where all former ships of CIC were renamed to cities or regions in Portugal. For now, the ships of the former CIC seem to be safe, although the new venture hasn't had an easy start.
In early june of 2013, Porto finished her rebuilding at the Navalrocha yards at Lisbon, Portugal, but untill now it doesnt seem she has new service again.
The sun seemed to be setting for Arion just when this picture was made in 2012, but luckily her life seem to be certain for now.