Princess Danae
Just a few ships keep on being around for over 50 years. Princess Danae started life as a freighter in 1955 and was sold for scrap in 2015, so she even reached 60 and this great little ship has a great history behind her. She was built in 1955 and was ordered from the famed Harland & Wolff yards at Belfast, Northern Ireland. Here, she was built as yardnumber 1483. As said, she was not built as a passengership, as she was to be part of the British-based Port Line as a freighter.
Port Line officially started in november of 1937, although it was the continuation of a company named Commonwealth & Dominion Line that had been formed back in 1914. In june 1916, the Commonwealth & Dominion Line was taken over by Cunard Line and became their stronghold for voyages between Great Britain, Australasia and New Zealand. Although some of the ships had limited passenger accomodations, they were true cargoliners. After the Cunard take-over, all ships of the line were re-named with the prefix 'Port' and the company became unofficially known as the Port Line. After the first worldwar, the ships recieved Cunard funnelcolours although it remained a seperate brand and in 1932, the companies headoffices were incorporated in the Cunard offices in Leadenhall Street in London. From 1966 onwards, the Port Line entered the containerbusiness when they formed a new alliance with Blue Star Line, Ellermann Lines, Ben Line and Charente Steamship Company named Associated Container Transportation Ltd. For cost reduction, conventional cargoservices of Blue Star, Ellermann and Port Line were merged into Blue Star Port Lines which ended in 1974, when all remaining ship of the former Port Line were managed by Cunard-Brocklebank. Port Line was still a shipowning company untill 1982, when after a fleet reduction, the name of Port Line was burried.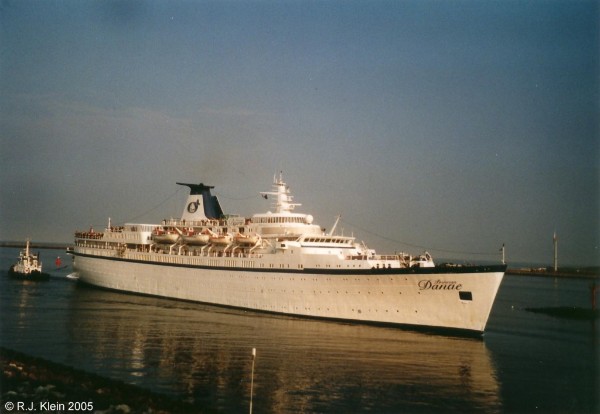 Above, Princess Danae is shown entering the port of IJmuiden on the 6th of september of 2005. The ship is hardly recognizable as a former cargoliner.
During the second worldwar, Port Line had lost 13 ships and so a fleet rebuilding program began in the end of the 1940's and the beginning of the 1950's. This included a duo of 10.000-ton refrigirated cargoliners named Port Melbourne and Port Sydney. It had been the thirth time the company had used the Port Melbourne name and the second time that a Port Sydney entered the fleet. The later Princess Danae was launched at the 10th of march 1955 and she was named Port Melbourne. The ship had six cargo holds and was especially meant for the meat trade beween Britain and Australia. Also, the ships had accomodations for 12 passengers in rather comfortable surroundings. Cabins were of good proportions and also a restaurant, a lounge, a bar, a sportsdeck and a long, sheltered promenade were feautured. Interiours were traditional and a little conservative. Port Melbourne was quickly completed and entered service already at the 7th of july 1955.
In 1968, the owning company became Blue Port Line, when Port Line and Blue Star Line were merged. The service stayed the same, although airlines started to take over the passengertrade and slowly, containerized shipping took over the meatrun. In 1971, this caused the company to retreat the both fine liners from service and Port Melbourne and Port Sydney were laid-up to await buyers. Blue Port was now completely leaving the conventional cargo trade. Because conventional cargo was ended almost everywhere and containers were the future, it seemed that both ships were early victims of the changed shippingworld. But in 1972, a carferrycompany from Greece, named J.C. Karras, bought the ships to have them rebuilt as carferries. For this, the former Port Melbourne was re-named Therisos Express. They awaited rebuilding, but meanwhile, Karras wanted to diversify into cruising too as Karras Cruises. Both sisters were now brought over to the Greek port of Khalkis where they were stripped of all fittings and just became hulls with engines. Afterwards, they were fully rebuilt with new superstructure and totally unrecognizable from their original appearances. The thing they of course kept, was their strong hull and maybe this was the main reason the ships stayed in business for so long. Re-building took a very long time and meanwhile, Therisos Express was re-named Danae for Karras Cruises and entered cruise-service at the 8th of january 1977 when her first cruise departed Marseilles in France to Eastern Asia. After rebuilding, she had room aboard for 497 passengers and her new tonnage was 9.603. Strangly, this was lower then her tonnage as a cargoliner, that was measured at 10.205.
The both sisters sailed for Karras Cruises untill 1979, when they were chartered to the Italian company Costa Cruises. They kept their own names and were succesfull in the Costa fleet, as Costa bought the ships from Karras in 1984. For Costa, she sailed in service for a subbrand named Prestige Cruises, which was a venture between Costa and SOVCOMFLOT. At the end of 1991, the ship was sent to Genoa for an update, and here disaster struck. At the 10th of december, fire broke out while the ship was rebuilt and this was severe enough to make her total-loss. It seemed her future was bleak and the ship was sold to the breakers in Greece.
Just before she would leave, another party came up, a company named Harbour Maritime bought the ship and named her Anar, reflagged to Liberia. She was brought over to the Keratzini wharf at Piraeus where repairs started. During repair, the ship was renamed Starlight Princess for a company named Capricorn Maritime, based in Kingstown. But she finally was completed as Baltica for the Panama-based Flax International, who chartered her out to Baltic Line of Sweden. Now, her passengernumber had increased to 670 and her crewnumber was 240. The ship has 7 decks and normally sails at a speed of 17 knots. her lenght is 162,31 meters and she is 21,34 meters wide. Her draft reaches 12,80 meters so really deep in comparissement to other ships. For Baltic Line, the ship finally set sail and started a series of Baltic cruises from may 1994 onwards. It seemed she still had a life in front of her, but this did not last too long. On the 4th of october 1995, after just two seasons, the now 40-year old ship was laid-up at Piraeus and she was later moved to Skaramanga in february 1996. At the 28th of that same month, she was again sold, this time to Arcalia Shipping of Portugal. This company traded under the name of Classic International Cruises and specialized in sailing with older passengerliners. The company maintained the ships well and is known throughout Europe, so it seemed she again found a home for a longer time. For Arcalia, the ship was updated and started sailing European and Caribic cruises under her new name of Princess Danae. Sometimes, the ship was in charter for other companies, but she remained in the fleet of Classic International untill that company was declared bankrupt in 2012. All ships of the line, except Princess Daphne, were later sold to Rui Alegre of Portugal who had them rebuilt for a new venture named Portuscale Cruises. Princess Danae was renamed Lisboa for Portuscale but she did not have an easy start. In the middle of march of 2014, while the ship was being renovated in Portugal, it was found that she had several structrural problems that were far more severe then was anticipated earlier. She was to be chartered out to a French operator, but this charter has been cancelled due to her shortcomings. Renovation work for was then been suspended and it was hoped that she would again see some service. Next to that, the loss of the French charter, that would bring in a good revenue for the new company, also meant a drop in earlings for Portuscale. This next to low bookings on the Azores for her charter to the German company Ambiente, put Portuscale in a very difficult possition. To ease some of the high costs, in the end of february 2015 it was announced that Princess Danae was leaving Lisbon for her final voyage to the Turkish beach of Aliaga in the first days of march, where she was finally scrapped.