Asuka II
Asuka II sailing past Velsen Noord at the little hazy morning of the 9th of may in 2018. The ship is not seen in Amsterdam often, but sometimes thinks it is cool to visit the Dutch capital.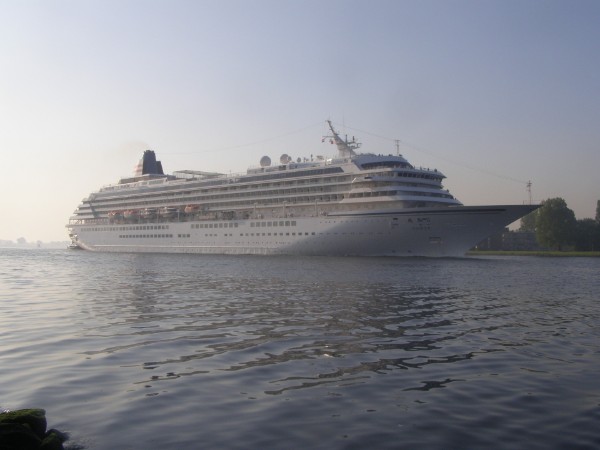 Asuka II was built as Crystal Harmony, the first ship for a new company named Crystal Cruises, that had been formed in 1988 by the NYK Group of Japan. Around 1990, it seemed that there was a new market for Japanese cruisecompanies as several ships were introduced. Mitsui OSK Lines had operated several passengerships through the 1960's, 1970's and 1980's, but they were the only company to do so. In 1975, they bought the Brasilian Rosa de Fonseca and renamed her Seven Seas, before giving her the name Nippon Maru in 1977. Because she proved to be successfull, that same company introduced the first newbuilt cruiseliner for the Japanese market in 1989 under the name of Fuji Maru, a 23.000-ton ship. They also ordered another cruiseliner, the 22.000-ton Nippon Maru that was introduced in 1991 in the same market. Equal in size but by no means sisterships. NYK Group had to react, with Mitsui OSK being their biggest competitor. They introduced the 28.000-ton Asuka as an answer to the Mitsui newbuilds in december 1991, also for the local market under the banner of NYK Cruises, also known as Asuka Cruise. But their true pride was to be Crystal Cruises. Very unusual for a Japanese company, Crystal was to be a luxury brand dedicated to the western cruisemarket. Since 1986, NYK had studied the western cruiselines to look for the best way to position their new stronghold and afterwards understood that Crystal had to be in the forefront of luxury. In 1988, the company was officially formed and their first ship ordered from the Mitsubishi Heavy Industries Yards at Nagasaki. This could not be different, as Mitsubishi was the owner of NYK Lines. To be sure that all was up to expectations, company directors and their families were the first to try out cabin mock-ups that were produced by the wharf and spent the night in them, reporting back their findings. If the company directors were content, so would be the passengers.
Crystal Harmony was the first passengership designed for NYK since the Miike Maru in 1941. This ship had been a part of a planned four-ship class of 17.000 tonners. Her sisters were named Nitta Maru (1940), Yawata Maru (1940) and Kasuga Maru (1940). As this was just the time that Japan bombed Pearl Harbour and entered the second world war, none of them had long carreers. They were meant for service from Japan to Hamburg, but because of the war they never sailed as such. The first two actually sailed several voyages across the Pacific to San Fransisco, but of course this also didn't last long. Nitta Maru and Yawata Maru were rebuild into aircraft carriers in 1942, while Kasuga Maru was directly rebuild as such as the Taiyo without ever seeing passengerservice and Miike Maru was fitted out as a troop transport. All of them were torpedoed and lost in 1944, with the exception of Nitta Maru, that had been torpedoed already under the name of Chuyo in 1943.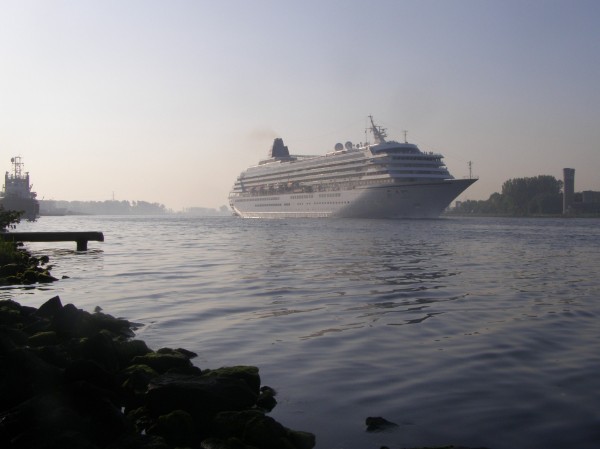 With a tonnage of 48.621 and a lenght of 240,90 meters, Crystal Harmony was at the time of her introduction the largest passengership ever built for a Japanese company. She was 29,60 meters wide and had a draft of 7,80 meters. Accomodations were there at her eight passengerdecks for 960 passengers in 480 cabins and also for 505 crewmembers. In these figures, you can easily spot the level of luxury offered. She was able to sail a servicespeed of around 22 knots, driven by four eight-cylinder diesel engines designed by MAN, four generators and two electric motors. Thrust came from two propellers. The ship was launched at the 30th of september of 1989 at the yards at Nagasaki, where she had been built under yardnumber 2100. She was handed over to Crystal Cruises in july of 1990 and named by the American actress Mary Tyler Moore (1936) and flew the flag of the Bahama's, homeported in Nassau. As you can maybe spot, the design of the ship was loosely based on the design of the first Royal Princess, that was built for Princess Cruises in 1984 and now sailing for Phoenix Reisen as their Artania.
Of course her godmother had blessed her and wished her well, but Crystal Harmony had a rough start. During her maiden voyage in the Caribbean, water entered the ships engine systems, starting a fire in the engine room that crippled the ship. She was adrift for three days and finally tugged into Curacao to be repaired after she had landed her passengers in Panama. Luckily, this seemed to be her only true mishap, as she became a steady and much loved member of the worlds cruisingfleet. The expectations were there that Crystal was also to introduce a sistership, but they didn't do so untill 1995, when the slightly larger Crystal Symphony was added. Crystal really waited untill the time was ripe for a new ship and just wanted to add ships at the moment that the market was ready. The company mostly concentrated in improving the product even more.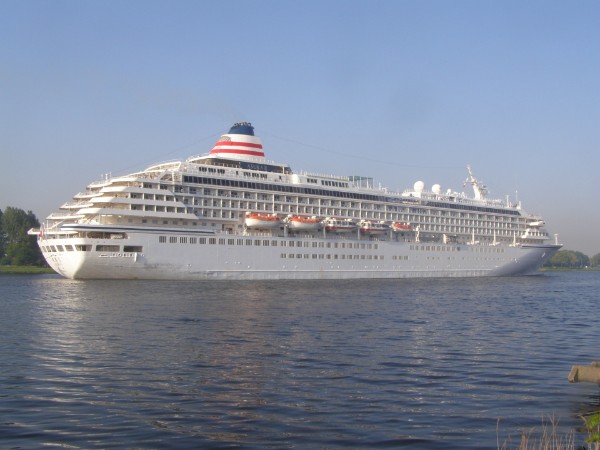 In 2003, Crystal Cruises added another ship, the 70.000-ton Crystal Serenity. Again, it was expected that a sistership would be added soon, but Crystal again stated that the company would not overrush things and look to the market for developments. Instead, they upgraded their ships and refurbished the two earlier sisters to come in line with the new ship. Meybe it seems that the company was growing too slow and not growing up to its potential, but then, the line had been named the Best Large-Ship Cruise Line in the world by the readers of Condé Nast Traveller for sixteen years in a row. Maybe just because the company was not putting out a new ship every year, as we mostly see that this way of growth mostly doesn't mean that the standards are kept where they have to be.
In 2005, a little to everyone's surprise, NYK announced that their domestic brand needed a larger ship and that their Asuka had been chartered out to the German company Phoenix Reisen as Amadea. Just before, Asuka showed herself in Europe, probably as an introduction for her entering the German market. As a replacement, Crystal Harmony was chosen, so the fleet of Crystal Cruises was even reduced in stead of enlarged. For NYK Lines, the ship was renamed Asuka II to keep the former ships name , but of course she also improved the style of NYK Cruises with her service from Crystal Cruises. For her 'new' company, the ship mostly sails in East Asia, but she has also been seen in other parts of the world.
In 2015, Crystal Cruises was sold by NYK to Genting Hong Kong, the former owners of Norwegian Cruise Line, and it was announced that a quick and immense growth was to be the companies future. Let's just hope the Genting will keep the expectations from the line's clientele in doing so.