Crystal Symphony
Background
In the end of the 1980's, several companies from Japan started to built up something of a cruisefleet for their country of origin. After the second worldwar, when the Japanese fleet was almost destroyed completely, Japanese passengershipping was virtually non-exsisting, with of course the exception of the countries growing ferryfleet. But like everywhere else in the world, cruising started to become more appealing to the common holidaymaker and one Japanese company, Mitsui OSK Lines, started to reform their cruise-operation and planned to introduce new tonnage. Several ferrycompanies also started up a new company, Japan Cruise Line, and introduced a ship. The biggest rival of Mitsui OSK, NYK Lines, had to join the race and in 1986 they started to investigate or it was possible to also invest in their cruise-operations. This thorough investigation into the cruise-industry inspired them to create something different from the other Japanese lines and in 1988 they formed Crystal Cruises. Normally, Japanese companies liked to keep their services close to home, but Crystal Cruises was going to be a world-wide brand and the ships were also not homeported in Japan but were going to fly the Bahamian flag, homeported in Nassau. The headoffice was located in Los Angeles and so although being a full daughter of NYK with Japanese roots, the company was really aiming globally. Next to that, their first ship Crystal Harmony, launched in 1989 from the Mitsubishi Yards at Nagasaki, was closing in at 50.000-tons, being the largest passengership ever ordered for a Japanese owner. Under their own name, NYK also intruduced a cruiseship for the Japanese home-market, but she was with 29.000-tons much smaller. Named Asuka, the cruise-division of NYK Lines was styled Asuka Cruise.
Crystal Symphony under guidance of two Iskes-tugs at the Northsea Canal passing Velsen Noord at the 10th of july 2016.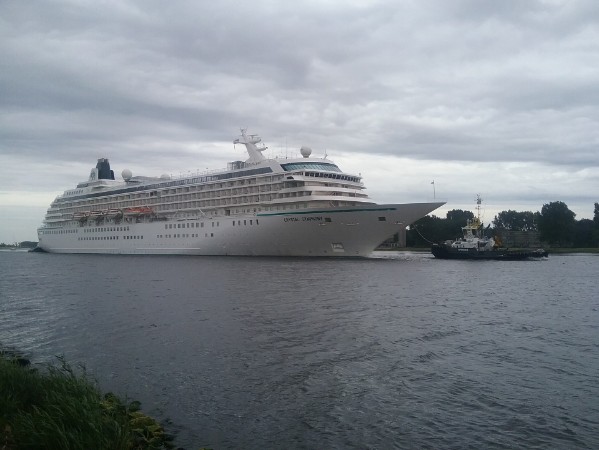 Positioned in the luxury end of the market, Crystal Harmony was a great success in the global market. A few years after her introduction, a somewhat larger ship to the same design was ordered for Crystal Cruises, although she was not going to be built in Japan but in Finland.
Construction and general statistics
Yardnumber 1323 was ordered in december of 1992 from the Kvaerner-Masa Yards at Turku in Finland. With a tonnage measurement of 51.044 she was a few thousand tons larger then her earlier sister. She was two meters shorter, though, as she measured 238,01 meters in lenght. The ship had a width of 30,20 meters and a draught of maximal 8 meters. Designed for 975 passengers in 480 cabins who were served by 550 crewmembers, the ship had eleven decks.
She was driven by two screws, powered by six 9-cylinder diesel engines that were designed by Wärtsilä-Sulzer. Her normal cruising speed was 21 knots. Six generators connected to two electric motors provided the power throughout the ship. The cost to built her was around 250 million US Dollars and the new ship, named Crystal Symphony, floated out at the 8th of july of 1994 and was delivered to the company at the 18th of april of 1995.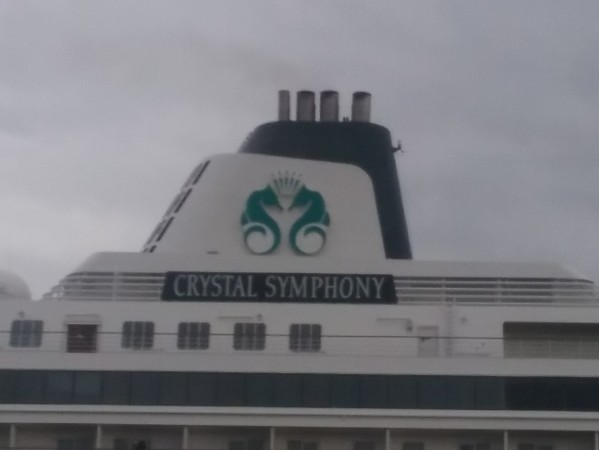 Design
Crystal Cruises positions itself in the high end of the market and this is seen throughout the ship. One of the most stunning rooms aboard is of course the main Crystal Dining Room, decorated with rich wood-panelling, crystal chandeliers and roof-to-floor windows that give the room a very open style and great seaviews. There are two seatings, as the room is not large enough for all guests to dine at once and so there also is no option to choose your own time of dining. Menu's are never repeated, but when you want to try another option, the ship has more options available. There is casual poolside dining, a bistro, a grill restaurant and of course the option of in-suite dining of around-the-clock roomservice. Menu's in the speciality restaurants are created by well-known chefs like Piero Selvaggio and Nobu Matsuhisa.
The ships Avenue Salon and piano bar resembles a 19th century gentleman's club and is decorated with mahogany woods and luxe velvets, creating a very luxury environment.There is brass-tack couches, embossed-leaf barstools and tufted booths. Antique-style trunk tables, romantic music and gold, moss-green, caramel and ivory colouring do the rest. Next to this masterpiece, some eight more bars are also aboard so plenty of choices for a good cocktail in the evening hours. A very nice spot also for the evening or throughout the day when traditionally tea is served, the Palm Court is a lounge overlooking the ships bow. The room has a spiral-shaped dancefloor and has modern-style lounge-seatings in buttery-soft leathers. Flooring is done in white laser-cut marble, soft-grey wood and carpeting with large-scale graphics. Furthermore, colours used are aqua, chartreuse, ash and cream.
The Galaxy Lounge and Hollywood Theater were designed by the Brits and do have a British traditional style throughout. Entrance to the Galaxy Lounge is through diamond-patterned glass-doors and the space itself is sweeped in royal purple and old-gold curtains and artwork niches with abstract figurative sculpture and a coloursceme of lilac, pink and crimson. There is modern mohair seating and cocktail tables and under-banquette lighting. The Hollywood movie theater is art-deco with smoked wood-grain walls, ivory-coloured leather seating and velvet damson coloured curtains.
The ship also has quite a good array of children and teen facilities, where-in the colours scarlet, pistachio, denim-blue and magenta are used often, not the standard colouring for junior area's also. There is harlequin carpeting and digital-printed wallcoverings and multiple oversized sofa's.
Outdoors, the ship offers two large swimmingpools, two whirlpools, a paddle-tennis court and a wraparound open promenadedeck, that is not cluttered with deckchairs. And of course, a good sized area devoted to spa and aerobics is there, next to a beautysalon, a well-stuffed library, an ice-cream bar and several shops.
Between 2011 and 2016, the ship has been seen a 65 million USD make-over of every room aboard, created by three companies, Advecto and SMC Design from London and KNA Design from Los Angeles. They took their inspiration from the 21st Club in New York and Hollywood's Coconut Grove and the Palm Beach country club life. After 2016, the ship looks more modern in style but still has the very elegant, country-club feel throughout.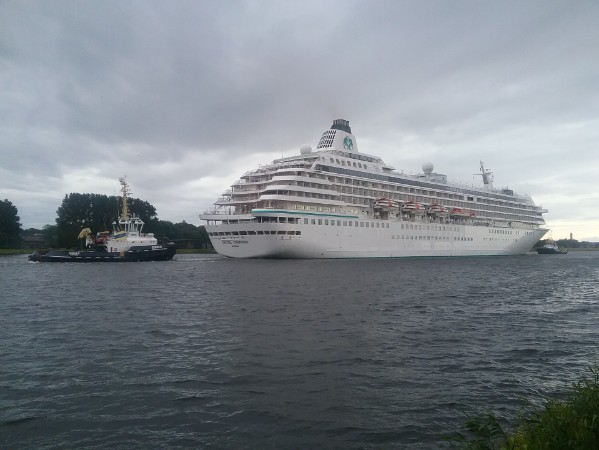 Carreer
Crystal Symphony was christened in New York at the Pier 88 Cruise Terminal by Angela Lansbury. The Boys Choir of Harlem opened the ceremony with the singing of the national anthem and the ship was ceremoniously blessed by smashing a methuselah-bottle of Louis Roederer Crystal champagne to her bow. Afterwards, the ship set sail on her grand maiden voyage to Los Angeles, taking 25 days and calling at ports like Bermuda, Tortola, Acapulco and Zihuatanejo. She afterwards settles in for a sceme of worldwide cruises, bringing her from the America's to Europe, Alaska/Canada, China, southeast Asia and Australia. It is hard to name special occasions throughout her now twenty years of service, as she seems a very steady ship that hasn't seen her share of problems or changes. She had several updates throughout her carreer but furthermore it appears to be very smooth indeed.