Aurora
Background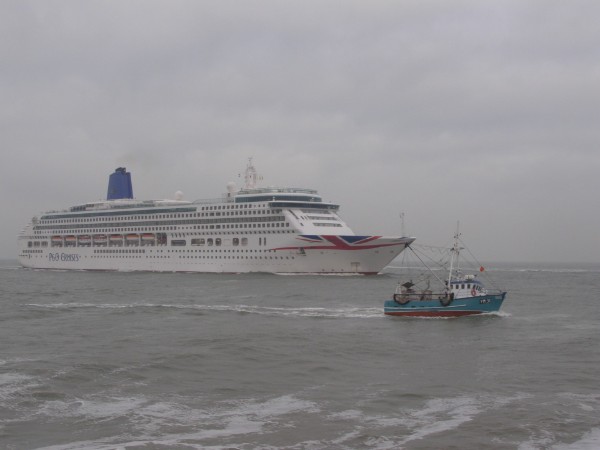 Aurora entering the port of IJmuiden under escort of the IJM-31 for the first time since she recieved the new livery for the old English line. The picture is dated at the 5th of january in 2015.
Credited for being the company that had invented cruising in 1844, the P&O Line dates back to its founding in 1835 making it one of the oldest shippingcompanies in the world. Of course the original P&O is no more, it sold its cruisedivision in 2003 to Carnival Corporation and re-invented itself as a company mostly involved in real estate. In 2006, the rest of P&O was absorbed into Dubai Ports International, creating the new company DP World and ending the name P&O as such. But the name lives on in P&O Cruises and P&O Ferries, both now totally unrelated and under different owners. This of course was still unheared of in 1991, when P&O ordered their first real cruiseliner Oriana from Jos L. Meyer's wharf at Papenburg, Germany. At that time, the now largely established cruiseshipbuilder did not have that many experience with cruiseliners, Home Lines Homeric had been in fact their first delivery in this segment just in 1985, six years before the P&O order.
Oriana was delivered to P&O in 1995 and she was in fact a new beginning for the old company at the time. The fleet then sailing had been just the 1960-built former mailsteamer Canberra and the 1965-built former Swedish liner Kungsholm now named Victoria since 1995. With ages of 35 and 30 years, they were in need of replacement soon and Oriana was only the first step. As she was built to eventually replace Canberra, she did sail with the old girl for two more years as fleetmates untill P&O shifted the 1989-built Star Princess from Princess Cruises into P&O Cruises in 1997. This ship recieved many artefacts from Canberra as this ship was now waved goodbye towards the Pakistani beaches of Gadani. For future growth, it seemed very important to built another liner for the P&O fleet and she was ordered in late 1996 after Oriana had proven her initial success with the company. The new ship was to be built at the same wharf and to the same design, only slightly altered. She also was planned to be bigger then her earlier near sister, becoming the biggest ship in the P&O fleet and the biggest one that had ever been owned by the company as well. I question if anyone had noticed at the time that this new ship was to become the last true P&O liner as the company did not order any other ships after her due to the sale to Carnival a few years later. Especially as her announced name Aurora was explained of being a new dawn for the old company. That this new dawn meant their end later proved to be quite ironic.
Construction and general statistics
The name Aurora for the new British superliner meant a new start for the old P&O Line when she floated out of her building dock at the 8th of january of the year 2000. Aurora's keel had been laid, as we still say, at the 15th of december in 1998. Her tonnage measurement was going to be 76.152 and she became 270 meters long, 10 meters longer then Oriana, 32,20 meters wide and her draft was 7,90 meters. Slightly sleeker in appearance, mainly for her waterflow, as only her lenght was changed from the dimensions of her sister. Out of her thirteen decks, the ship has ten available for her total of 1950 passengers (1878 in double occupancy) and a maximum of 936 crewmembers. She was built under yardnumber 640. The ship was fitted with four 14-cylinder MAN/ B&W designed diesel engines, providing power for two SGN AEG propulsion motors driving two propellers. It gives the ship a maximum speed of 29 knots, although commonly she sails on a more moderate 24 knots. Three bow thrusters and a stern thruster are also added for better manoeuvrability. She was delivered to her owners at the 15th of april in 2000, almost exactly five years after Oriana. On her seatrials, just like her sister, she had performed extraordinary well, exceeding the required speed by quite a bit. After delivery, Aurora made her way towards Southampton where she was about to be named.
Design
Like her sister, Aurora was still designed as a P&O ship albeit the last. She became a very traditional liner, which her passengers expected. Her outer design was thus not filled with balcony cabins, that became the standard from the mid 1990's onwards, but she followed the pattern of Oriana that itself was designed to resemble the 1960-built Canberra. A change from Oriana was that the upper decks of Aurora expanded outwards a little bit to provide for more interiour space and of course counted for a quite part of her higher tonnage-measurement. Due to the slight change in width, it is hardly recognizable. Also her radarmast above the bridge is a double one, instead of Oriana's single mast. As explained on the page of Oriana about the reason for her to have open bridgewings, as Aurora had another Commander her bridgewings were 'allowed' to be glass-enclosed and so they are. As such, she became the first ship in the fleet with glass enclosed bridgewings. Her raked, tiered stern is also a classic cruiseship feature as are her upper decks aft, that are rounded off and give a great opening above her aft pool. All of her decks are teak, instead of the easier to clean and sadly standard astroturf. Traditional shuffleboard and High Tea makes her into a ship that really appeals to the British passengers, for whom she was designed in the first place. Being the true last British superliner, she had to be traditional.
Inside, she is a very light and bright ship. Her main feature is in her four-deck high atrium. It is a cascading waterfall over a huge mural statue of her namegiver Aurora, the goddess of the dawn. The two main diningrooms aboard are the Medina and the Alexandria, both surrounded by floor to ceiling windows. She has several bars and lounges of which one is Anderson's, named after Arthur Anderson, one of P&O's founders. Traditionally, there is a cinema and a library aboard, appreciated by her classic passengers. A Crows nest bar on the highest deck gives a great viewpoint to all sides, looking out over the bow of the ship. As a first in the fleet, she got also a skydome, making it possible to cover her main Crystal Pool and protect swimmers from the weather that can be not very pleasant in Europe at times.
Naming ceremony and maiden voyage
Aurora was named by Princess Anne in Southampton at the 26th of april 2000, but the bottle of fine champagne she released failed to break at the bow of the ship and instead took a nosedive into the Solent. Maybe a fish had a great birthday somewhere, but this of course for a ship is a bad omen... She then set sail for a one-day cruise with invited guests aboard, also to get the new crew familiar with the ships lay-out. A few days later, at the 1st of may, Aurora took off for her first cruise to the Mediterranean. But it was just one day later that she already had to turn the rudder and go back to where she came from. During the first day her propeller had been overheating and this caused her first cruise to be cancelled. After a quick but embarassing repair at the Blohm & Voss wharf in Hamburg, she again started her second first sailing at the 15th of may towards the Canary Islands and this time all went well. All her passengers recieved a compensation for the inconvenience to the extend that the faulty cruise helped the line establishing itself as a company really taking care for the affected passengers.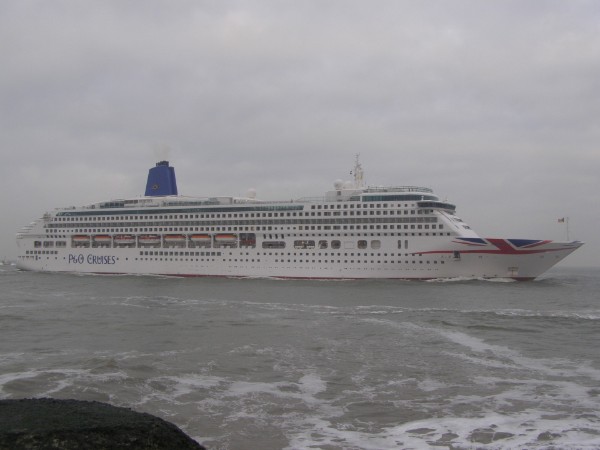 Carreer
In the few years that followed, the ship settled in especially for her intended British clientele and her faulty first cruise was largely forgotten. For P&O, she was a steady flagship and attracted many passengers searching for a classic but modern, relaxed cruise-product in true British style. Also because of this new ship, P&O itself strenghtened their position as one of Britains main cruisecompanies again. But some of the ships bad luck returned in march of 2001, when one person that she had rescued from the sunken freighter Pamela Dream close to Taiwan had died aboard after the rescue operation. Two others survived. The weather was very harsh at the time of the rescue, with 5 meter (16ft) waves, and in the event, also Aurora's propeller was damaged by flotsam in the process. It was inspected and polished by divers when the ship docked in Singapore and later replaced in drydock in Southampton 1n december of 2002.
At the 9th of september 2001, it was the first time that Aurora sailed into New York for a series of short US cruises, but while sailing the first one two days later, the horrific terrorist attacks in the USA where-by passengerplanes were used as missiles, had her being assisted by the US Coastguard with ships and helicopters as they feared the British ship could also be in danger of attack. She was routed into Boston when it seemed to be safe for her to do so and here she landed many of her American passengers. As it turned out, there were many executives from banks and financial services aboard for a convention of whom at least 50 normally worked in the WTC towers 1 and 2. Several of them had even been in contact with their colleagues in the time that the towers collapsed and of course many were killed in the proces. So the vibe aboard was very tense and grim and she had to rush into port at Boston, as also this port was closed soon after she had docked. Next up, she sailed for Halifax to pick up stranded passengers that were at Canadian excursions.
Below, Aurora can be seen sailing in the former P&O livery during a trip down the Northsea Canal from Amsterdam in the summer of 2005.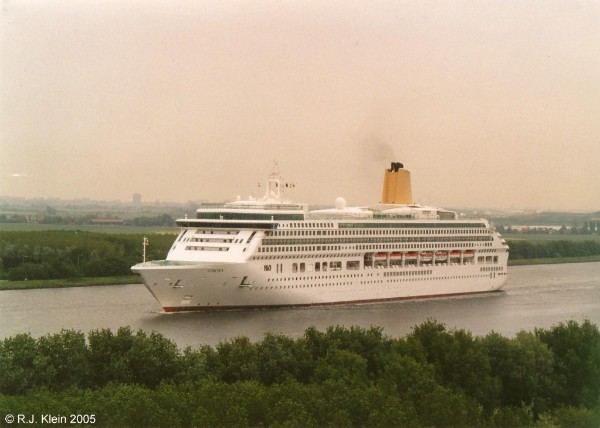 Two years later, she became a real headline when she was struck by an outbreak of a Noro-virus when cruising the Mediterranean. A number of ports refused to dock the stricken ship and she almost became a nomadship because of this. Luckily, the British port of Gibraltar took her in, but because the ship had 450 ill persons aboard, the Spanish prime minister Aznar decided to close the border between Gibraltar and Spain. This is a large exception to normal business since 1982, it was only in 1988 when the border had also been close because of a bombthreat. Next to Aznars over-reaction, the Spanish minister of health was sent down to the border to 'calm the local population' as if the virus was a national threat to Spain. In reaction, the British minister of Foreign Affairs Jack Straw reacted furious about the Spanish actions and this almost escalated into a conflict between the two countries. Of course, the basis of these problems lie in the historic dispute over the rock of Gibraltar.
Showing of her newly applied Union Jack up very close, it doesn't seem to be as bad as many feared for...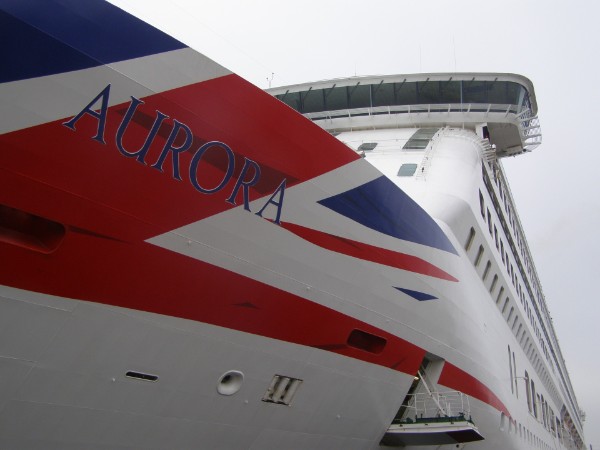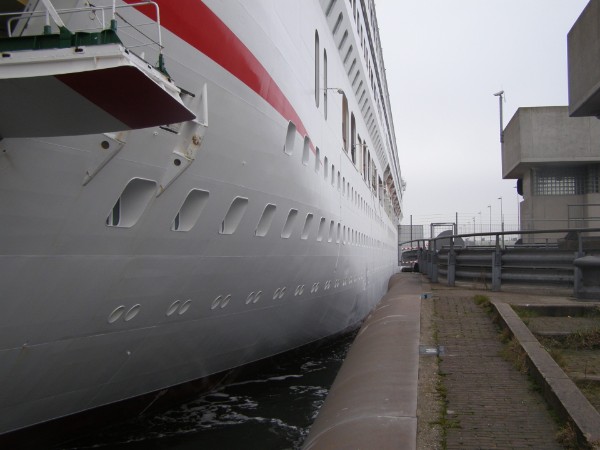 Above, you can see how close you can actually get to the ships at the locks of IJmuiden. This time, I really thought taking a step back would maybe be a good option, as Aurora passed within three meters of myself. It is a little exciting, though. All ports are systematicly closed off so taking pictures can be a challenge, but here, you can still meet up close. Next to that, you can also spot the need to built a larger lock here in this picture. This new lock is planned to open in 2021 after a two-year delay.
Just two months after the Spanish-English cold war, a suspicious diver was seen close to the ship when she was at Southampton preparing for her next cruise. As a pre-caution, the ship was moved out of the shipping lanes and luckily, close inspection indicated no problems. For a ship with just a few years of service, you can see Aurora hit the news more then once. In january of 2005, the list even became longer when her whole worldcruise had te be cancelled because of big propulsionproblems. The flagship was out of service for a few months and this cancellation became the most costly cancellation ever in cruising history and had immidiate effect on P&O's earnings over the year 2005. P&O estimated that it had cost the company around 22 million English pounds. In this incident, the ship hadn't even left port and while her passengers waited, the company tried to do everything in their possibility to get her moving. In the meantime, her passengers were awarded with free drinks aboard and were able to exit and enter the ship as they wished. Also, the company invited entertainers like Elaine Paige and Paul Daniels to keep the moods up. But in the end, the cruise had to be cancelled and the ship was brought over to Bremerhaven to have her faulty motor replaced. In the aftermath, in true British cynic humour style it was said that it had been a 'cruise around the Isle Of Wight', 'the largest ever Isle Of Wight Ferry' and a 'Booze Cruise'. Passengers were compensated fully and the company donated all of the foor that had been already aboard for the worldcruise to local charities around Southampton. In spite of all these problems, Aurora is still a much loved and very important member of the cruisefleet of Great Britain. Because all of these problems had been handled well by P&O staff and the company itself, mostly the problems just caused people to admire the company more over.
In december of 2014, Aurora was repainted in the new colours of P&O Cruises, leaving the former livery (that had been introduced with the Strath-class of liners in the 1930's) to the past. The ship was the first of all P&O liners, recieving an artist impression of the Union Jack at her bow and a new, dark-blue funnel with the golden sun logo. Purist say that it is sad to see the old livery go and maybe they are right. But change of livery is more common then you'd think and I guess, after seeing Aurora up close, it will blend in over time.
In april of 2019, Aurora was changed into an adults-only ship after the sale of Oriana to a new Chinese venture. Together with Arcadia, they now hold the distinction of having no passengers aboard that are under 18 years of age. This way, older passengers can be assured of a more quiet cruise is the general thought. According to rumours on the last cruise of Oriana, the Chinese owners of the older sisters are also eying to buy Aurora for their venture. We just have to see how this turns out and or these rumours are true at all...