Oriana (II)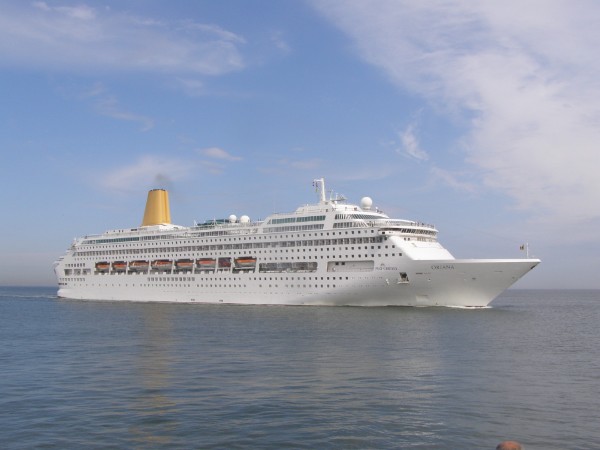 One of the most gorgeous modern cruiseships seen in one of the most gorgeous settings and light I could have imagined. Oriana slipping into IJmuidens outer harbour on the 4th of july 2012.
Oriana, the second P&O ship with this name, floated out Jos L. Meyers Yard in Papenburg, Germany at the 30th of june 1994. Her yard-number was 636. When introduced, she sailed under the British flag with her homeport being London. She is 269 meters long, 32,24 meters wide and her draft is 7,90 meters. With her tonnage of 69.153 she can easily accomodate 2108 passengers and 760 crew, who enjoy ten decks of amusement. She steams at 24 knots, making her fast, and Berlitz gave her a ****+ degree.
Oriana was a star already when she wasn't even wet. A filmcrew from Discovery Channel watched her take shape from the early beginnings and made a 3-hour documentary about the building of the ship. In spite that the name Aurora of her 2000-built near sistership indicates a new beginning for P&O Cruises, Oriana really started this. The P&O fleet was in fact only Canberra (1960) and Victoria (1965) when Oriana sailed her first voyage in april 1995. Oriana had to be a true British flagship, be sort of a P&O-version of Queen Elizabeth 2. A nice fact to tell about the design of Oriana is the reason why her bridge-wings are not enclosed by glass. Originally, it was planned to have Oriana built with enclosed wings, but because her first Commander, Ian Gibb, told P&O that 'a captain should be able to feel the wind on his face' the wings were kept open. Also, Oriana was designed with elements remembering Canberra, and when you look to both ships closely, you can see many things that are practicly the same. Easiest to spot is of course the funnel, on Oriana it is only one but on both sides it resembles the double one on the old flagship. Also the placing of the lifeboats and the deck with the balconies do resemble Canberra. Above Oriana's bridgedeck, added extra decks look a little like Canberra too. Although nowadays we see Oriana as a relatively small ship, when she was launched in 1994 she was the largest passengerliner ever built in Germany. With this, she broke a very old record because the last largest passengership built in Germany was HAPAG's Bismarck in 1914, and she measured 51.000 tons at that time.
On the two pictures below, the great ship sails silently past the Spaarnwoude nature area on her way to Amsterdam at the 24th of april 2003.
Oriana is a true nineties-ship in looks and in size. But a lot of people call her an ocean liner instead of a cruiseship and most shiplovers say she has an 'old feeling' about her. Maybe she has, with her teak-decks and high tea and traditional British style she is unique. But in 1995 she was state of the art, controlled by a joystick wich the captain calls the lipstick because of her manifacturer Lips.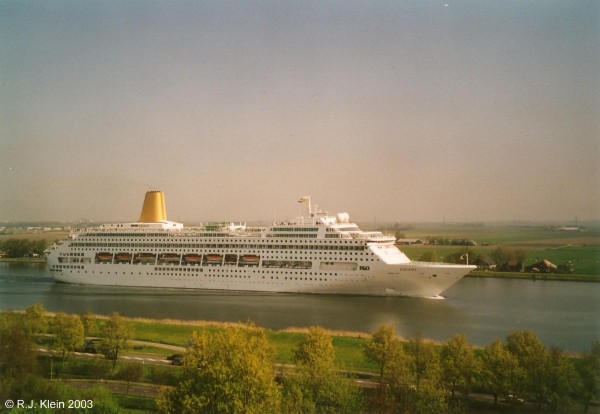 Queen Elizabeth II named the ship in Southampton in april 1995, a few days before the ship set sail for the Canary Islands on the 9th day of that month. Almost directly she was classic and especially the British and European people loved the ship. Her first entry in Sydney Harbour was amazing as hundreds of people saw her arrive in liner-style. Strangely, Oriana is only the first passengership in the history of P&O that has been ordered and designed as a sole cruiseliner. In 1972, P&O added the Spirit Of London to their fleet, but that ship was not ordered by P&O but by Klosters Rederi from Norway for their Norwegian Caribbean Line. Even after the keel of this ship had been laid as Kloster's Seaward, P&O took over the contract and had the ship build. So thus P&O, that is recognized as the company that has invented cruising in the first place, waited untill 1994 to really order a ship designed solely for cruising. All others before her originally started their life as a liner, or they had been built for Princess Cruises, that was mainly the P&O cruising fleet after the 1970's.
At the 25th of september 1997, Oriana met Canberra at Cannes while the older ship was sailing her last commercial voyage. In a special ceremony, the 'Golden Cockerel', a large metal silhouette of a cockerel on a pole, was handed over from Canberra to Oriana. This cockerel is a symbol that is traditionally carried by the fastest ship in the fleet. The ceremony was witnessed by passengers on both ships and a special song that was written for Canberra was sung by Gerard Kenny.
What makes her so special? Maybe her elegance, her grandeur. But in fact she is a cruiseship, not a liner. She looks like a cruiseship, in general. Not like a liner. But something in her looks and her style makes her a great ship. And she is great for several people too, because she was involved in at least two rescue-operations at sea in Ile de France-style. In 2000 she rescued 9 people from a sinking Turkish freighter and a year later she saved three people from a Swedish yaught.
Some little misfortune struck her. In the beginning of may 1999, a stern tube bearing failed and because of this, a three day private charter and a two-week cruise had to be cancelled. Just days before, the ship had seen some repairwork at A&P Southampton, but that company stated they had not worked in that part of the ship and all was a coincidence. The bearing was repaired at Meyer Werft, Germany. One and a half year later, in september of the year 2000, Oriana met a giant freakwave. Six cabins were smashed and several people injured.
Despite these rather small problems,
Oriana
is now a classic modern cruiseliner, admired and loved by most shipping enthousiasts. She is a true link between the old and the new ships, giving her passengers best of both.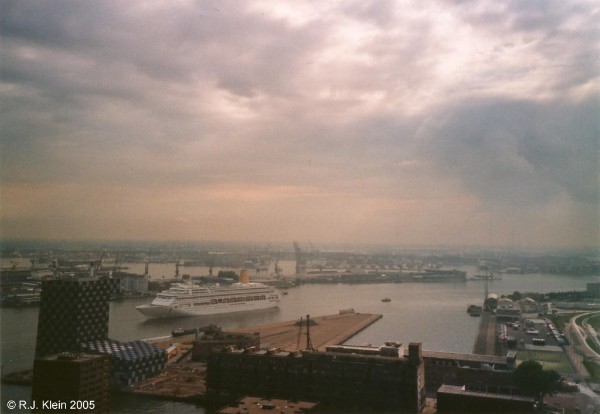 Of course Oriana was present when P&O celebrated their 175th anniversary in the port of Southampton, when all seven ships of the line were together. Unfortunately, I did not have the possibility to be in Southampton that day, but Oriana presented herself 'the day after' at IJmuiden, still flying the specially designed celebrationflag in her mast, as seen in the large lock at IJmuiden on the 4th of july 2012. I added a closer picture of the flag on the introduction page to P&O.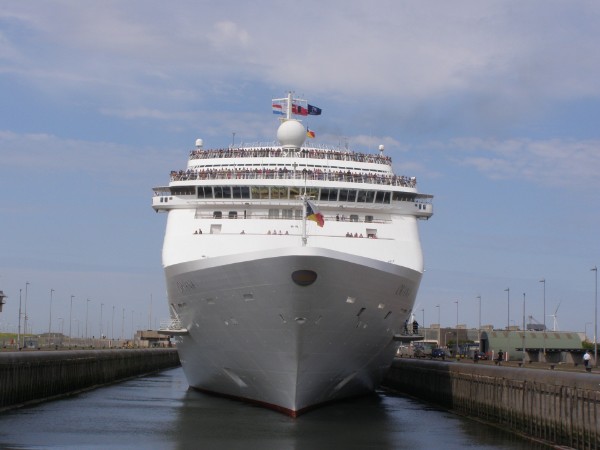 Before 2016, P&O will change the livery of all of its ships, repainting the funnels in blue with the golden sun logo in the middle and adding an artists impression of the Union Jack to the bow of the ships. This will be done to remember the British heritage of the line, and to make them easier recognisable. In the opinion of many, the new livery, replacing the former that was introduced on the 'Strath'-liners of the 1930's, will make the ships look more like mass-market American ships then British ones, despite the print of the flag. Next to that, it is kinda strange that the company is so proud of its British heritage to incorporate the flag in the ships livery, but meanwhile the ships have all been re-flagged to Bermuda, recieving the new homeport of Hamilton, just like their Princess sisters. Of course, Bermuda is still part of the United Kingdom but still... But over time, we will mabybe get used to it somehow.