Braemar (III)

The ship that would eventually become Braemar of Fred Olsen Cruise Lines was built in 1991 in Spain at the Union Naval de Levante wharf in Valencia. She was docked out on the 31st of january 1992 for Commodore Cruise Lines, that was part of the Swedish/ Finish company Effjohn International. She was a very modern ship of 19.089 tons and a lenght of 163,81 meters. She is 22,52 meters wide and she has a draft of 5,40 meters. The ship was designed to carry 820 passengers and 304 crew on seven decks. At the time of launch, she was the biggest cruiseship ever to be built in Spain, together with her sistership Crown Jewel.
Below is Braemar, as seen on the 11th of may 2005 near Buitenhuizen at the Northsea channel between Amsterdam and the Northsea.
It took a while to finish the ship after she undocked, also because there was a serious fire in her restaurant just before completion on the 23rd of february 1993. The ship was originally intended for the US market out of Florida,, but just before the ship was launched her parent company, Effjohn had taken over a small one-ship company named Crown Cruise Line. This company was sailing with the 1989-built Crown Monarch and Effjohn decided to bring the new ship over to this company under the name Crown Dynasty. This was done, because the new ships were far more luxurious then the rest of the Commodore fleet and Crown Cruise Line was to become more upmarket. She was delivered three months behind planning on the 25th of june 1993 and started her positioning voyage from Southampton at the 3rd of july 1993 to the United States after being named by Betty Ford. After this, she was starting her first Caribbean cruise season. One year later she was chartered out to Cunard Line without change of name although Cunard advertized her sailings as Cunard Crown Dynasty. The name on her hull did not change. This move was made because the Crown-operation was not as succesfull as was hoped before and Effjohn was eager to salvage this so they had contacted Cunard for chartering both sisterships. Next to this, there also came a devastating blow to Effjohn in 1994. Through several ferrycompanies in the Baltic, Effjohn was also involved in lines like Silja Line and Estline. In 1994, the largest disaster at sea since the sinking of Titanic affected the Estonia, one ship also owned by Effjohn. At the 28th of september, the Estonia had sank on route between Tallinn in Estonia to Stockholm, Sweden when she sank after her bowdoor had broken off due to heavy seas (as is expected that happened). In total, 852 people perished.
The financial aftermath was also one of the reasons that Effjohn faced hard times. For Cunard, she sailed Alaska, Panamacanal and Mexico cruises. From january 1993, the company was managed as Cunard Crown Cruise Line. From 1997 onwards she was chartered to Majesty Cruise Line under her new name Crown Majesty and her last Cunard sailing was starting at Fort Lauderdale at the 5th of may 1997 to Los Angeles where she docked at the 17th of may. Her carreer for Majesty was again short lived, sailing Alaska cruises. She was leased to NCL Holding in 1997, sailing for Norwegian Cruise Line as their Norwegian Dynasty. This lease was to be for two years and she sailed around Hawaii and again in Alaska for NCL untill 1999. Because NCL added bigger panamax ships, the small Norwegian Dynasty did not really fit within the fleet anymore so the lease was not renewed.
On march the 1st 1999, Commodore Holdings announced they would charter Norwegian Dynasty with the option of purchasing her for the renewed Crown Cruise Line. On the 2nd of december of that same year, she was renamed Crown Majesty and started Caribbean cruises on the 18th of december. One month later, in january 2000 she was bought by Commodore Holdings because her bookings were very good. But another early ending in this carreer came when Commodore was declared bankrupt on the 28th of december 2000.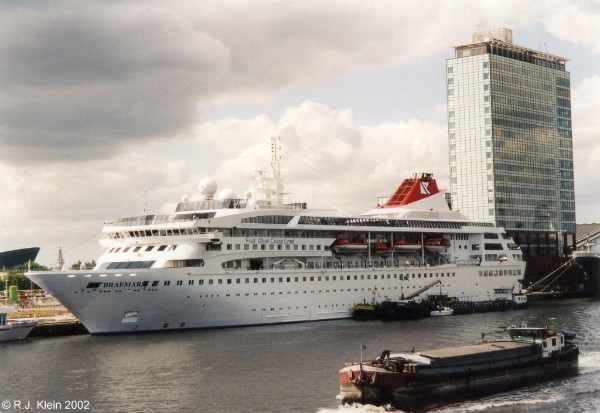 In may of 2001, the ship was bought by Fred Olsen Cruise Lines, that were searching for a new and more modern ship for their very popular fleet of cruiseships. Although the cruiseships were loved by the Fred Olsen cruisepassengers, they were rather old. They sailed at that time with Black Prince, that was built in 1966 and Black Watch that was built in 1971, so both were sailing for more than 30 years. She was send over to the Blohm & Voss wharf in Hamburg, Germany,where she was rebuilt as the Braemar, named after a small village in Aberdeenshire, Scotland. Her first Fred Olsen cruise took her from Dover, where she was stationed, on the 11th of august 2001.
It was the thirth time the name Braemar was used in the history of Fred Olsen. The first Braemar sailed between 1953 and 1975 on the Oslo-Kristiansand-Newcastle ferry route. Fred Olsen was in fact a ferrycompany that started cruises under their own name in 1986 when the ferry Black Prince was rebuilt as a cruiseliner. The second Braemar was the 1980-built Viking Song, that sailed between 1985 and 1990 for Fred Olsen.
The former Crown Dynasty became a very popular ship with the Fred Olsen public and she was lenghtened by 31,2 meters in may 2008 by Blohm & Voss to offer more to her passengers. In this refit, some 70 new cabins were added, as well as the Observatory Lounge and a second restaurant, The Grampian. Also, another pool was added to her extended pool deck. The Fred Olsen fleet grew steady in recent years, with Boudicca in 2005 and Balmoral in 2007.
The lenghtened Braemar still visits The Netherlands at a regular basis. The last years, she seems to prefer the Felison terminal at IJmuiden instead of the Passenger Terminal at Amsterdam. This because when the ship stays in IJmuiden, she can spare a few hours by not crossing the Northsea Canal and the locks. She is seen here at the 1st of may 2011.