Carnival Legend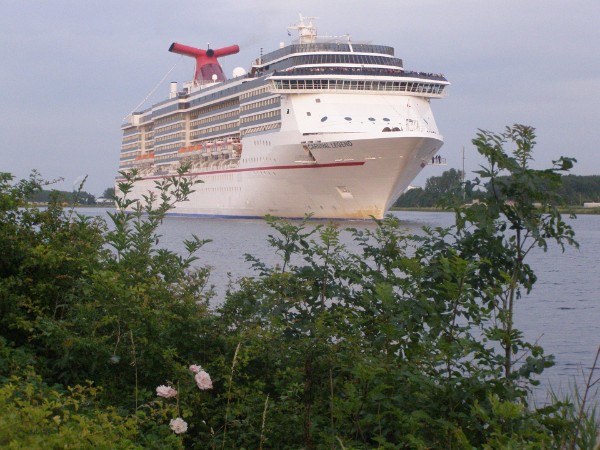 Carnival Legend sails the Northsea Canal past the village of Velsen Noord at the 14th of july 2013. It is her second season in northern Europe, although her first season was 11 years ago. That time, she was the first Carnival ship seen in the region.
When the Spirit-class was designed in the end of the 1990's, Carnival hit bullseye. The design of the ship was thát good, that for the next 12 years, it was used over and over again as blueprint for new ships and new classes. The Spirit-class of course was first, in which four ships were built for Carnival (Carnival Spirit in 2000, Carnival Pride in 2001, Carnival Legend in 2001 and Carnival Miracle in 2004) and two for Costa Cruises (Costa Atlantica in 1999 and Costa Mediterranea in 2003) and it was also used as the basis for the Vista-class. In this class, four ships were built for Holland America Line (Zuiderdam in 2001, Oosterdam in 2003, Westerdam in 2003 and Noordam in 2006) and one was added to the fleet of P&O Cruises (Arcadia in 2005). Cunard line recieved also two ships of the same design, but with specific changes for use within the Cunard fleet (Queen Victoria in 2007 and Queen Elizabeth in 2010). Two more ships were built for Costa, that were basicly a combination of the Vista-class and the Spirit-class and those were Costa Luminosa in 2008 and Costa Deliziosa in 2010). For Holland America Line, two enlarged versions of the Vista-class were built, named Eurodam in 2007 and Nieuw Amsterdam in 2010. In total, 17 ships were built out of the original blueprint. As a shiplover, you would not be pleased with this lack of imagination (hmm...a Carnival name...), but as a owning company you would love the cost-saving that comes with one overall basic design and as a passenger, well, these ships really are very well laid-out with good passenger flows and a relaxing holiday-style. And after all, the passenger decides which ships are good and which aren't.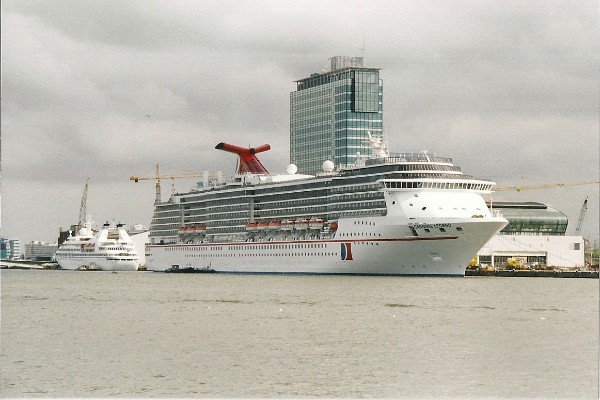 Carnival Legend seen with Seabourn Pride at the cruiseterminal at Amsterdam at the 22nd of august 2002. Funny fact is that the Carnival Legend is a part of the Spirit-class, with Carnival Legend, Carnival Spirit, Carnival Pride and Carnival Miracle, and Seabourn Pride at the time was part of a sisterhood of three named Seabourn Legend, Seabourn Pride and Seabourn Spirit. There only was no Seabourn Miracle.
Carnival Legend was built at the Kvaerner-Masa Yards at Helsinki, Finland as yardnumber NB 501. Her tonnage measurement is 85.920 and she has a lenght of 292,50 meters, a width of 38,80 meters and a draft of 7,80 meters. Her passenger capacity is 2124 on a two-per-cabin basis, her maximum amount is 2667. In total, 930 crewmembers are also present at her 12 decks. The ships normal cruising speed is around 22 knots and she flies the flag of Panama with her homeport being, well, Panama. About Panama, the ship was truly designed as a Panamax-ship, that means she is one of the largest ships that can use the Panama canal instead of sailing all the way round Cape Horn. This is also a reason why Carnival used this design in many ships.
At the 12th of december 2001, Carnival Legend sailed out of her building dock. At the same day, Carnival Pride was also delivered to her owners. After the ship had been finished, she sailed for Harwich, where she was named by Dame Judy Dench. The ceremony didn't go that smoothly, because she needed three attempts to break the bottle on the ships bow, while the ships first captain Claudio Cupisci watched. The thirth time, the bottle did break, but the champagne splashed all around so she was soaked herself and became Dame Judy Drench. She reacted as a good sport and said 'I am godmother to 13 godchildren and a god-dog, now I am godmother to a great ship.' After the naming finally was undertaken, the ship sailed on a short cruise from Harwich to Amsterdam, where I took several of the pictures on this page. It was the first time that a ship of Carnival Cruise Lines was present in Amsterdam, not surprisingly, the cruise that the ship sailed was the first ever Carnival cruise in Europe. She sailed several cruises in Northern Europe, before she took up her Caribbean station.
Below, the ship enters the IJmuiden locks in the early morning of the 14th of july 2013. On the second picture you can see how close you can get to these ships when positioned the right way. With the largest ships, like this one, you can get as close as a few meters from the hull. It is a massive sight, being so close to a sailing cruiseliner.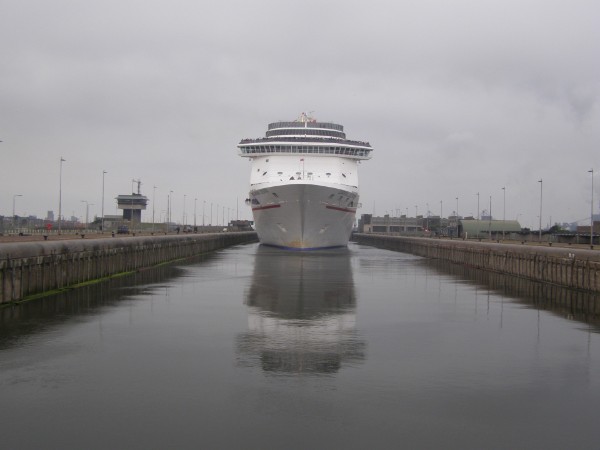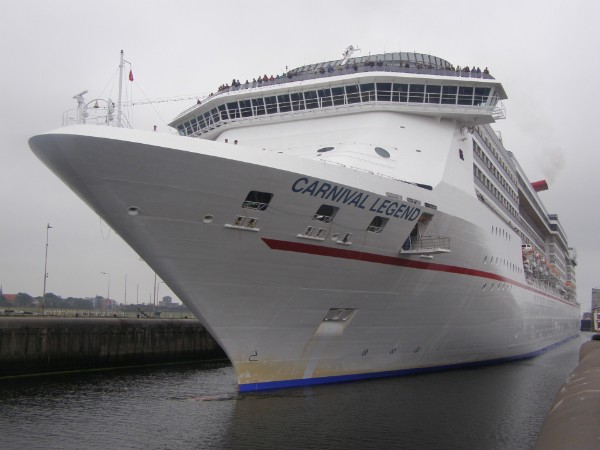 On the 13th of july of 2005, the ship suddenly listed heavily after she had left Tortola for New York City, due to a computer problem. Captain Cupisci had to take manual control to prevent the ship from capsizing, and although there was damage and some people suffered minor injuries, all could have been far worse. One month later, at the 3rd of august, smoke has been seen from the lower levels close to the bow and passengers were advised to go up to the higher decks because something had been overheating. No true explanation was given and no real fire reported.
On may 27th, 2006, a passenger was reported to have jumped overboard after an argument with his wife in front of his children. The 35-year old man from Pennsylvania was probably under the influence of alcohol or drugs and the ship stayed around for 11 hours to search for him, but he wasn't found. At the 30th of september 2009, another problem arose when the ship collided with the Enchantment Of The Seas of Carnival's greatest rival Royal Caribbean International in the port of Cozumel, Mexico. The heavy winds blew Carnival Legend, that had just departed from the qauyside, into the side of the RCI ship and both ships suffered damage to railings and glass. No personal injuries had been reported and both ships were able to sail to their next destination with little more then some provisoric repairs.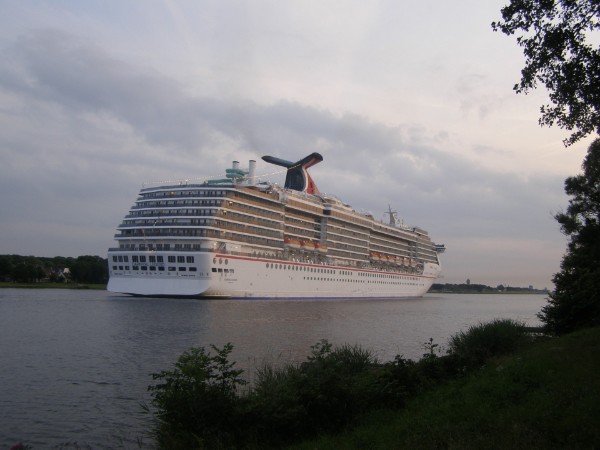 In 2013, Carnival Legend returned to northern Europe for a series of cruises, before she was going back to the Caribbean in 2014. In the beginning of that year, the ship was updated and recieved a new AquaPark called WaterWorks, including several exciting waterslides. One of those, the Green Thunder, is a 187-foot long slide that feautures a 34-foot long drop where riders are propelled at a staggering 25 miles an hour. Other new feautures aboard are Bonsai Sushi, a full-service sushi restaurant, the RedFrog Caribbean pub and the Cherry On Top candy and giftshop.
At the 16th of february 2018, the ships cruise-scedule was interrupted when a huge fight broke out aboard between several members of a large family,. ship security guards, other passengers and eventually the police. The ship was on route to Melbourne, Australia but had to make an unsceduled stop at Twofold Bay, Eden where police could take the violent familymembers into custidy. Several people were injured in the fight and passengers later stated that the family was involved in many aggressive situations as soon as the cruise had started.