Europa 2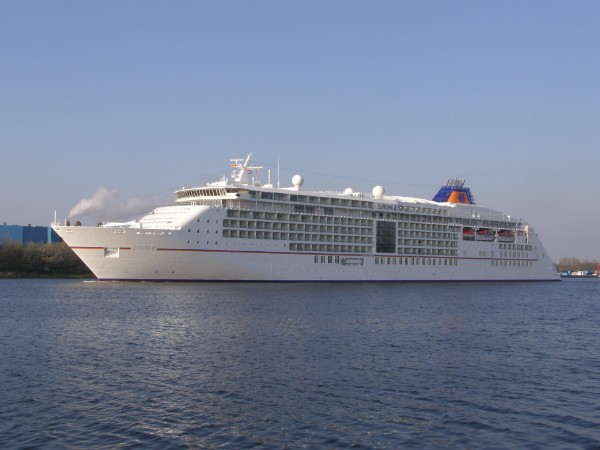 Europa 2 sailing past Velsen Zuid at the 3rd of may, 2013, just several days after her delivery to HAPAG-Lloyd.
At the 1st of march 2012, the keel for a spectacular new ship for HAPAG-Lloyd was laid at the STX France Yards at Saint-Nazaire, France. The ship measures some 42.830 tons, is 225,38 meters long, 26,70 meters wide and her draft is 6,30 meters. She will only have room aboard for 516 passengers and this makes her the most spacious cruiseliner afloat, even more room is available to every passenger aboard compared to the most intimite cruiseyaughts. For those passengers, some 370 crewmembers are aboard. But don't call the Europa 2 a luxury ship though, she will not be marketed like that. Her style is very informal and the company does away with cruise-traditions like Captains Diners. She will be positioned as a lifestyle-orientated, casual alternative to those expensive luxury yaughts. The ship has 7 passenger decks and sails at around 21 knots.
Already the following friday the 6th of july, just four months after her keel was laid, the ship floated out of her drydock and towed to the fitting out berth where she was completed. The fitting out stages took somewhat longer then the building itself, the ship was finally handed over to HAPAG-Lloyd at the 29th of april 2013. But what a ship it is...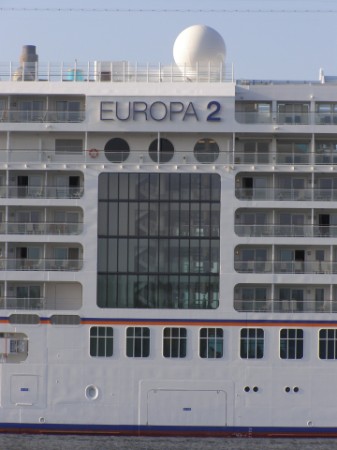 The Europa 2 (yes I understand, the name looks kinda plain for a ship of her stature, but it is a direct link to the companies 1999-built Europa that is the second most spacious cruiseliner on the seas) has eight restaurants, six additional bars, a 15-meter long pool, a Spa and two golf simulators. Of course there is also a theater, several lounges and a gymnasium to keep in good shape. And this all for just over 500 passenger, yes.
The ship is truly placed in the international market and the company that is mostly known for its dedication to German passengers and German language aboard, is walking new ways on the Europa 2. English speaking passengers (I always avoid the word guests because guests normally won't pay) will be totally at ease as all entertainment will not rely on language and the few announcements made will always be in German and English.
All 251 balcony-suites aboard, there are no inside cabins, have veranda's of at least 75 square feet so these are not only good for window-washing. Also, the suites itself will at least be 301 square feet and will offer a free-of-charge minibar, Wi-Fi internet access and a tablet PC. According to HAPAG-Lloyd's managing director Sebastian Ahrens, the ship 'will offer an international atmosphere for sophisticated, cosmopolitan customerswho still have very demanding, professional lives and are looking for the greatest possible degree of individuality in their spare time.' The restaurants aboard will have flexible mealtimes, no arranged seatings and there will be plenty of tables for two. Of course, the restaurants are included in the cruise price (except beverages). One of the restaurants aboard, the Asian restaurant named 'Elements' has design-links to the Cathay lounge that was aboard the 1931-built Pacific liner Empress Of Britain from Canadian Pacific. This is not a coincidence, in 2005, TUI, the now owner of HAPAG-Lloyd, bought CP Ships, that was the successive company to Canadian Pacific.
Also children will be taken great care of on the new ship, as a novelty in the German cruisemarket, childcare will be available aboard for children from two years and older. From 2 untill 4 years there is the Knopf Club, from 4 to 10 there is the Kids Club and 11 to 15 year olds will have a good time in the Teen Club. By the way, every child younger then 11 will travel free of charge on Europa 2, when two paying adults are travelling with them. Also family shore excursions are available on family cruises.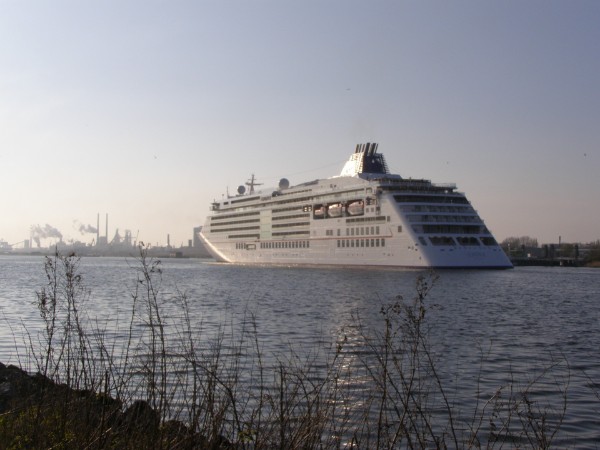 In contradiction to the 1999-built Europa, the new ship will sail not only longer cruises, but also offers 7-day cruises so that more people can enjoy a cruise with HAPAG-Lloyd, because, well, week-holidays are much more easy to arrange then longer ones with jobs and so forth. What is like the older ship, is that also the new ship will offer voyages in a great diversity. In 2013 alone, the ship will sail 26 different itineraries and she will be calling at 123 ports. The first voyage is her delivery voyage from France, which began at Le Havre at the first of may 2013. Luckily she visited Amsterdam soon afterwards during this voyage and she finally arrived at Hamburg on may 10th to be named. One day later, her true official maiden voyage started at Hamburg, bringing her back down the European western shore to Lisbon.