Hanseatic Nature
Background
A rarity. When Hanseatic Nature visited The Netherlands for the first time, she anchored near the port of Scheveningen (Den Haag). This port has never been a cruiseport, untill 2018 when the Berlin came in for a brief visit. As it was not possible for Hanseatic Nature to dock in port, she anchored near the beach, a thing that has never happened in Dutch cruise history. The date is the 29th of may in 2019. This year, also another ship will enter Scheveningen port, as the Berlin will again come in for a visit in july.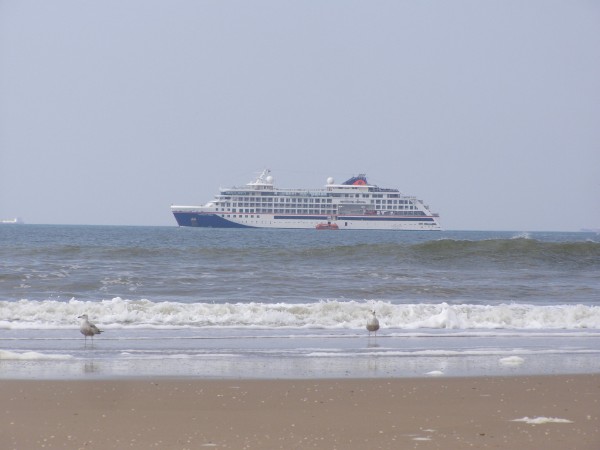 Hamburg Amerikanische Paketfahrt Aktien Gesellschaft, of better HAPAG, had an early begin with small-ship cruising. Next to their vast fleet of ocean giants and working ships, in the year 1900 they had launched a cruiseliner of 4409 tons under the name of Prinzessin Victoria Luise. It was really something else, as cruising was not something you did on purpose-built ships. With an all white hull, two large masts and two large funnels the ship was a true stunner with space aboard for 120 first-class passengers, 320 second-class passengers and 150 thirth-class passengers. She sadly met a pre-mature end when she was wrecked near Jamaica, just for Christmas in 1909. Although she was a three-class vessel, she was advertized as a true luxurious cruiseship. Which probably, she was.
Way later, in 1996, HAPAG-Lloyd took over the Hanseatic and her company Hanseatic Tours, although the ship kept sailing in her former colours, which were by the way the former colours of the Deutsche Atlantik Linie. The name Hanseatic for this company had also been not new, as the 1969-built Hamburg (later Maxim Gorkiy) had also been briefly named Hanseatic. The Hanseatic that became part of the HAPAG-owned fleet in 1996 had been built in 1991 as a true expedition-style cruiseliner under the name of Society Adventurer. Although she truly was a HAPAG-Lloyd ship now, she was very different from the other ships not only due to the different colours she sailed in (although this was later altered) but also due to the fact that she was an expedition cruiseship.
With the real boom in luxurious 'expedition' tonnage at the end of the 2010's, also HAPAG-Lloyd wanted to modernize their expedition fleet next to their two Europa's of the main fleet. The older Hanseatic was thus going to leave the fleet and a new duo of ships was ordered to replace her.
Construction and general statistics
At the 16th of august in 2016, the order for two expedition-style cruiseliners was placed by HAPAG-Lloyd with the VARD Group and building the first ship started at the VARD-owned yards in Tulcea, Romania. Her keel was laid at the 6th of july in 2017 as yardnumber 870 and at the 22nd of july in 2018, the ship was launched with the use of a ship-elevator. She then was towed to the VARD yards at Langsten in Norway the following august, where she was completed. Originally, the naming ceremony was planned for the 12th of april in 2019, but due to several delays this was finally carried out at the 4th of may in Hamburg after the ship had been delivered to the company at the 30th of april. During the construction of the ship, a thirth ship was also ordered. Her sisterships will be named Hanseatic Inspiration and Hanseatic Spirit, so all of them are reviving the Hanseatic name.
Hanseatic Nature measures some 15.651 tons and is 139 meters long, 22,28 meters wide and her draft reaches 5,75 meters. She has nine decks of which seven can be used by the passangers. The capacity of the ship is 230 passengers and 175 crew. For Antarctic expeditions though, the number of passengers will be reduced to 199. She is powered by diesel-electric engines powering two propellers.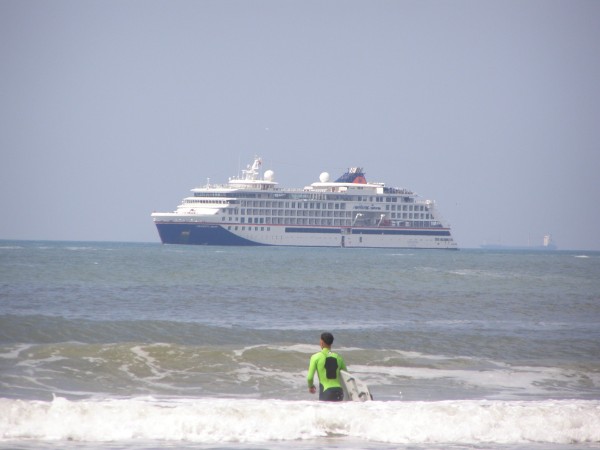 Design
As her name already suggests, the ship was 'designed by nature', although the German firm Oceanarchitects was responsible for that. She is one of the first cruiseships in the world which has a Polar Class 6 classification so she can quite safely navigate through icefields. For extra help, the ship is also equipped with an infrared ice detector camera so also in night and low light ice can be spotted in time. As she will be sailing mostly in the Arctic and Antarctic regions, she also has an selective catalytic reduction converter, which is a device that reduces harmfull emissions like nitrogen oxide by some 95%. Cold ironing furthermore reduces the ships fuel consumption and air pollution.
Hanseatic Nature has 120 passenger cabins in seven different categories, ranging from a 22 square meter panorama cabin to a 71 square meter grand suite with a 16 square meter private veranda. The ship is really catering for German speaking guests in contradiction to her second fleetmate Hanseatic Inspiration, that will be marketed internationally.
There are three main restaurants aboard, rated five-star so expect good food. The main restaurant offers seating for 178 passengers, so almost all. Then there is the 84-passenger Bistro restaurant and a speciality restaurant on deck 4 seating 44 passengers. Total capacity of the restaurants is thus way higher then the passengercapacity of the ship.
There is a large bar on deck 4, a 215 square meter spa-complexand a large fitness area. Of course there is a large pool, a knowledge studio, a pool and sundeck at deck 8, a terraced outdoor obersvation lounge from where binoculars can be used and of course also a main lounge for several entertainment options during the cruise.
The Hanseatic Nature is also equipped with 16 zodiacs, that can be entered through a watersports marina at the rear of the ship. Also kayaks, paddle boards and snorkeling equipment can be used from here.
Carreer
As said, the ship was supposed to be named at the 12th of april of 2019 in Hamburg, but because of several delays at the wharf this could not be met. Also the planned two first cruises were cancelled and the naming finally took place in Hamburg at the 4th of may in 2019. One day later, she departed for her first cruise to Great Britain and Ireland. In her first season, a collection of cruises will be sailed to the Arctic and Antarctic regions, as well as the Great Lakes of North America.