Legend Of The Seas
Legend Of The Seas seen passing Velsen Zuid at the Northsea canal in The Netherlands at the 30th of april 2014.
Nowadays the oldest ship in the fleet of Royal Caribbean Cruise Line (except one) and also the smallest, together with her slightly younger sister Splendour Of The Seas (1995). These ships were the first ships of RCCL in the 'Project Vision'. Later, a quartet of ships followed, but to a different layout and certainly a totally different look. These of course were Grandeur Of The Seas (1996), Rhapsody Of The Seas (1997), Enchantment Of The Seas (1997) and Vision Of The Seas (1998). In 'Project Vision', the ships offered more room in the cabins, that were very small in the earlier ships of RCCL. Also, the ships featured a lot of glass in the exteriours to give the passengers a great vision of the ports, seas and skies.
Legend Of The Seas was built at the Chantiers de L'atlantique wharf at St.-Nazaire in France under yardnumber A31. Her tonnage measurement is 69.130 and she has a lenght of 264 meters. She is 32 meters wide and she offers accomodations to 2435 passengers and 735 crewmembers on 11 decks that are accessible for passengers. Her normal sailing speed is around 22 knots, very normal for a cruiseliner of her stature. She was floated out at the 4th of september 1994 and her first cruise started at the 16th of may 1995 and it took her from Miami to Los Angeles. Just before, she had been named by Cindy Pritzker, who is the wife of Jay Pritzker, one of the Boardmembers of Royal Caribbean. She is a well-known figure in several organisations in health, science and education in the greater Chicago area. In her first years, the ship sailed under Liberian registry, homeported in Montrovia, but in 2003 this changed to a Bahamian registry with her homeport now being Nassau.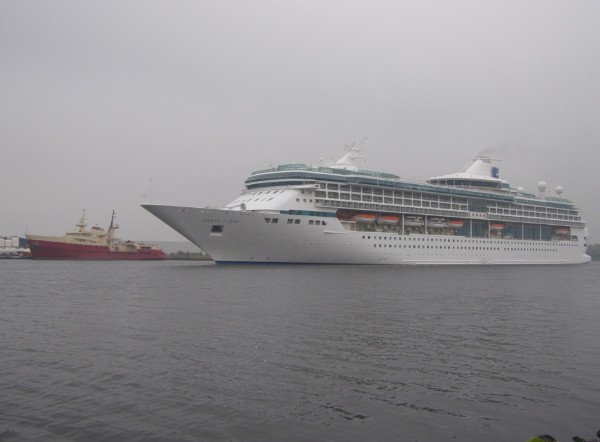 During the passage of the canal, she passed a former 1974-built icebreaker that is being rebuilt into a luxury yaught. In a co-incidence, the new name for the yaught is Ledgend. She had been built in Amsterdam as the Giant as a Russian-owned tug for assistance to the Eastern European fishingfleet on the North Atlantic.
The ships interiours are splendid, its main feauture is the Romeo & Juliet Restaurant, that is set on two levels connected to each other by a grand, split staircase for dramatic entrance. It has a very stylish interiour and large picture-windows provide great seaviews and allow plenty of daylight or moonlight to complement diner. More informal is the line's trademark, the Windjammer Cafe, which re-creates a classic nautical atmosphere in very spacious surroundings. Also the Centrum, named Atrium on other lines, is splendid. Seven decks in height and topped by glass skylights at deck 10 and decorated with glass and metal sculptures rising several decks in height. Next to this, two glass elevators and cascating waterpools create a very rich effect. Of course, the ship also offers a number of bars and lounges (eight in total), a casino, an nightclub and of course a theater that also acts as a movietheater for several hours a day. There also is Legend Of The Links, the first true 6000ft 18-hole golf course to go to sea. Located on the highest aft deck, it gives spectacular views of the ships wake.
Legend Of The Seas is a very curious ship, so she doesn't like to sail just one region. In her carreer thus far, the ship showed herself almost everywhere in the world, from Australia and the South Pacific to Alaska and the Caribbean. From South America to northern Europe and the Mediterranean, name a place and she is been there. In fact no other ship of the line visited so many places as she did. She is especially very popular with European travellers, maybe also because when she was homeported in Southampton during 2005, the ship offered English branded teabags and also a different wines and menus especially popular with Europeans
At the 29th of november of 1996, she had the misfortune to run aground near Catalina Island at the Dominican Republic, but she didn't suffer much damage. In 2011, she was to sail a series of cruises in Asia but due to the 9,0 magnitude undersea earthquake near Tohoku, Japan at the 11th of march 2011, all cruises here were cancelled.
In january 2013, the ship went to Singapore for a 43-million dollar overhaul and refurbishment. Of course at the time, she was in service for over 18 years and with so many new larger ships added to the Royal Caribbean fleet over the last years she became a little dated in some areas. Next to the usual upgrades, several cabins at deck six were made a little smaller when balconies were added. The ship also recieved a ducktail, making her more stable in unstable weatherconditions. Two new speciality restaurants, Izumi and Chops, were added in the viking crown and also new entertainment options are available, for example the 'Centrum Wow' where flying artists are givng away a show in the ships Centrum.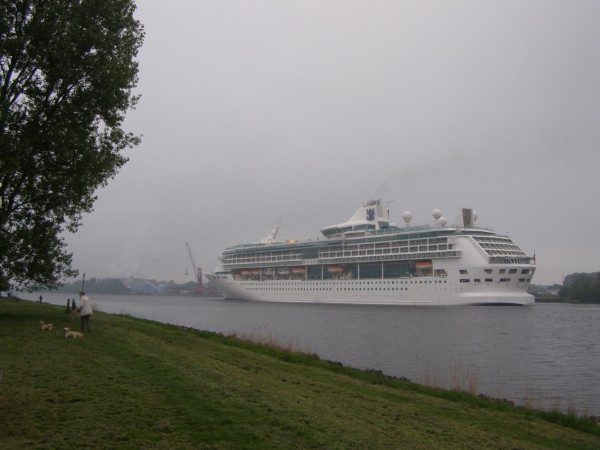 All in all, Legend Of The Seas is a ship with a high repeaters rate, around 60 to 70 percent of the passengers do return to her. Mainly because she is a little different from most Royal Caribbean ships, offering a more relaxed environment without forgetting all options todays passengers need. But she was a good option for those who liked to try a Royal Caribbean ship without ice-skating rings, TV-studio's, shoppingstreets, aquatheaters or bungy-jump installations...
Although a popular ship, Legend Of The Seas became one of the oldest and smallest ships in the fleet and in 2016 it was announced that she would be sold to TUI for service in their Thomson Cruises brand. With that, she followed her sister Splendour Of The Seas who was added to that same fleet in that same year. After a repaint in the new livery of Thomson Cruises in Cadiz and a fresh-up inside by Trimline, Legend Of The Seas became TUI Discovery 2 and started her first Thomson cruise at the 13th of may 2017. Firstly, she was based at Malaga, Spain for a series of western Mediterranean cruises, but later that year she was repositioned to Tenerife for cruises around the Canaries and Morocco. For the 2017/2018 winter, the ship will saile the Caribbean from Jamaica. But she will not start that under the TUI name, as Thomson Cruises was rebranded as Marella Cruises in october of 2017. This was done as TUI was getting rid of all its sub-brands, but as the ships of Thomson Cruises were so different from the TUI Cruises ships, the name Marella Cruises was created for them. So the TUI Discovery 2 name was short lived, as in october of the same year she became Marella Discovery.