Arielle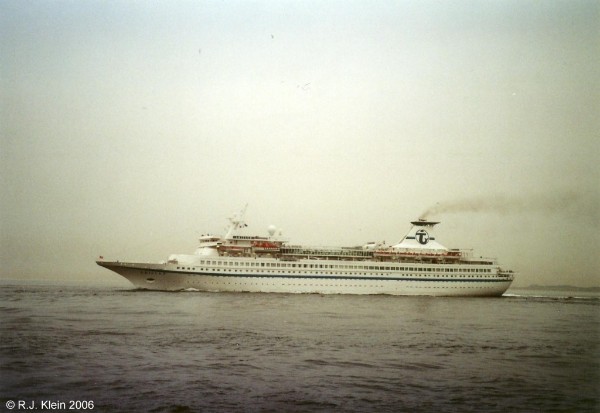 Above is Arielle, sailing for Transocean Tours past IJmuiden in the summer of 2006.
As the second ship built for the Royal Caribbean Cruise Line, this ship was named at the 9th of july 1971. The ship measured 18.346 tons, quite normal for a cruiseship for that time. Her lenght was 168,3 meters, she was 24,01 meters wide and she was designed for 714 passengers. The ship was built by Wärtsilä in Finland and owned by one of the companies that formed RCCL, Anders Wilhelmsen, which was a shipping firm from Norway. Each of the owners, three in total, brought in one ship into the new venture, that was going to change the world of passengershipping. This second's ship name was Nordic Prince and she had followed the Song Of Norway which was a similar ship but owned by another Norwegian shipping firm called Sigurd Skaugen. A thirth party entered later and they, Gotaas Larsson, named their ship Sun Viking. All ships were thus named in honour of the homeland, but there was no true naming strategy as we see today.
Nordic Prince set sail for her first cruise from her Caribbean homeport of Miami at the 31st of july 1971 and she and her sisters became very popular cruiseships in the region. They were easily recognizable because of the Viking Crown Lounge, that was wrapped around the funnel but in those days was nothing compared to the Crown Lounges on the most modern ships of the line that are feauturing several lounges in one structure. But they gave the company also in those early years something of a 'gimmick' when people did not care about shoppingstreets, rock-climbing walls, an onboard carnival, aquashows or bungyjump-installations yet.
At the end of the 1970's, the ships of RCCL proved very popular and the company decided to lenghten them by a pre-fabricated mid-section of 26 meters. During june of 1980, Nordic Prince was lenghtened up to 193,65 meters and her tonnage became 23.149. Of course, this all was done to increase her passenger capacity to 1231. In difference to the ships of the Royal Viking Line, who'se popularity plummited after lenghtening, the RCCL ships took their surgery very well and they kept sailing for RCCL well into the 1990's, also after the introductions of much larger ships, with shoppingstreets, rock climbing walls etcetera. Nordic Prince was the first to go, though, as she could not be compared to those Monsters Of The Seas anymore. The ship was sold to My Travel in march 1995.
The cruise operation was called Sun Cruises and her new name became Caroussel. The company also sailed with the former Norwegian Cruise Lines ship Seawing and later on, the former fleetmates of Nordic Prince, Song Of America and Song Of Norway, followed. Sun Cruises wanted to start up a cruiseservice in Europe, based on the earlier successes in the Caribbean from the large cruiselines. They started sailing in 1994, mainly because of the up-coming withdrawal of the P&O liner Canberra and they wanted to fill in the gap that would come up in British cruising because P&O started to target a more upmarket part with their new Oriana. Carnival Corporation became interested and bought a stake in the company, but they later sold it again when more important players came within their sight and reach. Of course, the ships Viking Crown Lounge was removed because it was a RCCL trademark but without it, the ship still looked very smart within the growing fleet of still more modern tonnage. For Sun Cruises, she sailed Caribbean cruises in winter and mostly Mediterranean cruises in summer and she first set sail for her new owners on the 6th of may 1995. Her Mediterranean base was Palma de Mallorca, where My Travel already was a big player in the local market. My Travel choose to have the management of the ships cared for by the former owners, who knew the ships well. So the operation of the ships went very smoothly for a newcomer in the cruisemarket. Their success was one of the main reasons for the British based Thomson Cruises to resume cruiseservice again. One mishap befell her in 2000, when she ran aground near Mexico and five cruises had to be cancelled so she could be repaired. Suntours, which was a part of the British company My Travel, pulled out of the cruise industry in the early years of the new millennium because of financial troubles within the mothercompany and in july 2004, Caroussel was bought by Louis Cruise Lines of Cyprus, that was eager to loose older tonnage and replace that with more modern cruiseships. Caroussel of course was not very modern anymore, being built some 33 years earlier, but still a great improvement from the smallish earlier ships of Louis. Although she was sold, Caroussel was chartered back to My Tours untill may 2005 when the company was really closed. She emerged for Louis as Aquamarine one month later starting Mediterranean cruises from Genoa. From april 2006 onwards, the oldie was chartered for five years to the German firm Transocean Tours, who renamed her Arielle. For Transocean, the ship sailed more varied cruises and she was luckily also seen at Amsterdam on regular basis. Misfortune stuck at the 13th of september of 2007, when a fire broke out in the ship's sauna and the ship had to be evacuated because it seemed very serious. In total, eight persons had to be hospitalized because of the fire, but the ship survived and was repaired.
She did not sail these five years for Transocean, as the charter was ended in the first months of 2008. She was reverted to the fleet of Louis Cruise Lines and got back her Louis name Aquamarine. As such, she was damaged leaving the Greek island of Crete at the 9th of may 2008 and a 1,5 meter break in her hull was found when she docked at Milos. Because the gash was above the waterline, there was never any danger for the people that sailed aboard during that cruise.
Louis added newer tonnage to their fleet to keep on modernising, so Aquamarine was sold in december 2010 to the Mexican company Ocean Star Cruises, who operated her from the 10th of april 2011. Before entering service, the ship had been updated during a rebuilding at Curacao that was carried out by the Greek firms AMK and JGP Hellas and the Finnish based Riverco Oy. The ship recieved a newly designed Lido buffet, a new pool area and reception. Also new lounges and children facilities were introduced and a new casino, spa, nightclub and shopping options added. Her new name became Ocean Star Pacific Just five days later, a fire in the engine room crippled the ship and she was docked at Huatulco in Mexico to await repairs. More problems occured during her services for her new owners and her future therefor seemed very uncertain. In late 2012, the ship was bought by ALAS/ PV Enterprises after a four months charter as a hotel in Korea fell through.
The ship never saw any kind of service, though and was sold for scrap in the fall of 2014. On her way to Alang, she ran out of fuel on december the 12th of that year, started drifting and finally grounded near General Santos City in Southern Mindanao, the Philippines a few days later. It is expected that after refloating, the ship will continue her way to Alang, of course, after fuelling.