Silver Origin
Background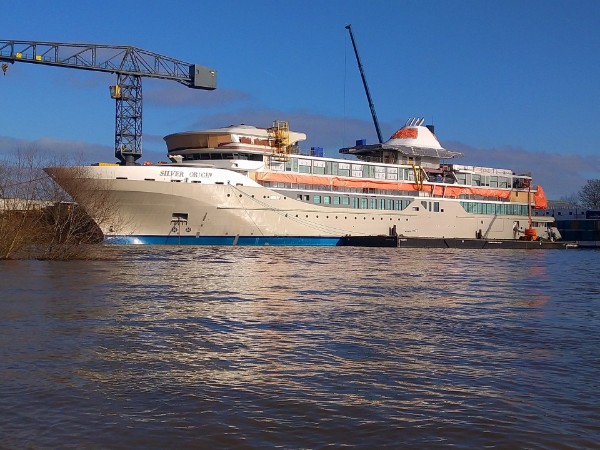 Still before delivery at the wharf but already painted and recognizable, Silver Origin shines in the sun at Tolkamer at the 5th of fabruaty in 2020.
In the 2010's, the expedition cruisemarket was in desperate need for renewal. Mostly, in this segment older ships were used. Former ferries, former yaughts, former icebreakers and so on. But now, those ships were aging rapidly and the whole segment was in need of modernisation. In a few years time, leading small-ship operators started to order new ships for the expedition market, followed by many new operators and companies who had never built ships themselves before. So from the beginning of the 2010's, Seabourn Cruise Line, Lindblad Expeditions, Quark Expeditions, Ponant, Scenic Cruises, Oceanwide Expeditions, Ritz-Carlton, Hurtig Ruten and many others all added modern tonnage and that meant that all older ships started to outdate in an instant. Next to that, mayor operators now also saw a huge potential in the expedition market and all acted by buying smaller lines in this segment. Crystal Cruises started their expedition-style cruising, Carnival started with their Fathom project, Norwegian Cruise Line bought Regent Seven Seas Cruises and Oceania Cruises and Royal Caribbean International built up the expeditionfleet for Celebrity Cruises and bought Silversea Cruises, also to built up their expedition fleet. This last aquisition is the basis for the order of our subject here.
It also became clear that the former idea of expedition cruising started to blend in with small ship ultra-luxury cruises. Normally, these two are really separated in the fact that true expeditioncruises do not mind that much about luxury, quite the opposite actually, and luxury cruising doesn't really mind about exploring unknown territories. But in the 2010's those both branches really started to merge. Small-ship luxury operators now marketed themselves as being in the expeditionmarket, not always technically true. And the general public started to see lines to the likes of Oceania Cruises and Viking Ocean as expeditionstyle, which they are not. Many of the smaller new ships though were 'informal' but very luxury styled ships that also blended in with real explorationcruises. So when Royal Caribbean International ordered two ships for the renewal of the Celebrity Cruises Galapagos fleet in 2017, those ships were really an in-between. The smaller ships then sailing for Celebrity Xpeditions were nothing more then personal yaughts with very limited passenger accomodations. The new ships would be able to take 100 passengers (which is the highest number of passengers able to sail for Galapagos due to environmental restrictions) instead of just 16 and they were going to do so in true Celebrity Cruises style. Their names were going to be Celebrity Flora and Celebrity Origin and the order was placed with the Dutch yard De Hoop at Tolkamer.
Silversea Cruises was bought by RCI in june of 2018 and immidiately, the second ship meant for Celebrity Cruises was allocated to Silversea. Also Silversea sailed with a few smaller expedition-style ships in the Galapagos region and it was logical that now this fleet was going to be updated too. So even before the second ship was laid down, she was now planned to become Silversea Cruises' first newbuild under the name of Silver Origin. The design was changed a bit, but furthermore the idea for her wasn't changed too much. The Galapagos it was.
Construction and general statistics
The pile of steel below is Silver Origin, some 65% complete and seen on the slipway of the Dutch shipbuilder De Hoop at Tolkamer. The date here is the 2nd of october of 2019.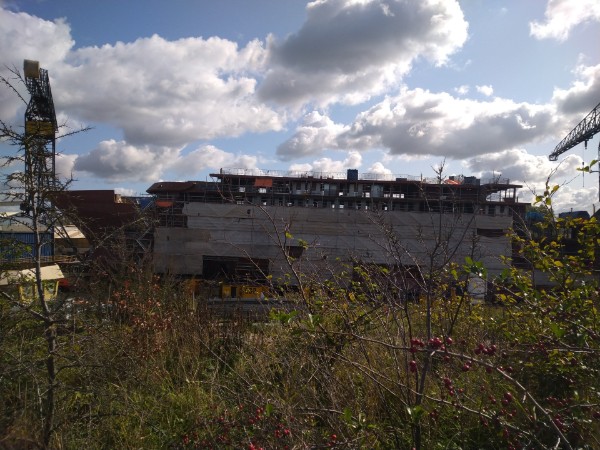 Like her earlier sister Celebrity Flora, Silver Origin was built at the Dutch wharf De Hoop at Tolkamer. The wharf mainly builds day tourboats, specialityvessels, rivercruiseships and tugs. Ocean cruiseships were a totally new field for them so this was a very prestigious order for the small wharf. Located far inland on the spot where the river Rhine enters The Netherlands and literally on the border with Germany, it is a very long way to the sea. Take that, Meyer!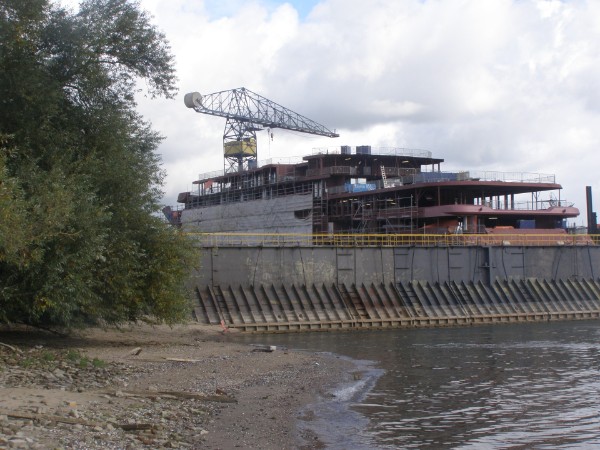 On the 11th of october in 2018, the first steel was cut for the ship and when the slipway was cleared from her Celebrity counterpart, the keel for the Silversea Cruises ship was laid at the 8th of february 2019. She was going to be built under yardnumber 489 and her dimensions are quite the same as her earlier sister, although the ship was slightly re-designed and will look different in many ways. Her tonnage measurement will be 5800 and the ship has a lenght of 101,50 meters, is 16,9 meters wide and her draft will be 4,29 meters. She will be able to sail at a moderate speed of 14 knots, which is perfectly fine for the cruises she is going to undertake. On a total of six passengerdecks her total passengercapacity is 100 persons in 50 cabins and that is the maximum number of passangers that are allowed to sail into the Galapagos National Park in one go. Aboard there will be 86 crewmembers though, showing the kind of service this ship will be able to achieve. Planned delivery is for march in 2020.
Design
Originally, the ship was going to be a direct sister to Celebrity Flora, but her design was altered for Silversea and she will have quite a different look on her when finished. Her interiours will have the same Italian vibe as her larger counterparts within the Silversea fleet, giving her a very different feel from Celebrity Flora, which is partially based on the same style that is aboard the far larger Celebrity Edge class of ships. Silver Origin's public rooms will be designed by GEM-Design, the same team that is behind the design of the newest Silversea Cruises ship Silver Muse. What is the same on both, is that both interiours are based on the natural environment of the Galapagos Islands. The spaces will be designed with regional materials and adorned with bright, colourfull motifs.
One of the unique spaces aboard Silver Origin will be Basecamp, an elegant lounge where passengers can meet eachother before or after Zodiac landings. Here will be educational activities and also a large, interactive digital wall will inform passengers about the excursion or show pictures and videos and destination-related content. The main lounge is the Explorer Lounge, with floor-to-ceiling windows and also here will be the place for lectures and daily briefings from the Expedition Team. The Explorers Lounge is also the place for listening to piano music while enjoying a glass of wine or champagne from the bar. The library will be the most extensive destination-focussed library aboard any of the Silversea ships and a book can be taken to the Observation Lounge which gives great views of the environment so you will probably not look into the book anyway. Then there also is a stargazing platform, open-air bar, a spa, whirlpools and a sunlounge, gymnasium and a well-equipped watersports marina.
The Restaurant will serve local wines and local dishes prepared by Equadorian chefs, to truly show the Equadorian culinary heritage. The Grill, which is a Silversea Cruises classic, will also be dedicated to local quisine and serve a Equadorian style menu.
Below, the bridge as it looks at the 2nd of october in 2019 is peeking above the fences and buildings.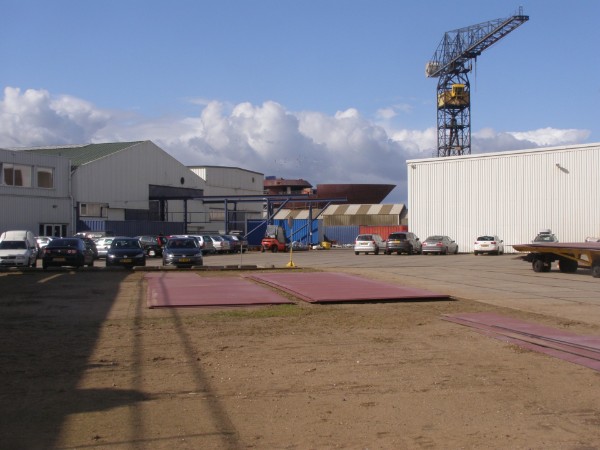 Every of the 50 passengersuites will have its own private veranda and there are at least eight different categories to choose from, so a really big choice when the number of cabins is taken into consideration. As a Silversea first, several suite categories will even have an ocean-view bath or ocean-view shower so you do not have to miss anything what is going on outside!
Of course the ship will have a number of features for environmentfriendly cruising. She won't have to lower anchor into the seabed as she will be positioned by a very advanced GPS system so anchors will not be needed. Drinkingwater will be made available by distilling seawater and the ship will be totally plastic-free as passengers will be issued a metallic refillable waterbottle. This way, some 17.000 plastic waterbottles will be able to be missed each year.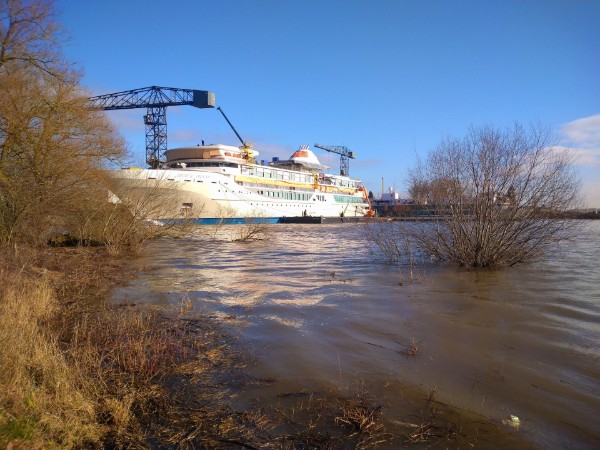 As an extra convenience, cruises aboard Silver Origin will be all-inclusive. Also gratuities, 24-hour butler service, wines, champagnes and spirits, speciality coffee and roomservice are included in the overall cruiseprice.