Silver Wind
Silver Wind is the sistership to Silver Cloud and the second ship to have entered service for Silversea Cruises. Like her sister, she measures 16.927 tons and has a lenght of 155,81 meters. She is 21,42 meters wide and her draft reaches 5,30 meters. Some 296 passengers can enjoy 6 decks of her total out of 9 and they are pampered by 185 crewmembers. The ship normally sails a quite moderate 17 knots and her homeport is Nassau at the Bahamas. Her hull had been built under yardnumber 776 at the Cantieri Navali Visentini yards at Viareggio, Italy and the ship was completed at the yards of Mariotti at Genoa, becasue Visentini doesn't have the room to do so.
Below, Silver Wind is sailing past the Spaarnwoude nature area after a visit to Amsterdam at the 23rd of july 2003.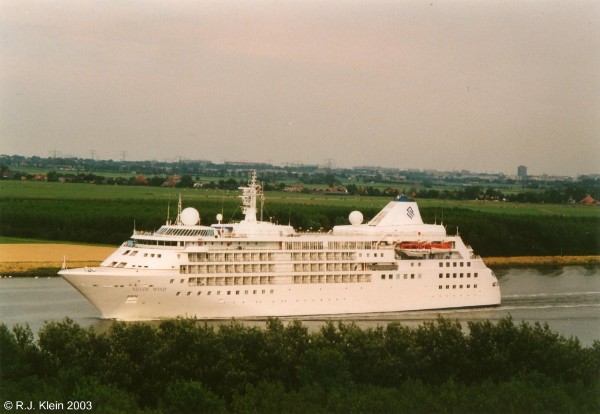 The ship was launched at the 16th of october 1993 and delivered to Silversea Cruises in january of 1995. She has a very distinctive profile of a luxury small cruiseliner, with all her passenger accomodations placed forward and her public rooms placed aft. Also her lifeboats are placed aft, so there is no single cabin...sorry... stateroom, that has an obstructed view. The ship doesn't have a particular sailing region, she just roams the seas like her sister and is seen about everywhere in the world.
During the 2004 Olympic Games in Athens, in august and september, Silver Wind and her sister Silver Cloud, as well as the other ships of the line, were used as hotelships for the more luxury guests. In late 2008, the ship has a major make-over, in which a new observation lounge was added and the whole decor of the ship was updated throughout. Several suite's were enlarged, as was the spa and fitness center.
The passengers really enjoy the open seating in The Restaurant for breakfast, lunch and dining, especially because the line includes the beverages in the fare. Also outdoor barbeque's are offered, as well as the galley-brunch, held in the ships galley. Of course, the ship offers the normal public rooms seen aboard most cruiseliners, also the small ones. There is the large midships pool where also movies are shown at night. Then you have the two-deck main showlounge, a small casino, library and of course several bars to enjoy your included cocktails.