Norwegian Jade
In a surprise move, Star Cruises in the form of Norwegian Cruise Line, announced that they would start up an American flagged cruiseline for cruising around Hawaii, taking over the failed Project America from the revived United States Lines, a venture of American Classic Voyages. In this venture, a two-ship class was to be built. Due to bad financials, the scheme was dying soon during building of the first ship and work was suspended. NCL took over the contracts and had the first ship build, but they decided to lenghten her hull and name her Pride Of America. The ship was registered at Honolulu, Hawaii. NCL also bought the since 1963 laid-up United States and the Independence and states that both ships would be rebuilt too for American cruiseservice. It seemed both ships did have a future now, because a large company with finances available would be owning them, using also a vivid plan. To earn a little extra before rebuilding would start, the company, dubbed NCL America, would have the second vessel of the Project America finished out of the first parts that had been built. Later, the company decided to design the ship as part of the four-ship Jewel-class.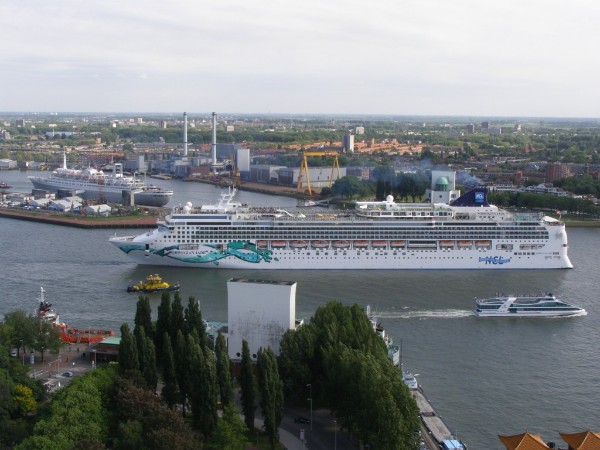 Above, Norwegian Jade is seen at one of her few visits to the port of Rotterdam in early 2008, passing the 1958-built former Holland America flagship that is now moored permanently in its namesake port.
The ship was built at the wharf of Jos L. Meyer at Papenburg, northern Germany and she measures some 93.558 tons. She has a lenght of 294 meters, is 32 meters wide and her draft is 8 meters. The ship can sail with up to 2224 passengers and 1100 crew on her 15 decks. Costing over half a billion US Dollars to built, she was the most expensive passengership that had ever sailed under the flag of the USA. At the 19th of february of 2006, the ship left her building dock and after satisfactory trials, she sailed for the port of Los Angeles to be named by Hawaii senator Daniel Inouye, a Medal of Honour recipient, born in 1924. He named her Pride Of Hawaii, following Pride Of America and Pride Of Aloha.
These three large ships sailing the Hawaiian market seemed to be a very optimistic start, as bookings were not as high as hoped. Also the two classic ships were not rebuilt for the company. Independence was even sold to the breakers and United States was also sold eventually, but still remains. On april 11th of 2007, just under one and a half years after introduction, Pride Of Hawaii was also withdrawn from the service, and she was transferred to Norwegian Cruise Line under her new name Norwegian Jade. Of course also her livery and hull-art were changed. On february the 4th 2008, the ship left Honolulu for the last time, before being stationed in Europe under her new name. On the inside, the ship kept her Hawaiian decor, though. Europeans also love this tropic style, must have been the thought. Also decknames were not changed and Matson Lines menu inspired artworks as well as a statue of King Kamehameha remained in her dining room.
Below, the ship sails past the village of Maassluis in 2008 at the New Waterway, connecting Rotterdam with the sea.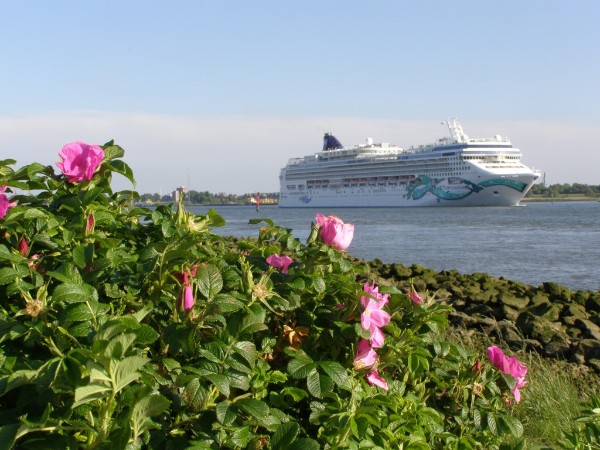 After her first European season, Norwegian Jade mostly sailed European and Mediterranean cruising and she now has become a steady member to Norwegian Cruise Line's own fleet. Her peacefull sailings were somewhat interrupted on the 9th of march 2014, when the ship docked at Tunis. The Tunesian authoroties refused to let several Israeli passengers disembark because of their origins and in reaction, Norwegian Cruise Line immidiately cancelled all remaining stops in Tunis and apologized on their behalf to the passengers involved. Of course, the reaction of NCL is the only right one, but we must not forget that cruising in regions where historic and emotional tensions are sensitive, like in Arabia and northern Africa, things like this do occur. Cruising always seem to bring people closer to eachother, but untill we all can just accept eachother also, we must not forget that those regions have their problems and we ourselves have also to choose our cruises carefully and make us familiar with local situations.