Norwegian Pearl
Below, Norwegian Pearl is shown just after her second arrival to the port of Rotterdam at the 30th of november 2006. Especially in the early morning, a dence fog was overhanging the city.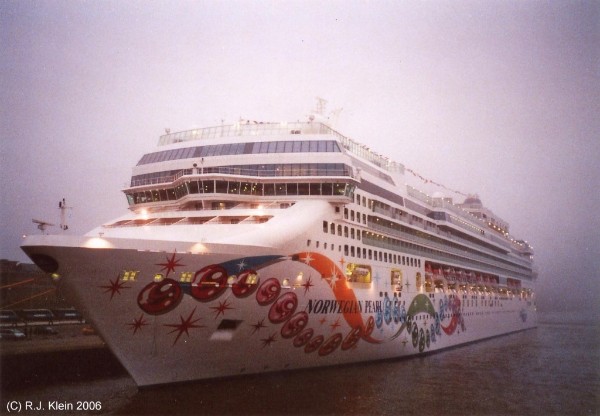 A part of the Jewel-class of Norwegian Cruise Line, the Norwegian Pearl was built at the wharf of Jos L. Meyer in Papenburg, northern Germany just like her sisters. Her gross tonnage is 93.503, her lenght is 294,13 meters, width 32,20 meters and some 2380 passengers are cared for by 1154 crew. Just as every modern ship of the company, she recieved specially designed hull-art, this time of course in the theme of pearls. Very colourfull indeed!
She was the first ship to be taken into service after NCL changed their logo to that of the lonely white fish swimming upstream while the other blue fishes go downstream. This also comes back in the ships carpeting, as the white fish always swims towards the bow. This makes it easier to find one's way around the ships of NCL.
A slight incident happened when the ship transited the Ems river after she left the wharf. An electric cable overhanging the river in northern Germany had to be cut down for her safe passage. Not everything went as smooth as planned, because a small dozen of coutries became pitch-black, even in the northern part of Morrocco, the lights went out. But every ship, sorry… resort, should have a nice story to tell, and when you tell a story even before you ever had one paying passenger on board you are the ship
The Norwegian Pearl is not called a ship but a 'resort' in the brochures of Norwegian Cruise Line and she introduced herself to me on a misty morning in the port of Rotterdam. She came here directly from the Eemshaven in the Northern part of the Netherlands, so it was her first port of call. For me there was something more, because I had the opportunity to not only see her from the outside, but also take a look inside. Believe it or not, before her I had never been onboad of a cruiseship before, so I was a little excited.

She left Eemshaven with some people from travel-agencies and from the press on her way to Rotterdam where she arrived on the 29th of november. She stayed here overday and took off in the end of the afternoon to present her guest (this time really guests because they are not paying for the trip) a one-night cruise.
The Bliss Ultra Lounge at deck 7 does have an Asian atmospehere, with golden statues of dragons and snakes and even a couple of beds to lounge yourself through your evening. I did not try them out because it was a really early morning and I think I was going to wake up in Southampton if I tried them. But the beds and the dragons are not the most distinctive items that can be found in the lounge, because the Norwegian Pearl is the first cruiseship in the world that has some bowling alleys on board. They are situated in the lounge in pairs of two. It seems nice to try them out in a heavy storm or so. No one will have the advantage then! Nice extra fact is that although bowlingalleys aboard cruiseships are new, on oceanliners they were installed in the early years of the 20th century. The 1912-built liner France was equipped with an outside bowling alley, for instance.
The ship is looking modern and she is not a classical oceanliner like we know these. As a special addition to the tour we were able to see a part of the new show 'tubes' that is designed especially for the Norwegian Pearl. It is a very modern performance, based on old-school New York hiphop. Some older guests disliked this and they complained about it but I think they did not see the point of showing this. As we heared several times, Norwegian Cruise Line is a very child-friendly company and they really like to have families, teenagers and children on board. There is a very big space reserved especially for them and I think that this is what the line wanted to show to their hopefully soon-to-be passengers. This was only the second time that it was performed.
Sadly, my camera wasn't working that well, so I lost the opportunity to take several pictures aboard. Luckily, I met a nice gentleman from Belgium, mister Luc de Smedt, and he provided me with several pictures he made for his travel agency. I thought I lost those pictures, but found them back and so this page will be updated with several inside pictures in the near future.
I was just to late to see her again coming in the next morning so I sat down beside the river and waited for the sun to give me some more light for my first pictures of her. Soon after that, I had to go to the check in desk for the beginning of my tour.
I had heared some stories of her being to blue and turquase on the inside, but because I have never been on a cruiseship before I do not have any comparissements. So I look at her in a fresh way and I think she is a splendid looking ship. It helps that it is Christmas soon and she is decorated with Christmas trees, lights and decorations, off course. But I did not think she was too blue. She has some great spaces on board, the one level Summer Palace restaurant on deck 6 is truly beautiful, looking somewhat classical with a split-stair entry surrounded by nice yellow flowers and a roman statue in the middle. This is not the only choice you have, because thanks to the Freestyle concept of the ship, there are twelve restaurants to choose from, from Asian, Japanese American steaks, French cuisine to Italian elegance. For some restaurants a small reservation fee is to be paid.
On the 6th of april 2014, one of the ships crewmembers died during an attempted robbery on the Caribbean island of Roatan. Because of the incident, Norwegian Cruise Line cancelled all calles at Roatan for the rest of the year.